Rediff.com's Rajesh Karkera brings you these visuals from the Bengali Hindu tradition as part of Durga pooja celebrations in Mumbai.
Some time in November 2018, a group of diverse friends came together to form Aanandadhaara, a small association in Kandivali, a suburb in western Mumbai.
The seven families who founded the group were initially just tired of pandal hopping across the city during Durga pooja and had wanted something closer to their homes, families and friends.
Without much sponsorship, the group pooled in their savings to organise their first Durga pooja in Kandivali this year.
I visited the pandal on the last day of the five-day festival and was mesmerised by the visuals.
When I entered the hall, I was greeted by (Durga) Maa adorned in an off white saree with an embellished headgear and vermillion on the forehead.
These are just glimses of happy faces from sindoor khela at the pandal.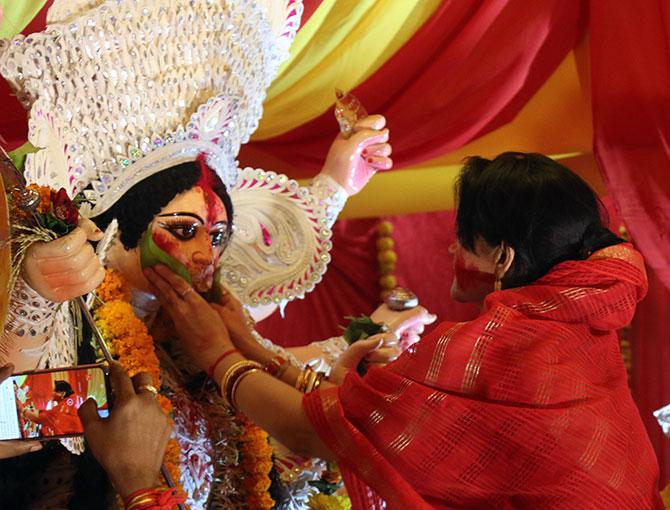 There was a long queue to enter the pandal. Each guest was allowed to pay their respects by applying vermilion and offering sweets to Maa Durga.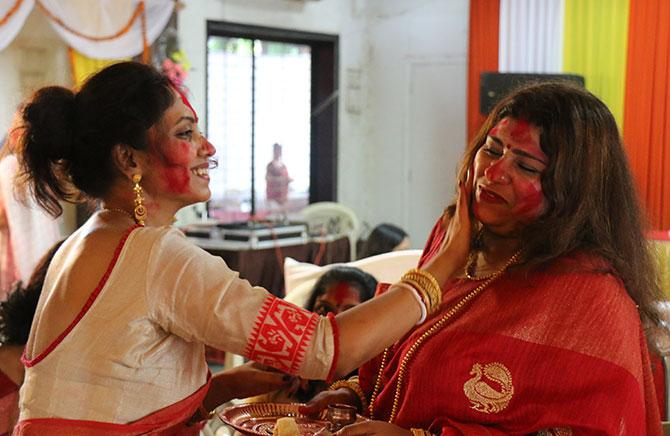 Sindoor khela is an important ritual that takes place on the last day of Navratri, or Dussehra where women apply vermilion on each others' faces. Even with their faces covered in red, all I could see was happy faces everywhere.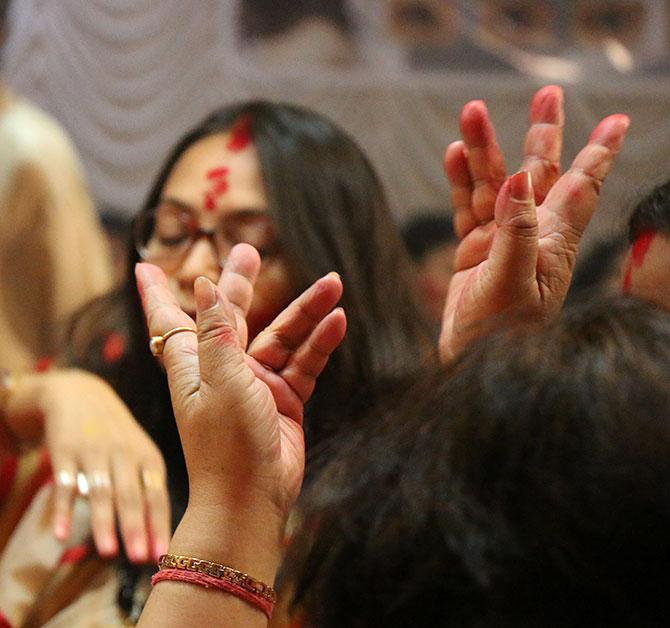 The women danced and prayed for each other.
Watch women celebrate sindoor khela in the video below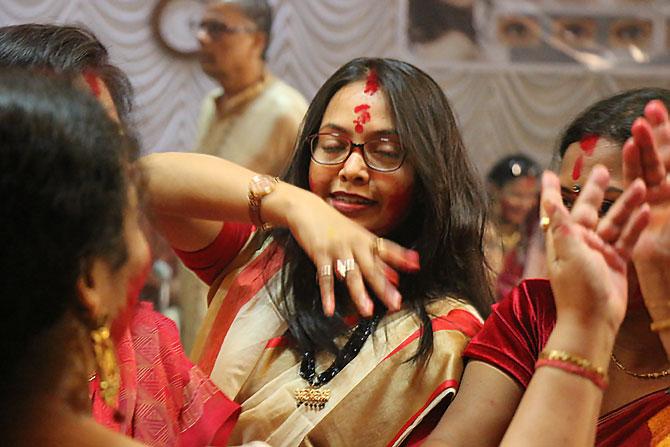 It wasn't just the women; some of the men also joined in the celebrations. But they obviously couldn't the match the grace and poise of some of the women.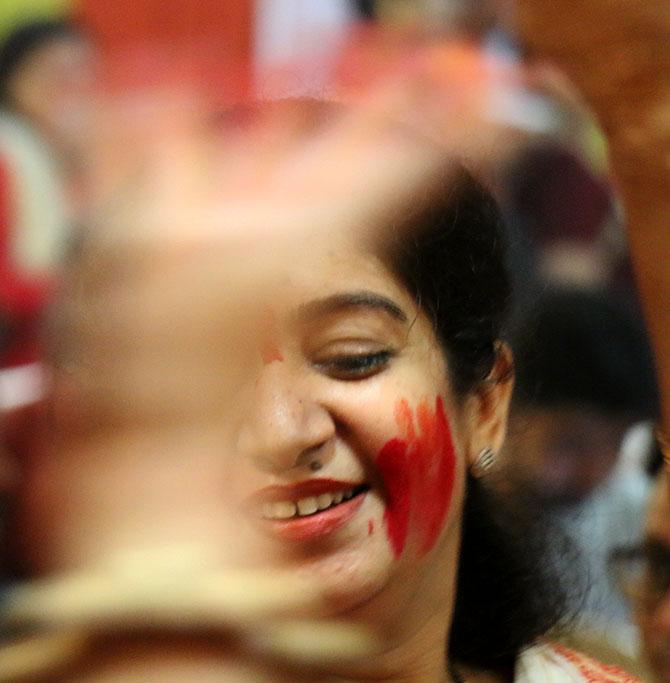 Unlike Holi, which is celebrated in most parts of India and is usually more aggressive, sindhoor khela involves a gentle application of sindoor.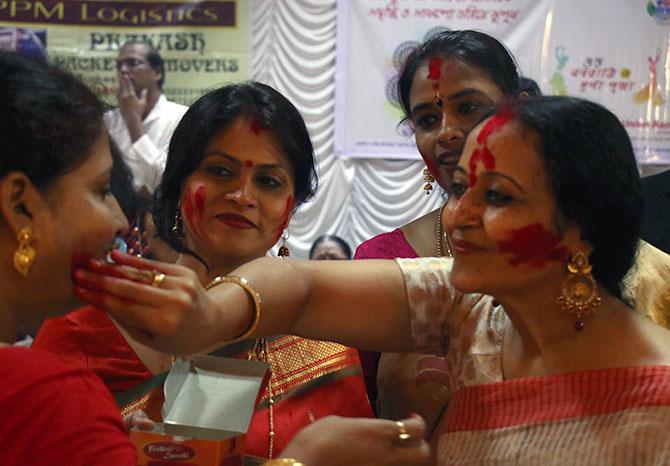 The Bengali Hindu tradition signifies the bonding among women as sisters. They come together and pray for the well being of each others' families.
The energy was infectious. And everyone wanted to take home a part of the celebrations as a memory.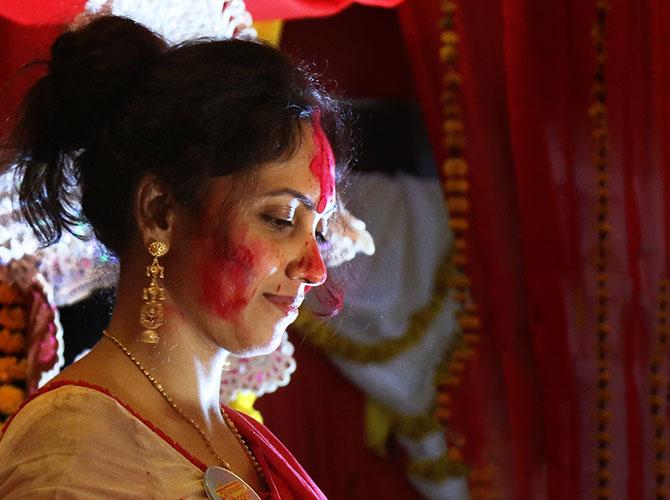 As you can see, there was contentment in every eye!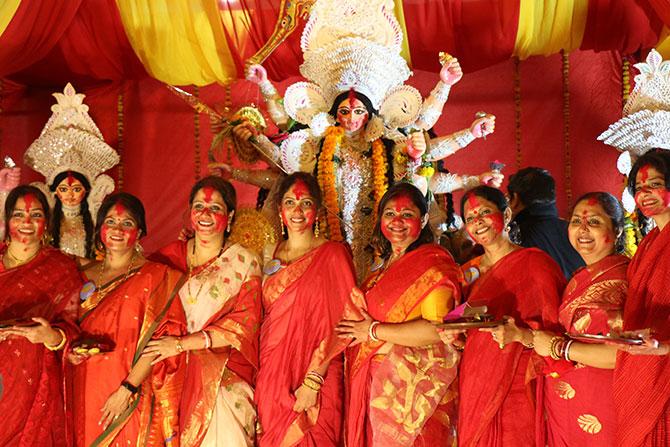 By afternoon, it was time for visarjan -- to bid adieu to Maa. But not without the mandatory group photo. Until they meet the next year, these memories of love and bonding will keep them going.