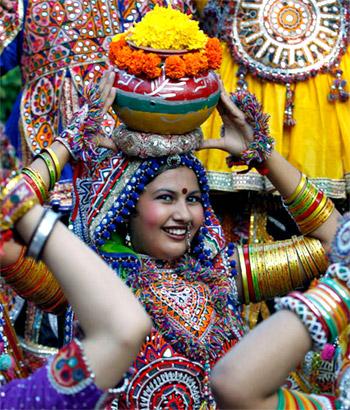 'When they disappear -- and disappear they will -- they'll take with them some of the joyous vibrancy of our social fabric.'
'All we can do is enjoy them while they last,' says Geetanjali Krishna.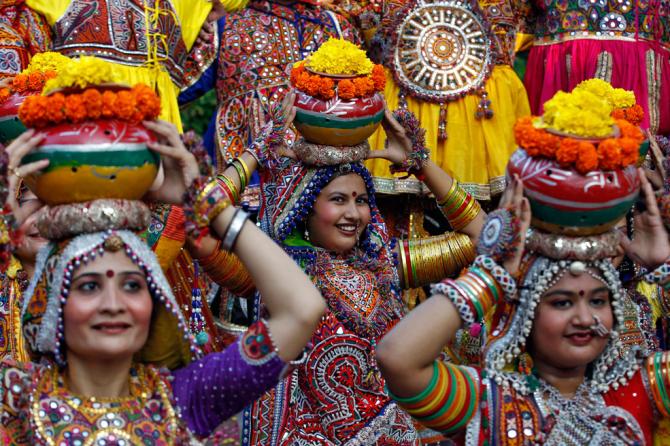 IMAGE: Women dressed in their finery celebrate Navratri. Photograph: Amit Dave/Reuters
As a child, I often dreamed of them, those nine powerful, beautiful goddesses that spun the endless circle of creation and destruction on earth, but visited it only twice a year.
I remember my grandmother sitting in her puja room redolent with incense and flowers, lovingly dressing the gods in new vestments to mark the coming of the Navratris.
Although too young then to understand the concept of feminism, I gloried in the tales of these powerful devis who slayed demons and came to the rescue of gods and men alike.
Over the years, I lost sight of these rituals, and the seasons came and went with no colourful rites of passage to mark the transitions.
So when I heard that Darwesh, a quirky Delhi-based storytelling and walking tour company, was organising a walk in Old Delhi to explore the age-old but fast-disappearing Navratri traditions there, I jumped at the idea.
"Over the years, havelis in Old Delhi have been partitioned and sold and their inhabitants moved to 'modern' urban neighbourhoods," says Yuweka Singh of Darwesh, as the walking group gathers inside the metro station at Chawri Bazaar. "So we thought of creating a walk to explore these lovely old traditions before they disappear entirely."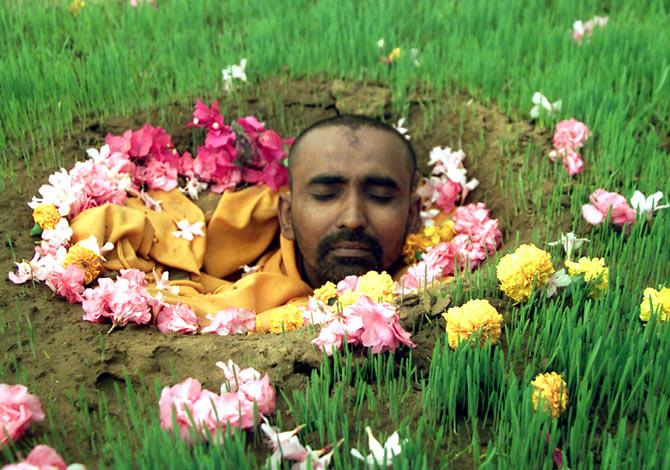 IMAGE: One of the rituals involves devotees burying themselves in the soil and offering prayers to Maa Durga. Photograph: STR New/Reuters
We step out of the Metro into the narrow alleys of the historic Sitaram Bazaar, with a crazy network of cables and wires dangling dangerously above our heads. Almost every old haveli we pass has a shrine within, bedecked in red and gold to celebrate the Navratris.
"We asked elders in the area about specific rituals and traditions during this time, and the most interesting was Tesu," says Singh. So we walk up to a nearby temple to ask its priest about this tradition.
"When I was a boy," he says, showing us a peculiar toy that looks like a head mounted on a tripod, "we used to carry this toy around during the Navratris, sing a song and beg for alms."
The custom celebrates the life of Barbarika, the young grandson of Bhima, who wanted to fight war in the Mahabharata with the three magic arrows he'd received in a boon from Shiva.
The first arrow marked the people he wanted to protect; the second, those he wanted to destroy; and the third would do the needful, making him an invincible warrior.
The kicker (as there always is) was that he'd sworn to fight for the losing side. Krishna, the master strategist, realised that whichever side Barbarika decided to fight from, would win the war.
Instead, he convinced the boy to offer his head to the battlefield to ensure that his own lineage won the war. In return, his head would be mounted on a tripod so he could observe the war, and he'd be worshipped forever.
"Today's generation has forgotten these old ways," says the priest. "There are only three potters left here who even make these toys any more."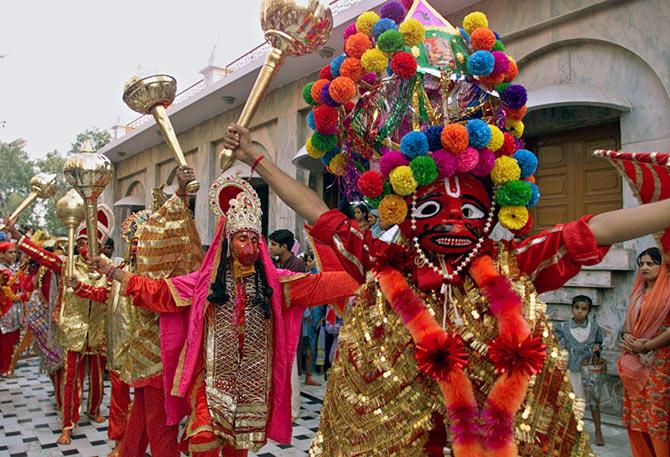 IMAGE: People dressed as monkeys and Hanuman dance to celebrate Navratri. Photograph: Munish Sharma/Reuters
Outside the temple, signs of Navratri celebrations are everywhere -- in the beautiful little shrines that are dime a dozen here, in the carts of the fruit sellers, amply stocked to cater for nine days of fasting and in the puja shops with their abundance of religious artifacts.
Next on our agenda is a chat with a behroopiya. We find him in the courtyard of a beautifully-maintained haveli, dressed as Hanuman.
Masters of greasepaint and disguise, these traditional entertainers used to be big draws during Ramleelas and Diwali melas. Today, he says, he performs at birthday parties, cultural festivals and craft bazaars.
"I find that I'm now disguised more often as Charlie Chaplin, than in traditional guises," he smiles.
After a pit stop of kulfi, we walk in the growing heat and humidity to another old courtyard, where performers bring to life a conversation between Sita and Ravana -- much in the way that traditional Ramleelas used to do.
Singh, who's been leading the walk, takes on the mantle of the narrator, the sutradhar. The two protagonists dance and mime expressively as we sit around them in an intimate circle.
The conversation is from Ravana's perspective, and we're immersed momentarily in a mythical world.
It's time to go, and walking towards the Metro station, I see a rickshaw-puller singing bhajans. He's so melodious that people stop to listen.
"So what if I don't get many passengers today?" he smiles toothlessly. "At least the Devi will be pleased that owing to my singing, a few more people have momentarily remembered her."
As our train is engulfed by the tunnelled darkness ahead, I think about the few people and places left that continue to remind us of the time when myths and magic were part of everyday lives.
When they disappear -- and disappear they will -- they'll take with them some of the joyous vibrancy of our social fabric. All we can do is enjoy them while they last.
***