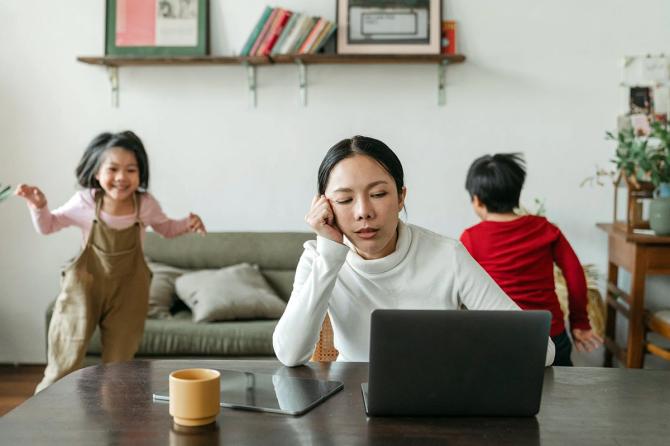 With longer work hours and a work from home set-up during the COVID-19 pandemic, Indian women bore the maximum brunt by performing a dual role as a working professional as well as a caregiver, says a new career survey.
Over 80% of working women in India have been negatively impacted in some form or the other during COVID-19 with the work-life balance becoming worse, a report on the effects of COVID-19 on the women workforce in the formal sector in India has revealed.
According to the Women@Work report released by Aspire for Her, a non-profit for women, and Sustainable Advancements Pvt Limited, 38.5% of working women surveyed said they were adversely affected by the burden of added housework, childcare and eldercare while 43.7% stated that work-life balance has become worse.
The research conducted during the third quarter of the financial year 2020-2021 tried to analyse the impact of the pandemic on the women workforce in the formal sector, correlating them to four variables -- industry sector, occupational status, work experience and hierarchical position.
For the survey, a sample size of 800 women across Mumbai, Kolkata, Bengaluru, Delhi, Chennai, Hyderabad, Bhubaneswar, Ranchi, Jaipur, Pune and Ahmedabad were considered.
According to the report, the most common response received from the participants was having to work longer and harder during the pandemic which led to a worsened work-life balance.
50.4% of mid-career women (with 16 to 20 years' work experience) cited the reason as 'added burden of housework, childcare, and eldercare,' more than any other demographic.
Gender divide among various occupational status
61.1% of women who lost their job due to COVID-19 felt women were worse off than men, followed by women who took a break (46.7%), closely followed by working women (42.3%), students at 35.6% and self-employed women at 30.3%.
Women in entrepreneurship
The report pointed out that while the women in employment were feeling overwhelmed, the self-employed women were the worst hit.
41.6% of self-employed women shared that they were negatively affected by COVID-19.
The biggest challenge for adopting a new business model was insufficient knowledge to predict demand patterns and a lack of financial resources. Even in cases where businesses did not see an immediate decline in revenue, growth remained mute.
Women in civil society
Women in civil society felt a unique set of challenges.
33.3% of women in civil society organisations reported being negatively affected.
Due to the lockdown and subsequent social distancing rules, a substantial part of their funding got diverted to healthcare.
Women in education sector
50.6% of women working in the academic sector felt that women were worse off as compared to men during the pandemic.
There was also increased teaching and service workloads where many of the teachers had to move to an online video platform to render their academic services.
For most of the older generation teachers, this was the most strenuous task in their whole life.
21.8% of women in this sector felt that they were negatively impacted, stating a majority (54.1%) of them had to work harder/longer, while 41.8% of them stated they had added burden of housework, childcare or eldercare.
Work experience
The report says that women who are early in their careers, with work experience of 0 to 5 years were most adversely impacted (30.0%), closely followed by women who have 21 to 25 years of experience (29.2%).
The reasons cited for this negative impact were increased working hours (20.3%), work-life balance becoming worse (16.7%), added burden of housework (10.6%), no increment/bonus (10.0%), financial worries (5.5%), and a pay-cut (5.2%).
Women who had work experience of 0-5 years were mostly women in entry-level/junior Roles, who were at the nascent stages of their career and were subject to the threat of job loss and lack of alternate opportunities.
The declining percentage of women in the workforce for the last 15 years and the worsening rank in the Global Gender Gap Index is a huge cause for concern, exacerbated by the pandemic.
Talking about the report, Madhura DasGupta Sinha said, 'The pandemic has had a perceptible impact on women in various stages of their lives, across different industry sectors, occupational status, work experience, and life stages. This is not just a research report for us.'
'The Women@Work research has been a cornerstone to our strategy to build a winning mindset in aspiring women, in the backdrop of a sharp blow to the already-declining statistics around the labour force participation rate of Indian women,' Sinha explained.
'The findings of the research have helped us to craft the strategy around motivating women to enter and stay in the workforce,' she added.
'The research helped us enhance the 5-point mindset change model including mentors and role models, learning and reskilling opportunities, career previews and opportunities and the need for a strong, peer community.'
'The report is a wake-up call for women, and men, in India,' said Dr Nayan Mitra, author of the report and founder of Sustainable Advancements.
'If we do what we have always done for the last 15 years, the country will lose out on a fantastic talent pool of a highly educated, diverse workforce to unleash the trillion-dollar opportunity.'