Four friends give an interesting twist to Hum Honge Kamyaab.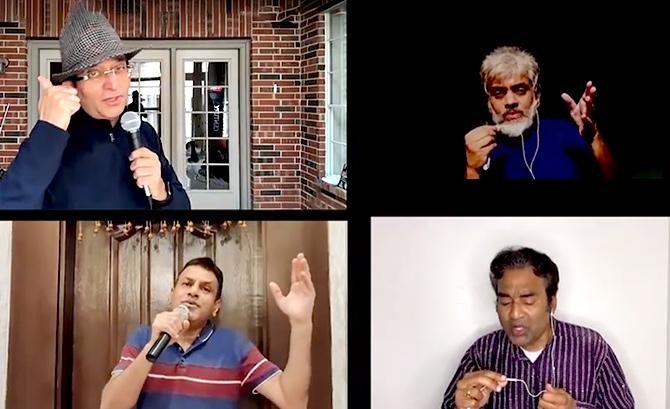 It is a song we grew up with, a song that always gave us hope, a song whose relevance has not diminished.
The inspiration that this song, Hum Honge Kamyaab, provides is much needed during these difficult days.
While COVID-19 has created havoc in the world, it has also given people the opportunity to pause and reflect about their lives.
It has allowed people connect with their old friends.
It let the four of us -- we studied engineering together at the Shri G S Institute Of Technology and Science, Indore, between 1986 and 1990 -- relive the memories of our college days.
We used to perform together then and now, 30 years later, we have created a new production, without being hampered by the fact that we live in different cities and countries.
I live in Houston, Texas.
Rajiv Nema Indori lives in San Jose, California; Anil Jajoo in New Delhi and Ashwin Pandya in Bhopal.
When we were in college, Hum Honge Kamyaab was a song we would always sing together.
So, during these dark days, we went back to this motivational track and used it to create a fun video. It took us just six days, from the idea to the launch.
The video features the four of us.
Anil and Ashwin are the singers and music credit belongs to Ashwin.
I stitched the whole thing together.
The video uses humour to rekindle the hope that, one day, things will get back to normal.
Hope you enjoy watching it as much as we did putting it together.