Ahead of Chinese President Xi Jinping's visit to India, we'd asked you dear readers, to send us photographs of Mamallapuram Shore Temple, the venue for the international summit between India and China.
Rediff reader KV Viswanathan shares his experience.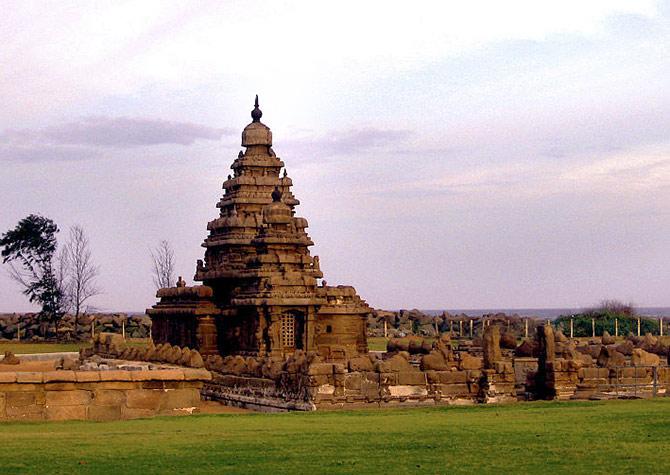 KV Viswanathan from Mumbai has visited the Shore temple in Mamallapuram several times with his family and also a few international friends. He says:
"Mamallapuram is a wonderful place with rich history.
"While travelling from Chennai, while going by car, before the town of Mamallapuram, you'll see tiger caves next to the beach.
"It is a beautiful single stone piece that resembles the open mouth of a tiger.
"In both upper and lower lips, small heads of tiger are carved.
"It is believed that it was the stage for an open auditorium for various purposes.
"Inside you'll see two very large stone carvings.
"There are plenty of scenes depicted here, including Arjuna observing penance.
"Behind that, one can see Krishna's butter -- a very large stone of unshaped ball about to slide down a sloping rock.
"It has remained in that position for several centuries.
"Several people come here to pose and take a photo attempting to push the stone down. No one has succeeded in pushing it though.
"Further ahead, there are 5 raths carved in stone. These are called pandava's chariots.
"In the vicinity there are two monolithic carvings of an elephant and lion.
"The shore temple is close to the beach. It is said that there were originally 7 temples, one after another. Six of them submerged in the sea and this is the only one that survived.
"It was considered a harbour for the Pallava kingdom. It's a beautiful place for people who like architecture and sculptures."
---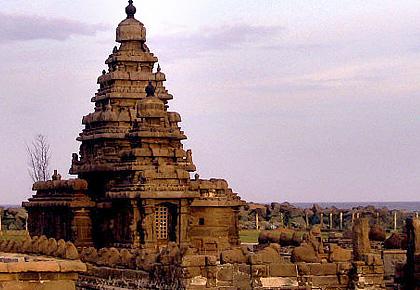 INVITE
Dear readers, have you recently visited Mamallapuram Shore Temple in Tamil Nadu?
When did you visit the heritage site? Was it a special day for you?
What did you like the most about the temple and this place? Tell us all about it.
If you have interesting pictures, we want you to share them with us.
Simply write to getahead@rediff.co.in (Subject: Mamallapuram Shore Temple Pix) along with your NAME, AGE, LOCATION and a brief write-up of what you liked about the place. We'll carry the best responses right here on Rediff.com