In the current versions of the Oxford English Dictionary, the synonyms for 'woman' include some eye-poppingly sexist words: b***h, besom, piece, bit, mare, baggage, wench, petticoat, frail, bird, biddy, filly...
Nikita Puri reports.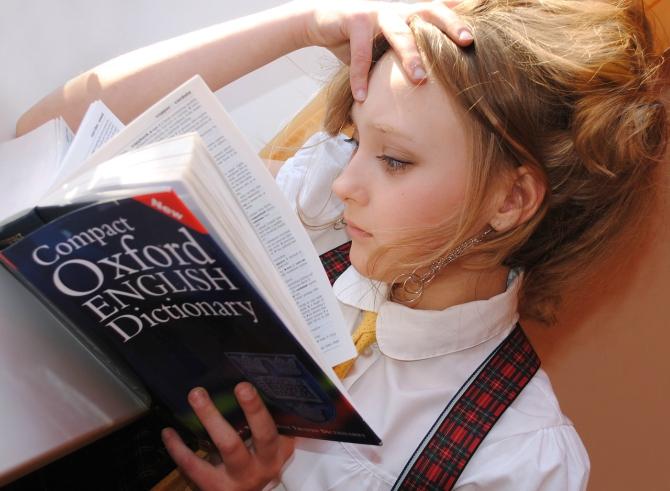 What: The Oxford Dictionary has long been the holy book for all things semantic, but a petition against an entry in it has been picking up steam.
Understandably so.
In the current versions of the Oxford English Dictionary, the synonyms for 'woman' include some eye-poppingly sexist words: b***h, besom, piece, bit, mare, baggage, wench, petticoat, frail, bird, biddy, filly.
Oxford's head of lexical content Katherine Connor Martin has since said that 'if there is evidence of an offensive or derogatory word or meaning being widely used in English, it will not be excluded from the dictionary solely on the grounds that it is offensive or derogatory'.
But equal rights activist Maria Beatrice Giovanardi and East London Fawcett, a UK-based outfit promoting gender equality, believe this needs to be changed.
Who: London resident Giovanardi was searching for synonyms for 'woman' to name a project she was involved with when she came upon the derogatory references.
It's not just the synonyms that are problematic.
Examples of how to use the word in a sentence include 'Ms September will embody the professional, intelligent yet sexy career woman', 'Male fisherfolk who take their catch home for the little woman to gut', 'I told you to be home when I get home, little woman'.
Such stereotypical statements, feels Giovanardi, show women as sex objects and, in being men-centric, they depict women as if they were subordinates and/or an irritation to men.
'This is completely unacceptable by a reputable source like the Oxford University Press, but it's even more worrying when you consider how much influence they have in setting norms around our language,' the activist has said.
Considering how widespread the influence of search engines quoting Oxford are, the damage is immense.
Rerouting and resetting conversations by making appropriate changes could influence how women are spoken about.
Where: Hosted on Change.org, the petition traversing the web urges the Oxford University Press, the largest university press in the world, to change the references given for 'woman'.
The petition currently has over 30,000 signatures.
Though denizens of the internet largely seem taken aback with Oxford's references for women, Giovanardi's petition has drawn some flak too.
How: The criticism for altering the very definition of a word, believe some, is in a way whitewashing deplorable histories.
But thankfully Oxford's spokesperson has acknowledged that part of the dictionary's descriptive process is to make a word's offensive status clear.
Language evolves over time and the dictionary should change to reflect the new lexical terrain in a world where we continue to understand the 'real-life impact' of the words we use, suggests Martin.
Oxford's spokesperson has pointed out that the content the petition refers to is from the Oxford Thesaurus of English and the Oxford Dictionary of English, which are drawn from 'real-life use' of language.
But other resources have already been making their way into the 21st century while striving to ensure they define words as they change.
Dictionary.com added 'womyn' as an alternative spelling of 'woman' to prevent sexism stemming from the suffix 'men' and to account for the growing conversations around gender and sexuality.
Other popular online dictionaries, such as Cambridge and Merriam-Webster, also seem somewhat more progressive (the latter's definition of 'they' now includes reference 'to a single person whose gender identity is non-binary'.)
Instances such as this one leave us with the chicken and egg conundrum: Do we shape language or does language shape us? Either way, it's time that keepers of the world's words, Oxford's lexicographers, wake up and smell the coffee.
The complication lies not in documenting an offensive term or reference, but in not marking it clearly for the trash talk it is.