Thirteen women, who have broken gender stereotypes, reveal what it takes to do a 'man's job'.
Do you think becoming a priest is a man's job? Then you haven't met Tomoe Ichino from Japan!
Butcher. Plumber. Backhoe operator. Name it and women are slowly taking over professions once reserved for the men.
On International Women's Day, celebrated on March 8, presenting women across 12 countries who have happily embraced a profession heavily dominated by men.
1. Mumtaz Kazi, diesel train driver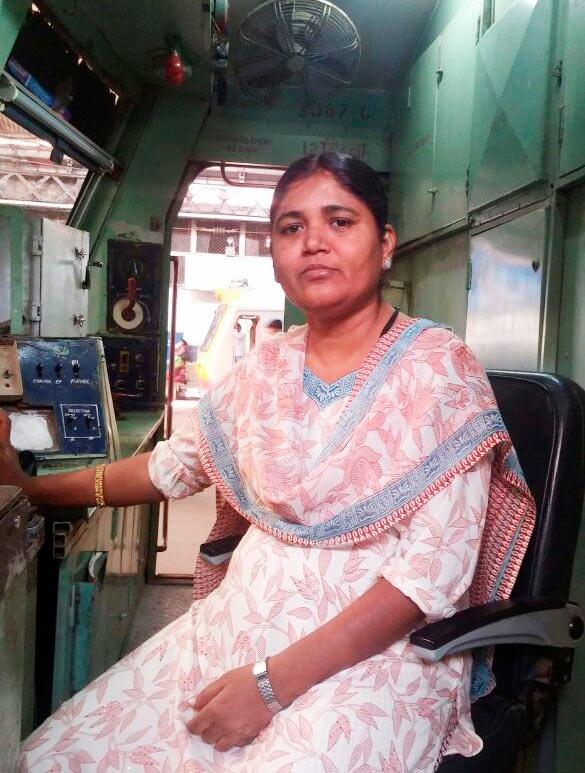 IMAGE: Mumtaz Kazi is Asia's first woman to drive a diesel train.
Photograph: Divya Nair/Rediff.com
Country: India
"I stayed in the railway quarters and grew up watching the local trains pass by our house," Mumtaz told Rediff.com.
"I applied for the job in 1988 and appeared for a written test in 1989, followed by interviews and medical fitness tests, all of which I cleared with high marks.
"During the training, I was the only female in the batch of 50 men.
"Besides technical knowledge, judgement and presence of mind, there is a lot of physical labour and strength required to be a locomotive driver.
"If you're driving a train from a car shed you have to climb up to reach the door using all your might. Also, the brakes in certain locomotives need to be applied by turning the wheel a good 20 or more times.
"This requires a lot of physical strength which all women are not cut out for. I started my career with a salary of Rs 3500 and today I earn at par with my male colleagues.'
Read more about Mumtaz Kazi's journey here: Asia's first woman to drive a diesel train is an Indian
---
2. Tomoe Ichino, 40, woman priest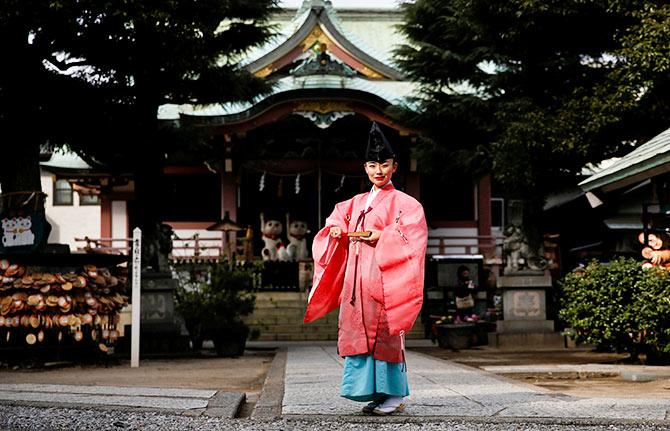 IMAGE:

T

omoe Ichino at the Imado Shrine in Tokyo, Japan.
Photograph:Toru Hanai/Reuters
Country: Japan
'In general, people think being a Shinto priest is a man's profession,' Ichino told this Reuters' photographer who clicked her picture. 'If you're a woman, they think you're a shrine maiden, or a supplementary priestess.'
'People don't know women Shinto priests exist, so they think we can't perform rituals.
'Once, after I finished performing jiichinsai (ground-breaking ceremony), I was asked, 'So, when is the priest coming?',' Ichino told Reuters.
'When I first began working as a Shinto priest, because I was young and a female, some people felt the blessing was different. They thought: 'I would have preferred your grandfather.'
'At first, I wore my grandfather's light green garment because I thought it's better to look like a man.
'But after a while I decided to be proud of the fact that I am a female priest and I began wearing a pink robe, like today. I thought I can be more confident if I stop thinking too much (about my gender).'
---
3. Mehwish Ekhlaque, 26, bike rider and trainer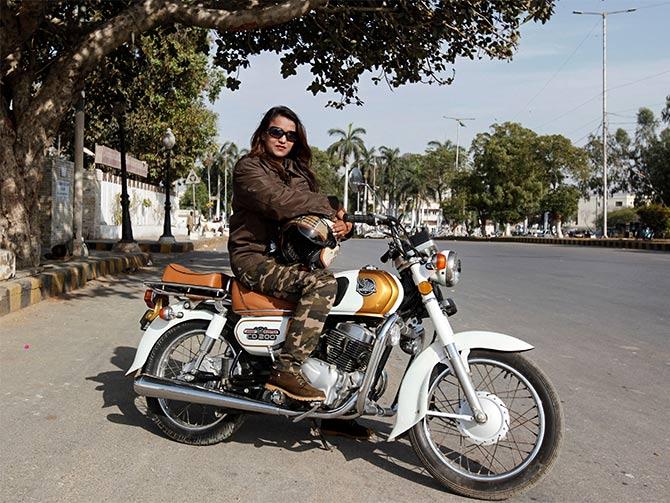 IMAGE: Mehwish Ekhlaque from Karachi, Pakistan gets snapped with her bike.
Photograph: Akhtar Soomro/Reuters
Country: Pakistan
'When I planned a Pakistan Bike Tour, many of my male colleagues gave me a piece of advice not to do it as it's neither safe nor easy for a woman. But I did it.'
---
4. Cilene Connolly, 32, a Royal Mail postwoman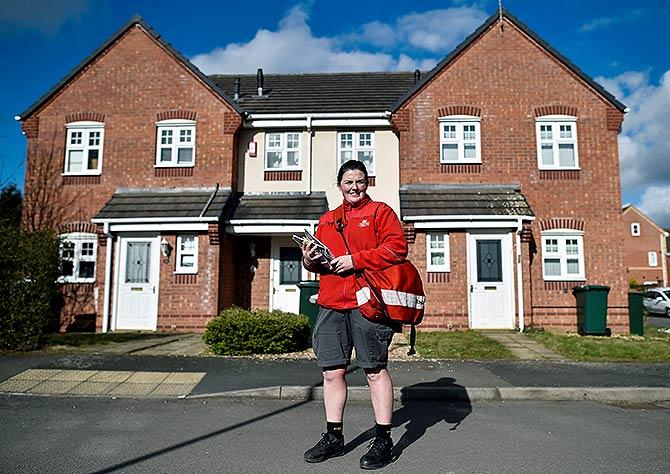 IMAGE: Cilene Connolly during her postal round on a residential street in Coventry, Britain.
Photograph: Hannah McKay/Reuters
Country: UK
'Fortunately, I haven't been faced with gender inequalities in my role as a postwoman. I've had a great response from my customers for being a female delivering their post, women in particular are always pleasantly surprised to see a female face.'
---
5. Khawla Sheikh, 54, plumber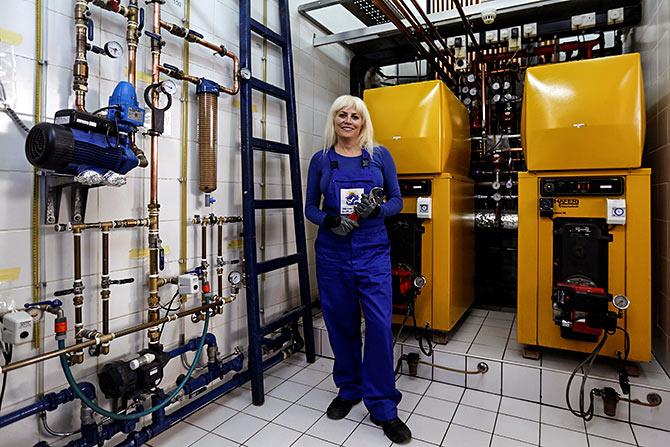 IMAGE:

K

hawla Sheikh poses at her home's basement, where she gives plumbing training courses to other women, in Amman, Jordan.
Photograph: Muhammad Hamed/Reuters

Country: Jordan
'Housewives are more comfortable to have a woman plumber in their house in the absence of their husbands.
'To tackle gender inequality, I think that all operating sectors must provide equal opportunities for men and women in all fields and each woman must believe in her capabilities and skills that she has in order to convince the others.'
---
6. Cristina Alvarez, 29, butcher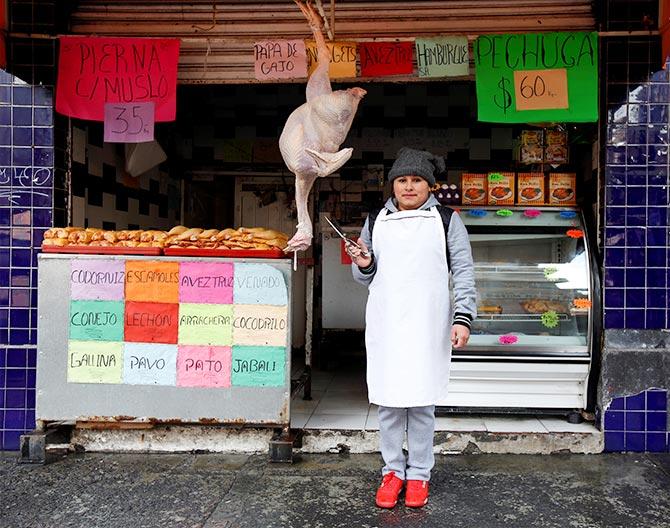 IMAGE: Cristina Alvarez outside her shop in Mexico.
Photograph: Jose Luis Gonzalez/Reuters
Country: Mexico
'I've never felt any gender inequality. I believe women can do the same jobs as men and that there should be no discrimination.'
---
7. Yolaina Chavez Talavera, 31, firefighter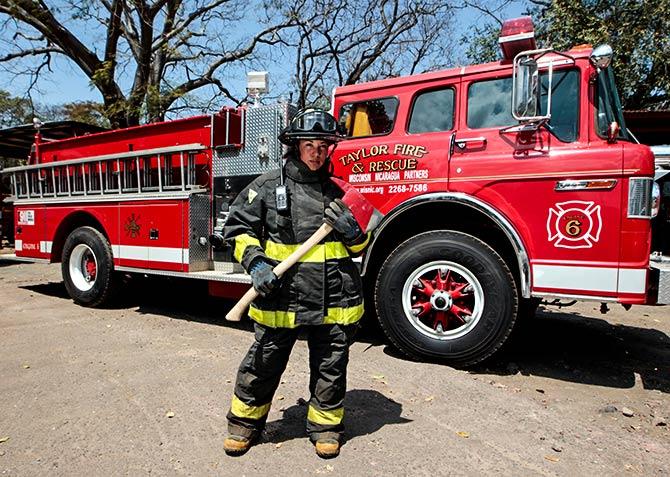 IMAGE:

Yolaina Chavez Talavera is a firefighter in Managua, Nicaragua.


Photograph:

Oswaldo Rivas/Reuters
Country: Nicaragua
'In my early days as a female firefighter, men, my team mates, thought that I would not last long in the organisation due to the hard training.
'However, in practice, I showed them that I am able to take on tasks at the same level as men.
'I think women must fight to break through in all areas, in the midst of the machismo that still persists in Nicaragua and in Hispanic countries.'
---
8. Gabriela Santos, 26, carriage driver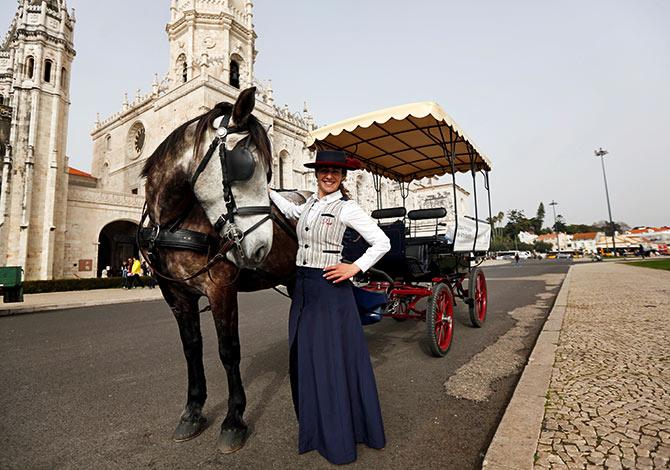 IMAGE:

Gabriela Santos, a driver of carriages for tourists in Lisbon, Portugal.


Photograph:

Rafael Marchante/Reuters
Country: Portugal
'In my work it is better to be a woman than a man.
'Women have more sensitivity with horses. That is why employers prefer to hire women. Also tourists prefer a carriage driven by a woman.'
---
9. Filipina Grace Ocol, 40, backhoe operator
IMAGE:

Filipina Grace Ocol is a mother of three and is from Tubay, Agusan del Sur, southern Philippines.


Photograph:

Erik De Castro/Reuters
Country: Philippines
'There are a few female workers that can drive big trucks and backhoe. If men can do it, why can't women do it? I'm better than the men, they can only drive trucks here but I can drive both.'
---
10. Ana Maria del Verdun Suarez, 27, policewoman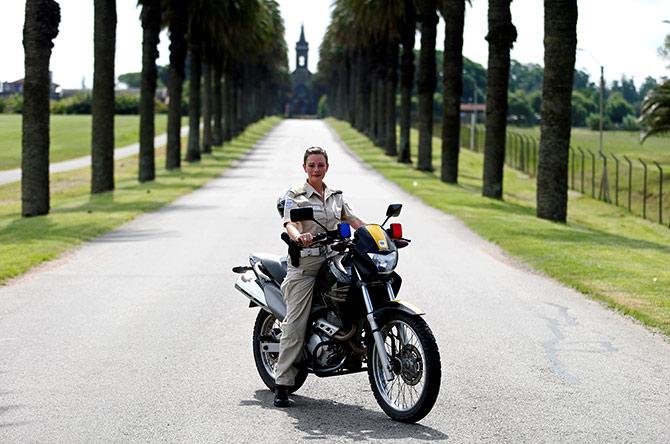 IMAGE:

Ana Maria del Verdun Suarez in Montevideo City, Uruguay.


Photograph: Andres Stapff/Reuters
Country: Uruguay
'More women should be able to have jobs that traditionally were considered only for men.
'I believe that discrimination comes sometimes from all of us, it comes from the inside.
'There are already many professions that were exclusively male and are now performed by women.'
---
11. Liz Azoulay, 26, cargo loader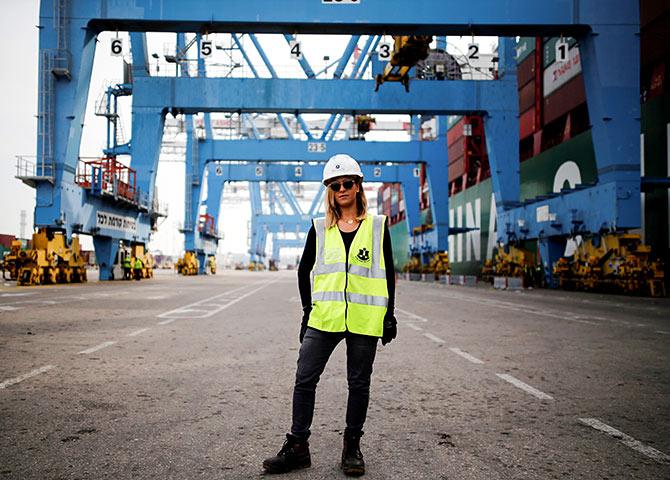 IMAGE:

Liz Azoulay loads and unloads cargo at Ashdod port in Ashdod, southern Israel.


Photograph:

Amir Cohen/Reuters
Country: Israel
'In most of my professional life I did not face any inequality. In the port of Ashdod we are equal on the docks. I am the first woman who began working at the Ashdod port as a stevedore.'
---
12. Merylee, 26, soldier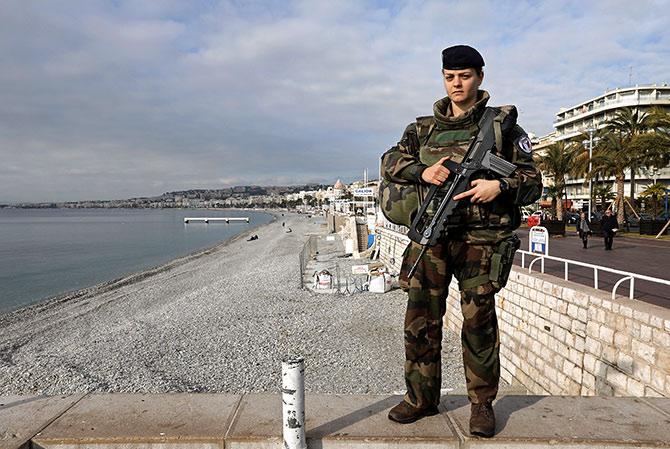 IMAGE:

Merylee stands guard in Nice, France.


Photograph:

Eric Gaillard/Reuters
Country: France
'The parity in the army already exists, it is the uniform that takes precedence over gender.'
---
13. Maria Uvarovskaya, pilot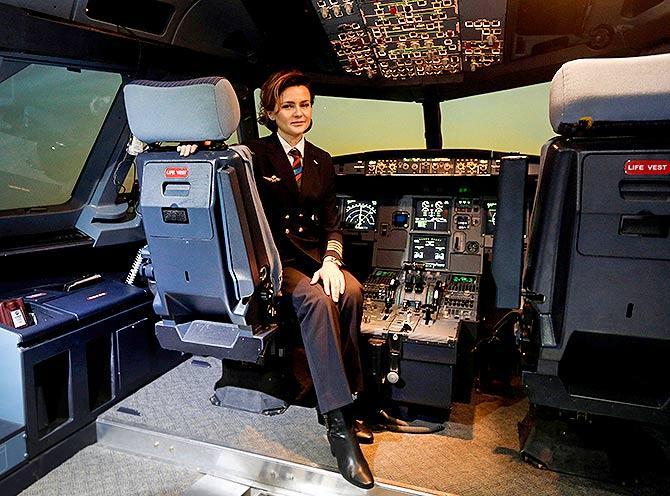 IMAGE:

Pilot Maria Uvarovskaya in the A320 flight simulator at the Aeroflot training centre at Sheremetyevo airport outside Moscow, Russia.


Photograph:

Grigory Dukor/Reuters
Country: Russia
'Much more can be done by the women themselves to solve such problems (gender inequality).'
---