'Cracking the exam is 99 per cent hard work and persistence and maybe 1 per cent luck.'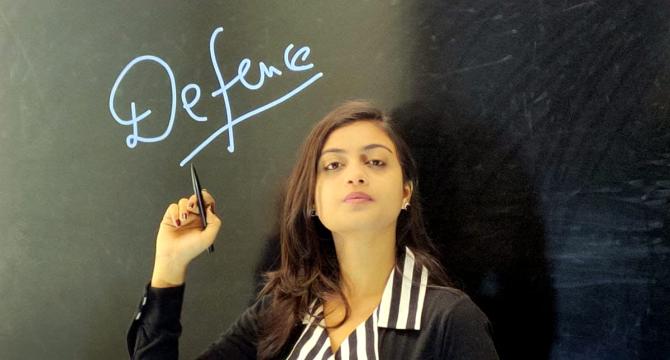 Every year as many as 500,000 aspirants register for the Combined Defence Services Exam, the entrance examination conducted by the Union Public Service Commission to enable admission into the Indian Military Academy, the Officers Training Academy, the Indian Naval Academy and the Indian Air Force Academy.
Of these only 6,000 make the cut which is, less than 2 per cent of the total number of applicants.
A few years ago, while preparing for UPSC's medical entrance exam, Shivani Soni, daughter of a retired Indian Navy officer from Rajkot, Gujarat, realised why the best of candidates are unable to crack the test.
"Since my father was a Naval NCO (non commissioned officer), I have grown up in a defence background and was always fascinated by the uniform," Shivani, 23, tells Divya Nair/Rediff.com.
"I have been schooled in different cities and had a good exposure. Yet, when I wanted to prepare for the entrance test, I spent almost 8 months deciding which books to read. There is no dearth of resources but the problem is they are all scattered. That's when I realised that students from smaller towns with lesser access to the Internet or mentors may have to face more challenges,"
Shivani feels that, in India, access to education is still a luxury for many. And for those who live in smaller towns and villages, finding a mentor or signing up for expensive coaching is not even an alternative.
"Some of these institutes that train and coach students to prepare for defence exams charge a lot of money. While some of us are privileged enough to access these resources and study material, there are lakhs of students who want to apply but are unable to because there is no one to guide them," she says.
When Shivani couldn't clear the pre-medical entrance after Class 12 to join the Armed Forces Medical College in Pune, she decided to review her choices.
As she appeared for CDS, the Services Selection Board and the Air Force Common Admission Test, Shivani came across multiple resources online offering guidance to students.
She cleared the written exam, but couldn't make it through the interview.
"I couldn't afford expensive coaching. But after appearing for multiple exams, I realised that the UPSC is not testing your marks or academic brilliance. It tests your personality."
"Instead of worrying and giving up, I found a stronger reason and purpose to try harder. I noticed that every year, students with grades as high as 9 and 10 CGPA appeared for the exam, but couldn't crack it," she recalls.
"I saw this as an opportunity to help more aspirants like me prepare and perform better in the exam. I thought: Even if I cleared the exam I may be able to give 1 per cent to my country. But if I were to help train students like me, I would be helping my country produce best officers every year."
One of the first steps for Shivani was to identify how she can be a part of this journey.
Although she was already helping her friends and acquaintances prepare for various competitive exam, she wanted to do it professionally.
"A lot of institutes that offered training were charging huge fees which everyone may not be able to afford. I looked up Defence Mania (an e-learning platform) started by Sahil Kumar. They had a decent number of subscribers and were providing tutorials on YouTube for free, but something was lacking," she says.
"These videos were very complex and students from smaller towns were finding it difficult to understand basic concepts. I approached Sahil and offered some suggestions to help it make it more presentable and student-friendly. For example, we started simplifying the concepts and started presenting them in bilingual format -- English and Hindi, to be more specific."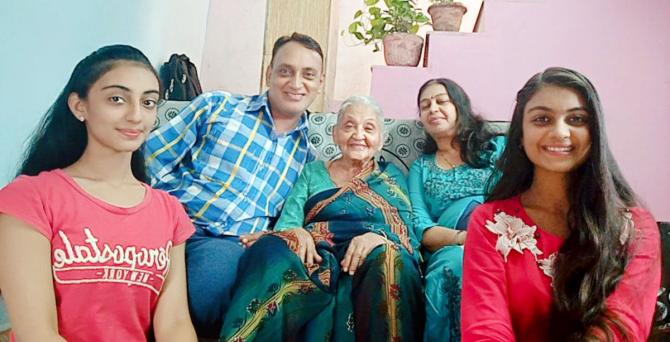 In 2019, after graduating in pharmacy from Saurashtra University in Rajkot, Shivani moved to Delhi and offered to teach at the institute.
"When I told Sahil I will charge Rs 44 per hour, he was curious why I was charging so less. Frankly, I had no teaching experience and wanted to learn the whole process. Based on my experience appearing for these exams, I suggested we work on developing the attitude and personality of these aspirants," she says.
"When you are appearing for a defence exam it is very important to have a daily schedule and follow it with utmost discipline every day. Simply studying concepts will not help you crack the exam."
"We started a Telegram account so we could reach out to more students. We sent out daily bulletins, news clippings and information to help students stay updated and revise every day."
But as the number of students increased, it became difficult to reach out and monitor their progress.
"The site would crash because of technical issues," Shivani remembers.
In 2020, Defence Mania signed up with ClassPlus (an edtech platform) to build a customised app to help make their resources available online.
"Once we had an app, it became easier to get in touch with students. We upload the material online and students can access them as per their convenience. It is easier to track their payments and guide them accordingly. We still provide free resources on YouTube that is accessible to all," she says.
"Those who want to sign up for specific coaching, we design the resources accordingly to suit their requirements, which has helped us expand our reach to from 900 subscribers to 50,000 in a year with presence in as many as 116 cities in India," she adds.
After Shivani's suggestions were incorporated, more than 1,000 students have been able to clear various UPSC examinations through the institute in the last two years.
Shivani, who is now a partner with Defence Mania, wants to extend her help and resources to train more students across the country.
While the overall intake through these exams may not increase, Shivani explains where students generally go wrong in their preparation.
"Most aspirants struggle to select the right resources. There are way too much study material available for free on multiple platforms. You will be overwhelmed by the choices that you won't even know where and how to start. By the time you realise, you must have already lost a few months."
Another mistake is timing, Shivani points out.
"Some start too early and lose steam before the actual exam; others start too late and don&'t get enough time to prepare."
"When you want to appear for a competitive exam to join the armed forces, you must have discipline. The exam demands you to have a certain personality which will eventually reflect in your interview. Cracking the exam is 99 per cent hard work and persistence and maybe 1 per cent luck."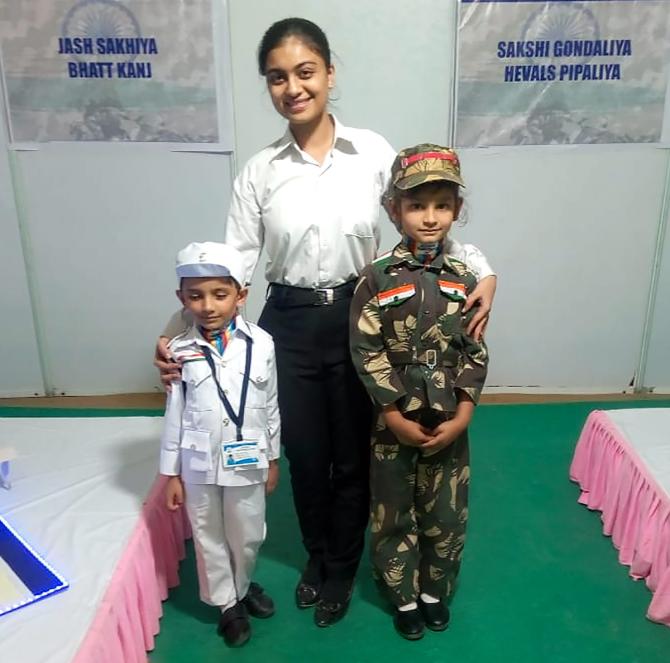 There is no age limit to serve the country, Shivani insists.
"While the UPSC may limit you from taking an exam after 24, 26 or 27 years, the age limit for the Territorial Army exam is 42. Mahendra Singh Dhoni is the best example of this," she explains.
If you want to crack the UPSC and join the armed forces, Shivani has some advice: "Read the newspaper every day."
"Keep looking out for opportunities."
"Apply as long as you meet the eligibility criteria."
"Don't let anyone tell you that you cannot clear the exam because you don't have money or grades."
"If you cannot make it to the 1 per cent by writing an exam, you have 99 other reasons to still be a part of nation building."