Radhika Apte's simple but powerful message is relevant for all of us.
Text: Divya Nair/Rediff.com
Video: Hitesh Harisinghani/Rediff.com; Afsar Dayatar/Rediff.com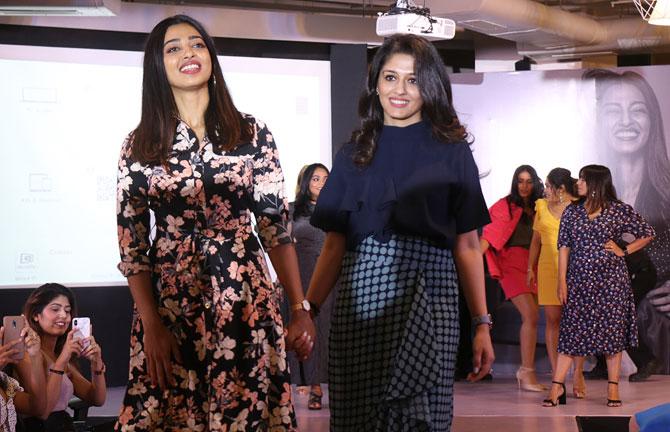 For most of us, including the 3.1 million people who follow her on Instagram, Radhika Apte is a successful, confident, movie star.
A versatile, award-winning actor.
A bold and glamorous fashionista.
But how many of you knew that Radhika was once criticised for her dusky skin and the size of her lips?
"I think we all do it," she candidly confesses to Rediff.com's Divya Nair. "We shame people based on their skin colour, their weight, noses, breast size, lip sizes.." she added.
Radhika who has worked on subjects like menstruation and domestic abuse in her films has been subject to umpteen trolls and memes on social media.
She strongly believes that abuse of all kinds needs to be stopped. That society's attitude, towards other people, needs to change.
Radhika recently signed up with the brand IS.U curated by Designer Rasika Menda to launch her signature clothing line which aims to create affordable clothing for Indian women of all sizes and shapes.
As someone who grew up being constantly remarked for the way she looked, Radhika wants to make women feel confident about their bodies.
Radhika has an important message for society, particularly those who troll and shame other people.
Watch the video to find out!
Radhika also reveals how her new role as fashion entrepreneur is beyond business.
"Films and advertising has a huge influence on society, particularly fashion. As a country, we are so attracted to the West. That needs to change. We need to cater to our audience."
"Indian bodies are different," she adds. "We struggle to find clothes that fit (us) and are made for Indian bodies. So we must try and encourage designers, start-ups who are doing that, bringing that small change."
Radhika also wants Indian organisations to make workplaces safe and healthy to encourage women leaders.
"We must include more women in the workforce. We need to have equal pay, have facilities where there can be no abuse... where people of both genders can speak about harassment at work more openly," she says.
At the same time, she is clear about one thing -- that no one, including men and women should be schooled on what to wear or what to do, based on how they look.
The message is loud and clear: "Accept people the way they are. Don't give advice if you're not asked to."