'A lot of you might think what are these girls trying to prove by wearing lingerie, by showing off their bodies?'
'The truth is, we aren't trying to prove anything.
'We are just comfortable in our skin.'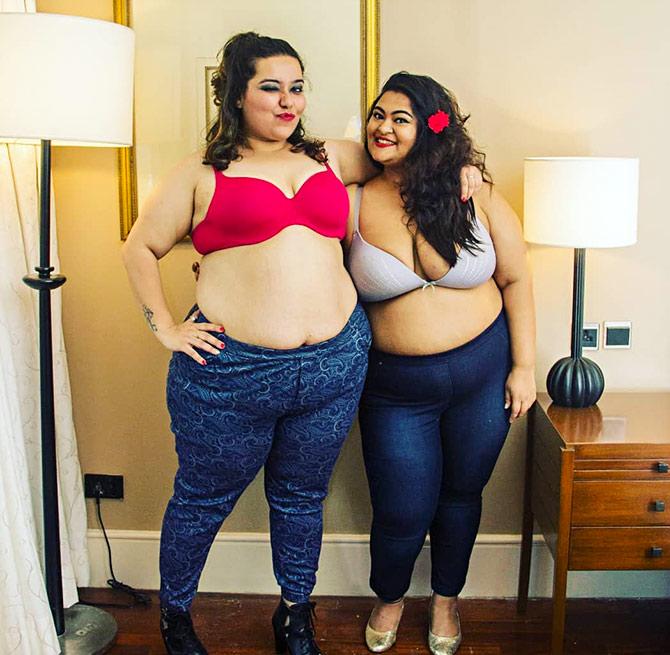 Better known online as @theplusgirl, Anindita Roy, 33, is changing the way women feel about their bodies.
During her growing up years, she struggled with weight issues.
Today, she uses her social media presence to decry fat-shaming.
With 9,300 followers on Instagram, she is speaking up on issues regarding body acceptance.
Demystifying the myth that bikinis look good only on size zero models, her photographs are proof that curvy women look sexy too.
In an interview with Anita Aikara/Rediff.com, the advertising professional speaks about her journey, embracing body positivity, trolls and why Indians consider obesity a sickness that needs to be cured.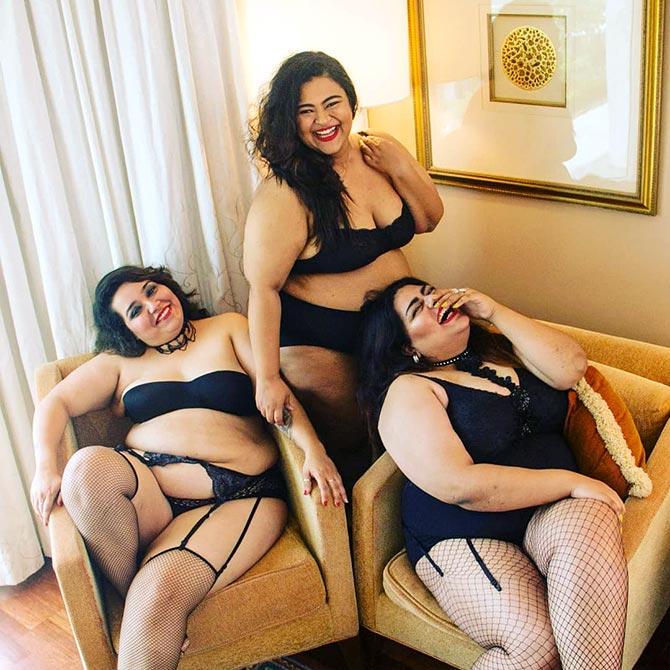 Being a F-A-T person in India
As a child, Anindita was skinny.
"Till the age of 12, I was quite thin," she recalls. "Then, suddenly, I started putting on weight."
Her family feared she was suffering from thyroid "because I have a family history".
But that was not the case. "It was just how girls put on weight due to hormonal changes."
As her girth increased, the hate and bullying increased as well.
She may now be an inspiration for many, but there was a time when she struggled with her body image.
"At first, it was difficult for me to accept my body. I had seen a thinner me and, suddenly, I put on a lot of weight."
"People made fun of me. Boys and girls in school teased me. They'd call me moti (fat)."
That was the defining narrative of her childhood.
While walking on the road, if she fell down and hurt herself, even the "aunties would laugh".
"It is funny when a fat girl falls," Anindita says. "People won't be sympathetic towards you. No one will want to know if you hurt yourself."
The bullying followed her through college and her work-life too.
A male colleague, who is fat, still takes a dig at her. "He tells me things that are inappropriate. There are times when it gets insulting and I have to tell him to stop."
"Back in 2009 to 2014, when I stayed in Kolkata, I'd go out partying with friends on Saturday nights."
"I would wear knee-length dresses and people on the streets would laugh," remembers Anindita, who spent most of her childhood in small towns across India due to her father's transferable job. "That would happen even if you wore a sleeveless blouse or kurti."
So, back in Kolkata, she would not even wear sleeveless outfits.
All through the trauma, Anindita has stayed strong thanks to her parents. "They stood by me. They never forced anything on me. I get my happiness from them."
When she was a child, her father used to source fabrics and get stylish Western separates like dungarees and A-line skirts stitched for her.
"He was a very fashionable person and used to look like Rajesh Khanna," she laughs, remembering her late father.
"However, when I started gaining weight, I stopped wearing Western clothes. I would only wear kurtas."
"My father was disappointed and would ask me, 'What are you doing to yourself?'"
It was only much later in life that Anindita realised she couldn't hide her fat under layers of clothing.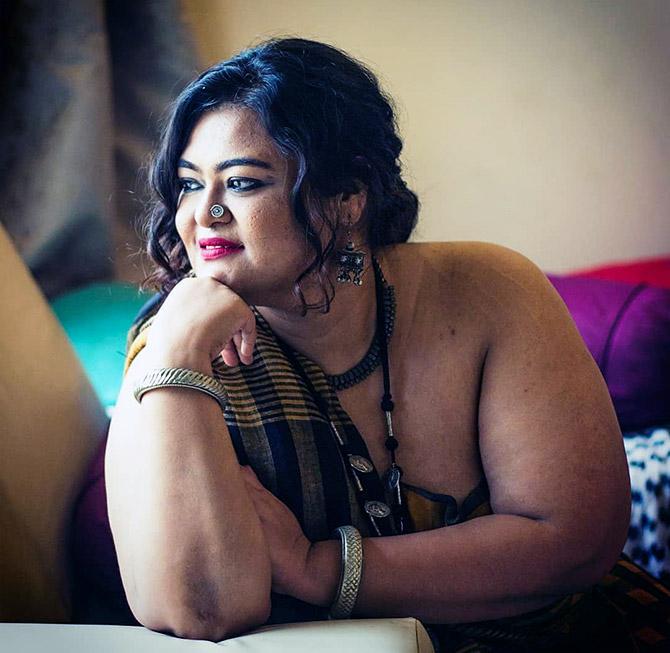 The times when she was really hurt
Anindita has faced rejection on matrimonial sites.
'Often men would want to be with me just because of my big assets. But they would not want to date me. People think fat girls are good to only sleep with," she reveals.
Someone wrote on her Instagram page: 'Plus-size women should die because they are pigs who hog all day. Fat women are unattractive.'
"People treat you as though you're suffering from some illness if you are fat. We have no sickness," she says. "This is not a disease and no one needs to cure us.
"Sonakshi Sinha is so thin, still she goes through so much body shaming. Parineeti (Chopra) had to lose all that weight. That's because of all the unrealistic standards that society has set. Kareena (Kapoor) is size zero and that is the benchmark we all need to follow to be sexy."
"But it is not like that. Every body type is sexy."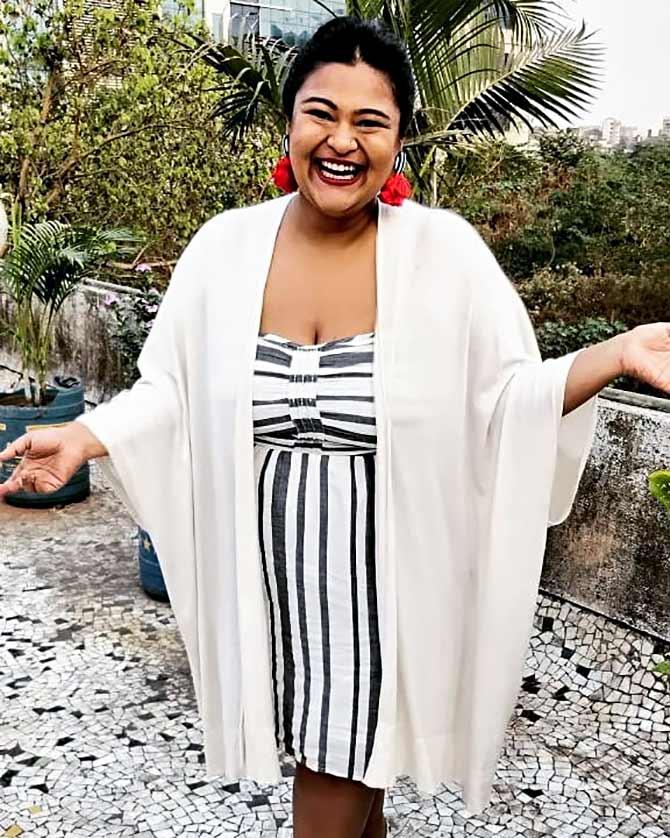 Anindita always wanted to design clothes and dreamed of joining the National Institute of Fashion Techonology.
"I didn't get through and, because of the expensive fees, I didn't give it a second shot," says the advertising professional who studied at Delhi's Miranda House.
When she was doing her masters, her father passed away. She had to start working immediately, so she shifted to Delhi.
Later, when she moved to Kolkata in 2009, she saw a future in fashion designing.
"I understand colours and embroidery and I have modern taste. I know fashion trends. That's when I started designing."
By the time she moved to Mumbai, she had already begun to turn her life around.
Giving credit to the city, she says, "The transformation happened when I shifted to Mumbai. Since it is a big city, I haven't faced too much rebuke for being fat."
"Once in Mumbai, I decided it was time to get rid of all the dupattas," she and shrugs. "I used to feel so hot covering my arms with a dupatta. Finally, I decided I wouldn't care. I told myself, 'Let people laugh.'"
In 2017, a junior at work introduced her to Instagram.
Armed with encouragement from her colleagues and technical know-how learnt from a junior, Anindita started posting photos on social media last December.
Initially, her posts were about unfollowing fashion rules.
"I started giving fashion tips. The core problem is that many plus-sized women are not confident about wearing dresses."
The bias is still very much out there
There are girls who write to Anindita about how they are body shamed.
"A girl wrote to me and said her mother shames her everyday. That is very sad. What could I do? How could I advise her mother?" she asks.
"I know that only she can help herself. But maybe I could motivate her."
Anindita decided she would pose in lingerie on Instagram.
"I'm in front of the world, posing semi-nude, with all my cellulite, fat arms and belly exposed.
"If people see me, maybe they will get inspired and take a stand and wear what they want, rather than obsess about losing weight."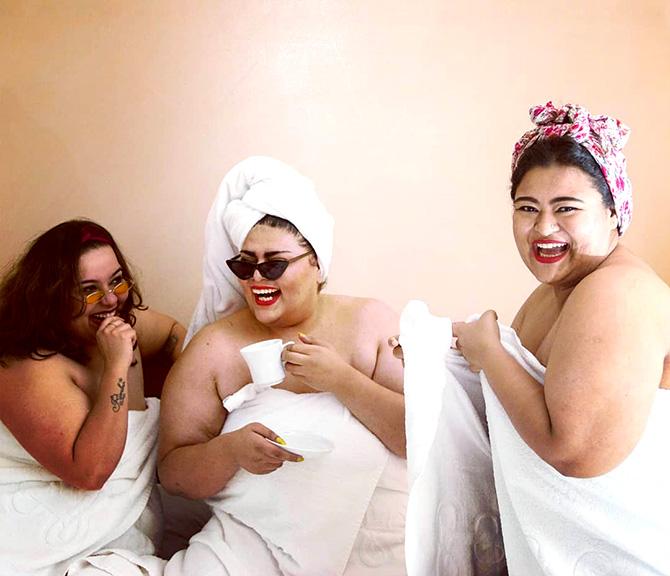 Indians are obsessed with weight
Fashion weeks in India have started embracing diversity and one may imagine people are more accepting of body issues.
However, Anindita strongly believes that Indians are really insensitive when it comes to weight.
"India has set standard of beauty rules," she explains. "They feel that everyone needs to be perfect."
"You may be beautiful and have the perfect body. But if you have big boobs, you'll still get teased," says the 33 year old who is appalled by people's reaction to obesity.
Do people actually enjoy the spectacle of a miserable fat person?
"Yes! Fat girls have it tough. Even fat guys go through a lot of bullying. No one wants to be friends with them. Why? Because they are fat!"
A fat body always needs to be fixed
"When a colleague went to buy clothes, she got judged by the salesperson. Who is he to categorise her according to her body type? Aren't people of all sizes human beings? Everyone from XS to XXL is a human being."
"That's how we have been created. Then why do some get judged?" she asks.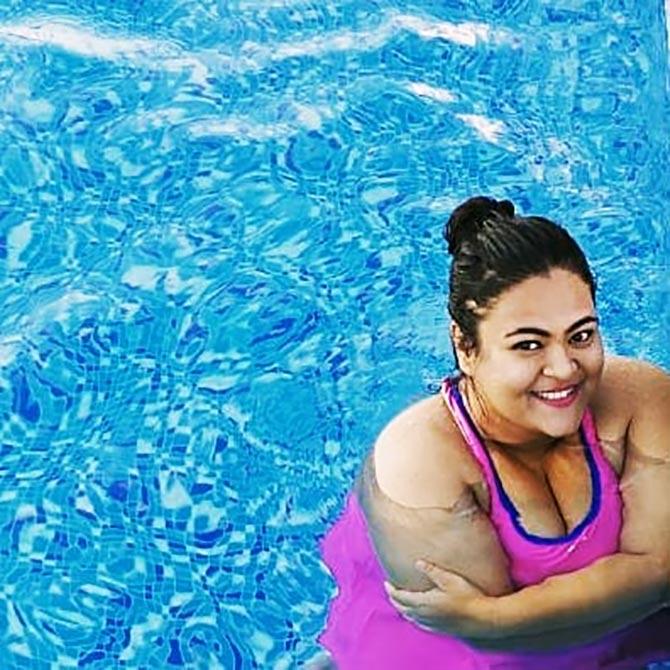 Making your own rules
"A good friend's parents keep telling her to lose weight. But she loves food. She loves to eat. So what does she do?" asks Anindita who feels that the issues of health are not that clear-cut.
"I'm not advocating obesity, it is not healthy. But there are times when you can't lose weight. Maybe it is because you are suffering from a health issue."
The healthy thinking that she prescribes to is "If you can't lose weight, do not obsess about it. Don't kill yourself about it. Learn to work around it. Go to the gym and eat healthy. But not be under any pressure to lose weight."
As for body shaming, she feels that "people need to take their own stand."
"If you have to lose weight, do it!
"But don't ever stop yourself from wearing things you want, just because you are fat," is her word of advice.
"Women need to understand that people who stare at them are dirty. You are not dirty."