The flight attendant also revealed the reason she was hesitant to start a relationship with Milind Soman.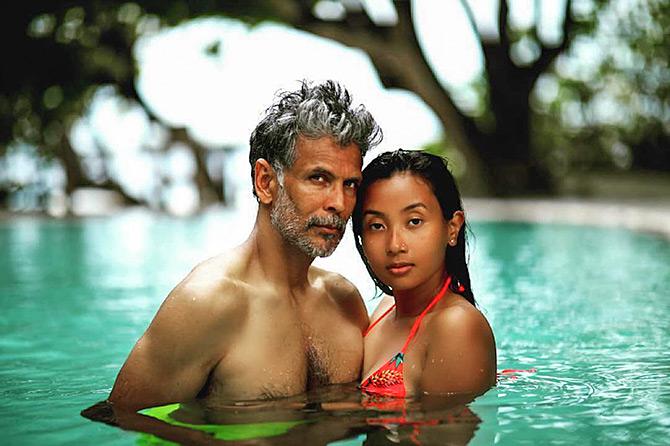 When the nation's hottest heartthrob Milind Soman married a much younger Ankita Konwar, the Internet was divided.
Milind was 52 while Ankita was just 27, nearly half his age.
While the couple have never spoken about the age difference, in a recent interview with Humans of Bombay, Ankita revealed how the two met each other.
The flight attendant who had just lost her boyfriend back then happened to spot a tall rugged man -- Milind Soman -- at the hotel she was staying in Chennai.
'I was a big fan! So I went to say hello, but he was busy,' Ankita said.
It seems they were destined to meet again.
'A few days later, I saw him again at the hotel's nightclub.'
'I kept looking at him and he was staring at me too! My friends urged me to go talk to him. So I asked if he'd like to dance and he obliged! There was a vibe -- I could feel it!' Ankita told Humans of Bombay.
'But I didn't want to get too involved. So I excused myself and I thought he'd forget about me. But soon he came looking for me–he had to go so he asked for my number. It was a new number, so I didn't remember it and didn't have my phone on me either.'
'So he made my friend take his number and asked me to message him. A few days passed by and I couldn't get him out of my mind. So I texted him and we met again after a week, for dinner. After that, we'd constantly text and meet.'
Ankita also revealed the reason why she was hesitant to get involved. Unlike what most people thought, it's not because of Milind's age.
'But I still couldn't bring myself to get fully involved. Until one day, I told him that because of my past, with my boyfriend, there was a part of me that couldn't let go,' Ankita shared.
It was Milind's response that made Konwar take the next step.
'When I fell in love with you, I fell in love with all of you. Even the part that carries the burden of your past. So don't be afraid, we're in this together,' Milind told Ankita.
'That's when I knew–this was the man for me!' Ankita said.
The couple tied the knot in April 22, 2018. And they had not one, but three weddings -- a traditional wedding in Alibaug, a white wedding in Spain under a waterfall and a third, at a place called 'the end of the world' according to Ankita.