We'd asked you, dear readers to share your father's best advice.
Here are some interesting responses we received from you.
Dipak Kumar Panda, 46 from Bhubaneshwar tells us why he admires his father Sarat Kumar Panda.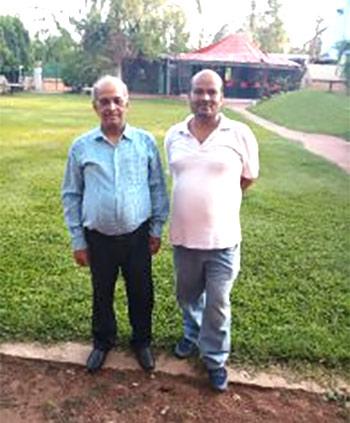 It is very difficult to describe in words the relationship I share with my father.
If I am a good human being today, it is all because of his advice and guiding principles which I have followed since I was a child.
My father was a busy lawyer. Although he had very little time to spare, he would prioritise and give enough time whenever it was required.
In almost all cases he would extend his working time to cater to others.
It was much later in life I learned the reason why he had the highest level of dedication to his work.
It was because his profession is such that a mistake done by him would reflect on his client's life.
He had to be extremely careful and cautious not to make a mistake.
For the same reason, even at the age of 70 he works and spends more time studying.
He taught me to treat elders with respect not by virtue of their position, power or any materialistic view. But because of the life experience they have.
During my childhood, whenever I passed through his office, he would introduce me to his clients.
When I was young, I wouldn't bother so much because they were HIS clients.
I would simply greet them and move on. But once they left, my father would call me again and explain the importance of showing respect to elders irrespective of their backgrounds.
Another important advice he shared that echoes in my ears till date was to trust Almighty and accept life in all situations the way it approaches you.
Let me share one of the stories he told me.
He told me this story when I was not accepting things and was very critical about life.
There was a very honest man, a believer of Almighty who stayed in a village. He was so good that he never harmed anyone or did anything wrong.
One day, he discovered that a flood was coming.
On hearing the news, everyone in the village started moving to the upper landscape areas to save their lives. But this man stayed put in his house.
When people called out to him to come along, he refused to move away.
He said he has trust on Almighty that nothing wrong can happen to him.
As the water level increased, a couple who was moving in a boat found this person at his house. The couple and the boatman called out to him to come with them so they could save his life.
The man again declined as he was sure of his past good work and believed that God could not do anything wrong with him.
After some time the water level had reached the highest level and there was a rescue helicopter passing by.
Seeing that this man was going to die, they offered to rescue him.
Once again, the man declined to take any help as he was fully confident of his Almighty.
Some time later, the water level rose and the man died in his home.
After reaching heaven, the person asked God, 'Why didn't you save my life? I have not done anything wrong in my entire life and always trusted you.'
God replied that he had tried to help in every possible way to save him -- through all those people who called him, the couple, the boatmen and finally, the helicopter rescue team. But he'd ignored them all and called upon his own death.
The moral of the story is that often times we don't recognise the offerings and signs God sends us as blessings.
We try to evaluate and decline and then cry out loud rather than accepting and moving on.
Through this story, my father taught me that it is important to trust that all that is happening around you is good and for a cause. This will make your life simple and successful.
My father is my god, leader and mentor. He has always been there trying to make me a better individual.
---
S Kailas, 70 from Mumbai writes about his father Sri R Swaminathan from Mumbai: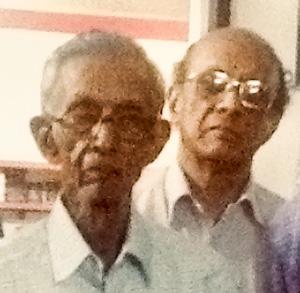 My father used to say, 'If you do not get the things you like, like the things you get.'
I always cherish this advice.