Make your weekend almondy with two super-indulgent dessert recipes.
A fusion sweet treat, the Almond and Carrot Halwa Crumble is flecked with sliced almonds.
Almond Pinnis make for a fabulous take on a traditional Punjabi dessert that uses wheat flour, rava, elaichi, sesame seeds and almonds.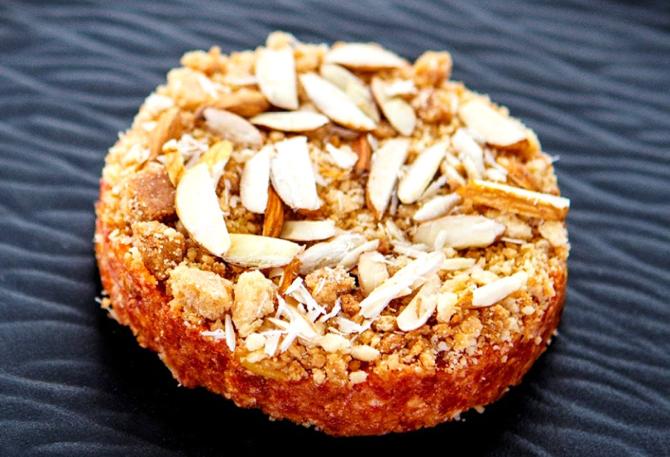 Almond and Carrot Halwa Crumble
Serves: 6
Ingredients
½ kg red desi carrots, grated
½ litre full cream milk
½ cup sugar
4 elaichi or green cardamom pods, powdered
2 tbsp ghee
¼ cup almonds, blanched and sliced
For the crumble
¾ cup maida or all-purpose flour
½ cup unsalted butter
½ cup sugar
½ cup ground almonds
For the garnish
Method
In a heavy-bottomed saucepan heat the milk and carrots.
Keep cooking until the milk reduces to 3/4.
Add the cardamom powder, ghee, sugar and mix.
Add the sliced and blanched almonds.
Once the milk thickens and it is fully absorbed, take off heat and set aside.
Preheat the oven to 180°C.
In a bowl combine all the ingredients for the crumble.
Using your hands mix the ingredients till you get a crumbly mixture.
Transfer the mixture into a round baking tray lined with greased parchment paper or grease the pan with oil/butter.
Spread the crumble mixture out evenly and flatten it using the your fingers.
Bake at 180°C till the crumbs turn golden brown.
Transfer onto a plate, garnish with roasted almonds and serve topped with the carrot halwa.
---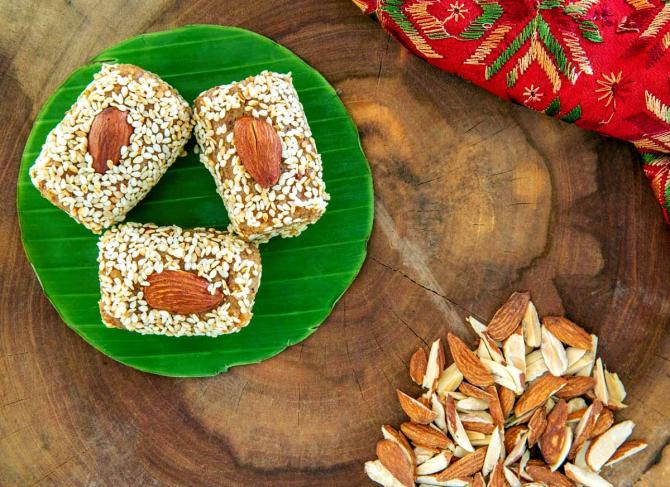 Almond and Sesame Pinni
Serves: 4
Ingredients
2 cups wheat flour
2½ tsp rava or semolina
¼ cup almond slivers, roasted
¼ cup til or white sesame powder, roasted
¾ cup ghee
1 cup sugar
½ cup water
½ tsp elaichi or green cardamom powder
1 tbsp white sesame seeds, roasted
6-8 whole almonds, roasted
Method
Heat the ghee in a heavy-bottomed pan and add the semolina and wheat flour to it.
Roast the mixture till you get a golden brown colour.
In another heavy-bottomed saucepan heat the water and sugar over low heat.
Keep stirring until you get a one-string consistency chasni (please see the note below).
Mix the sugar syrup with the wheat flour-semolina mixture.
Add the green cardamom powder and mix.
Cook the mixture till it becomes a little dry.
Add the roasted almond slivers and white sesame seeds and mix well.
Take off heat and allow the mixture to cool.
Divide into equal parts and shape it into small ovals or squares.
Place a roasted almond in the centre of each pinni.
Roll them gently in the roasted white sesame seed powder.
Note: A one-thread syrup is sugar syrup viscous enough to pass the one-thread test.
It is important to keep testing for consistency while the sugar syrup is boiling.
The test for this is: Dip a spatula, preferably wooden, into the boiling sugar syrup and take out.
Some syrup would have coated the spatula.
Let it cool.
Touch the cooled syrup with your forefinger. Some syrup will come onto your finger.
Touch that with your thumb and separate thumb from forefinger.
When one little continuous delicate thread is formed by the syrup, when the coated forefinger is pulled away from your thumb, you have one-thread consistency sugar syrup.
Recipes by the Almond Board of California.