This super quick and easy Betel Leaf Ice Cream by MasterChef Australia Season 13 contestant Kishwar Chowdhury incorporates fennel and cardamom for a delicious post-dinner treat.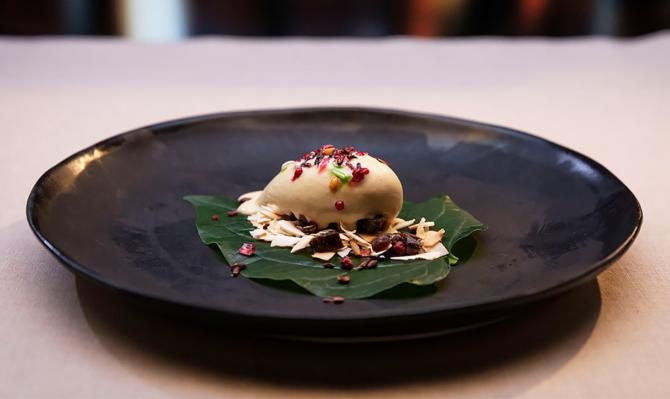 The Bengali After Dinner Mint
Serves: 4
Ingredients
For the betel leaf ice cream
1 cup cream
½ cup milk
10 gm betel leaves cut in pieces
10 gm saunf or fennel seeds, toasted
1 green cardamom pod, crushed
70 gm castor sugar (a kind of finer sugar manufactured by top baking brands)
3 egg yolks
Salt, to taste
To serve
4 betel leaves
2 tbsp coconut flakes, toasted
4 pitted dates, diced into 5 mm pieces
1 tbsp mukhwas (an after dinner mouth freshener)
Method
Pre-chill ice cream machine.
For the betel leaf ice cream
Bring the cream, milk, betel leaves, fennel, cardamom and salt to just below simmering point over lowest possible heat in a heavy-bottomed saucepan.
Take off heat and set aside for 20 minutes.
Return to simmering point then take off heat and strain into a jug.
Place the sugar and egg yolks into a bowl and whisk together.
Whisk 1/3 of the warm cream mixture into the eggs.
Whisk in remainder then return the combined mixture to the saucepan.
Over medium heat, stir continuously until mixture thickens and reaches 83°C (use a cooking thermometer if you can).
Pour through a sieve into a bowl and cool over an ice bath.
Churn in the ice cream machine according to manufacturer's instructions and then store ice cream in the freezer.
To serve, place betel leaves onto a small plate.
Top with the coconut, date and a scoop of ice cream.
Sprinkle with mukhwas.