Don't get the heat get you down. Try these soothing coolers, suggests Apeksha Mehta.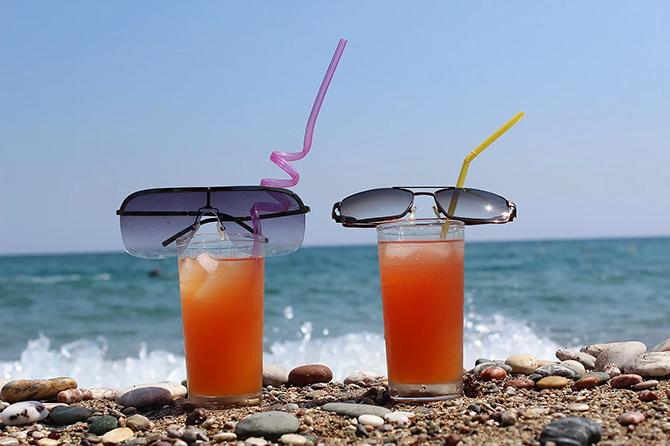 Summers can be gruelling. Cruelly hot.
As the sweat trickles down your brow or the dry heat makes you want to curl in a cool corner, tempers can rise.
So, chill with these natural coolers.
Saunf Ka Sherbet
Aah! The perfect summer drink.
It cools down your body immediately. And I'm sure the ingredients to make this are easily available in your kitchen.
Since this drink is made without preservatives, don't store it for than 24 hours.
Ingredients (For one glass of sherbet)
2 tbsp coarsely crushed fennel seeds/kutcha saunf
2 tbsp sugar (If you have rock sugar, also known as khadi shakhar, use that)
Water (1/4 cup + 1/2 cup)
Method
Soak the fennel powder and sugar in 1/4th cup water for at least 6-7 hours.
Keep it in the fridge once the sugar dissolves.
After 6-7 hours, strain it using a muslin cloth.
Add ½ cup of chilled water to concoction and it's ready.
You can adjust the sweetness as per your requirement.
Jaggery Water
Simple, yet effective!
Ingredients
Jaggery
¼ tsp lemon juice
Method
Here there are no measurements.
Just soak jaggery in a little water and let it melt.
Once it melts, strain it at least 3-4 times. The more you strain, the better it tastes.
Then transfer this solution into a glass and add more water.
Add little lime juice and it's ready.
Refrigerate, but do not store for more than a day.
Mango Mojito
How can we not have a mango recipe when we are talking about the summer?
Ingredients (For 1 glass)
2 tbsp ripe mango pulp
1 tbsp raw mango pulp
½ tsp lime juice
Water
Sprite or 7 Up or soda
Jeera powder for seasoning
Kala namak (black salt), as per taste
7-8 pudina (mint) leaves
Ice cubes
Method
In a glass, combine all the above ingredients except the water, Sprite and ice cubes.
Muddle in the pudina leaves; do not chop or puree them.
Transfer all this into your serving glass.
Add lots of ice cubes.
Add a little water and fill the rest of the glass with Sprite or soda.
Top it with some pudina leaves and it's ready to serve.
My bhabhi, Sushma Mehta, suggests a few more gharelu nuskhas to beat the summer heat.
Soak ½ tbsp jeera (cumin seeds) in water overnight and have the water in the morning. If possible, chew the jeera slowly.
Soak 10-12 dry black grapes (black kismis) overnight. In the morning just mash the grapes with your hands and drink this water.
Both these nuskhas will help to prevent acidity and reduces body heat.
---
Apeksha Mehta loves to cook and eat and can tell you the best places to satisfy your food cravings in Mumbai. She is part of the core team at Foodies' Central, a online group for those who are passionate about cooking.