Rediff.com's Hitesh Harisinghani shows you how to make the perfect whipped coffee.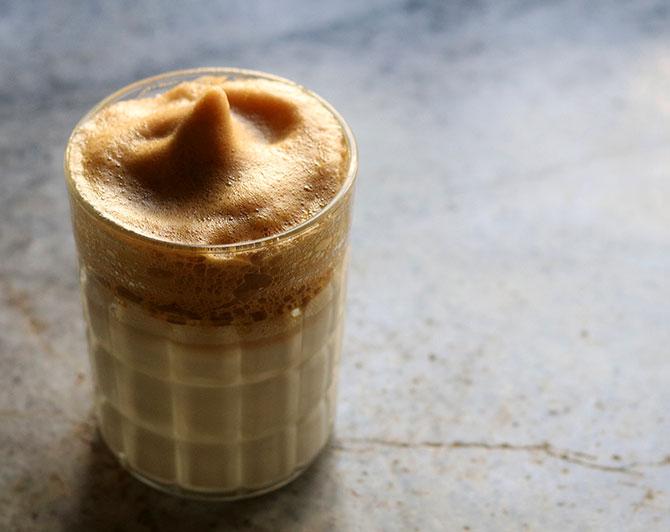 Amid the recent lockdown, 'Dalgona Coffee' is the latest challenge taking over social media.
What is Dalgona Coffee?
It's basically cold coffee with a fancy name which also happens to be a popular South Korean honeycomb candy.
In fact, some Indians feel it is inspired by 'beaten/whipped coffee' or 'phitti hui coffee' which we have been having in our homes since ages.
The word 'Dalgona' fascinated me so much that I immediately decided to give it a shot.
Two teaspoons of coffee powder, sugar and milk/warm water are the basic ingredients you will require to make it.
Before you try it, let me warn you, it's a very time consuming process. But when you see the result, it will be worth your efforts.
Here's how I made it!
Video: Hitesh Harisinghani/Rediff.com
Ingredients
2 tsp coffee powder
2 tsp sugar
A glass of milk
2 tsp warm water
Ice cubes
Cocoa powder (optional)
Method
In a glass, take 2 tsps coffee powder, warm water and sugar.
Use a spoon/whisk/milk beater to whip the mixture well till it fluffs up like foam. This may take anything between 5 to 30 minutes depending on what you are using to beat the mixture.
To serve, add a few cubes of ice in a glass.
Add milk and top it with whipped coffee.
Add cocoa powder and serve.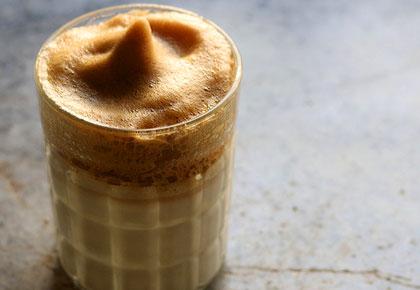 ---
Dear readers, what are you cooking/baking during the lockdown? Have you tried something new or interesting? Maybe you discovered an old recipe and enjoyed making it for the first time. Share your most interesting cooking videos, recipes and photographs. Simply write to getahead@rediff.co.in (subject: My homecooking recipe) along with your name, age and location. We'll post the best recipes right here on Rediff.com