A simple and fast recipe to satisfy your Chinese food cravings by food blogger Sangita Agrawal.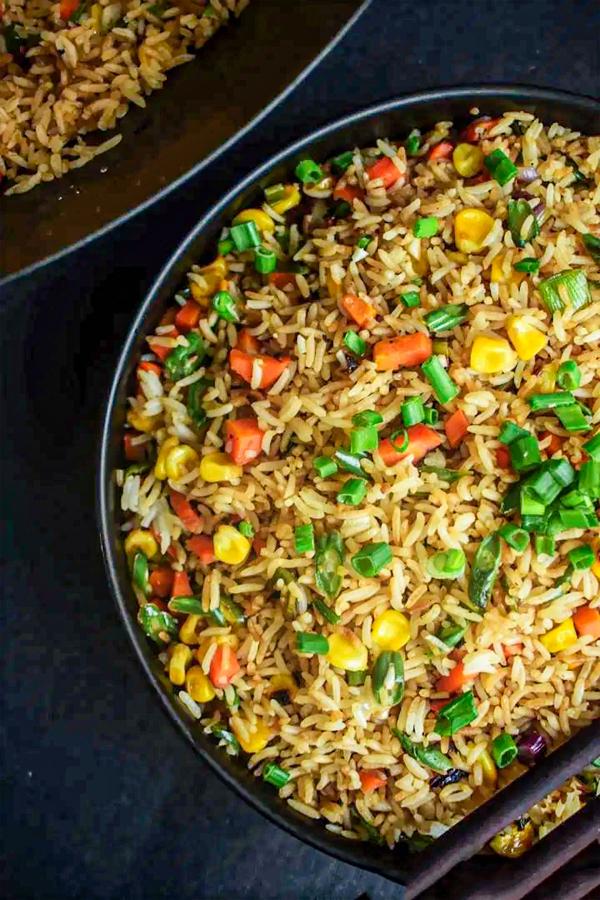 Vegetable Fried Rice
Serves: 3-4 servings
Ingredients
3 cups cooked rice, a long or medium-grain rice. Jasmine rice is preferred. Cook the rice al dente (firm, with a bite to it).
Boil and cool beforehand.
Leftover rice works well too
1½ cups chopped vegetables, like beans, carrots, peas, bell peppers ie red/yellow/green capsicum, broccoli, cabbage, spring onions and corn or even frozen vegetables
½ cup spring onions, keep the chopped green stalks aside for garnish
1 tbsp grated garlic
1 tbsp soy sauce
1 tsp sugar
1 tsp vinegar or lemon juice
½ tsp black pepper powder
1 tsp oil
1 tbsp butter
Salt to taste
Chilli oil for serving
Method
In a large kadhai or wok heat the oil and butter on high heat.
Take care to not burn or brown the butter.
Once the butter melts, add the garlic and spring onions (not the green stalks) and stir fry for 30 seconds or until the onions soften.
Add the chopped vegetables and saute on high heat for a few minutes.
Stir in the cooked rice.
Toss well for 2-3 minutes.
Add the soy sauce, salt, sugar, pepper, vinegar/lemon juice.
Toss.
Keep lightly mixing till the rice is slightly toasted.
Garnish with the chopped spring onion greens and serve with chilli oil.
Note: For many Chinese recipes cooking is done on high heat -- for this one too.
Sangita Agrawal lives in Mumbai and publishes the food blog Bliss of Cooking.