Bored of home cooked food? Try out this interesting recipe by Priya Prabhu.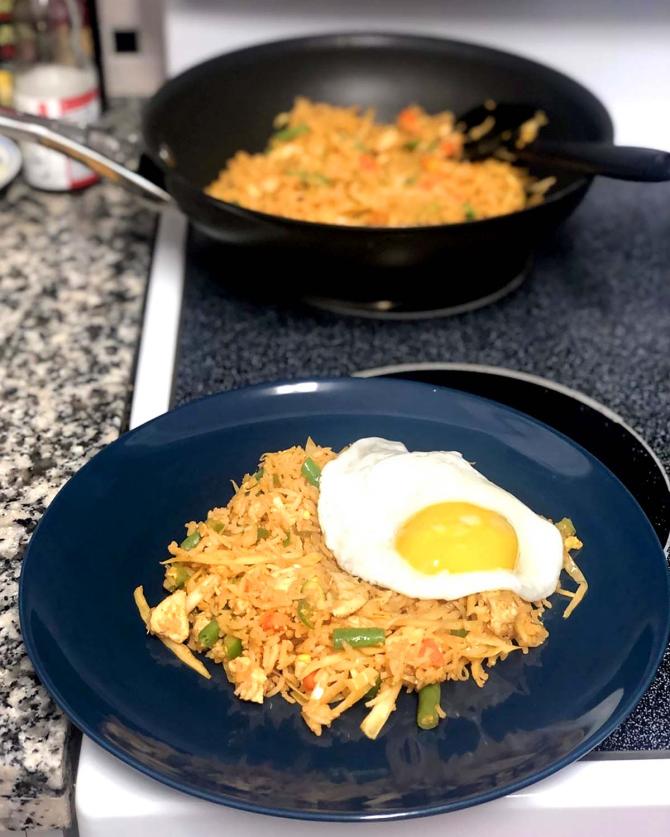 Indonesian Fried Rice (Nasi Goreng)
Ingredients
1 cup (250 gm) rice, cooked and cooled
2 tbsp oil
2 tbsp butter
2 tbsp garlic, minced
200 gm chicken cut into thin strips (skip for veg)
1 egg beaten (skip for veg)
2 eggs
200 gm carrot, finely chopped
200 gm of cabbage, finely chopped
100 gm green beans, finely chopped
3 tbsp soya sauce
1 tbsp sugar
3 tbsp hot sauce (any spicy red chilli based sauce)
Few green parts of spring onion
Salt to taste
Black pepper to taste
Method
On high flame heat the oil.
Add butter.
Add finely chopped garlic and saute.
Add chicken pieces.
Let chicken cook.
Once chicken has cooked, add beaten eggs.
Let the eggs cook.
Add the cooked rice and stir gently.
Add salt and black pepper.
Take the soya sauce in a small bowl and add the sugar to it.
Mix well.
Add the soya sauce to the rice and mix well.
Reduce flame slightly.
Add vegetables and stir.
Add the hot sauce and ensure vegetables are cooked.
They can be crunchy to ensure fried rice taste stays intact. Switch off gas.
On another pan fry the egg as a sunny side up.
Take rice in a plate, top it with the fried egg and serve hot.
We ask you, Dear Readers to share your special Christmas recipes.
It could be a secret recipe handed down by your mother or grandmother or your modern take on a traditional dish.
We're sure your recipe has a story behind it, so don't forget to tell us the background.
Send us your favourite Christmas recipes and we'll publish the best ones on Rediff.com.
Please mail your recipe(s)/video(s) to getahead@rediff.co.in (Subject: Christmas Recipe) along with your name, location and, of course, the recipe(s).
Don't forget to share a pic of the recipe as well.