Do you need an uncomplicated recipe for a satisfying chicken curry, full of pleasing flavours?
Try Rahul Khare's Singaporean Curry Chicken.
Sure to be popular with those who you feed it to, this dish is filling and ready in just under 30 minutes. Have it with steamed rice.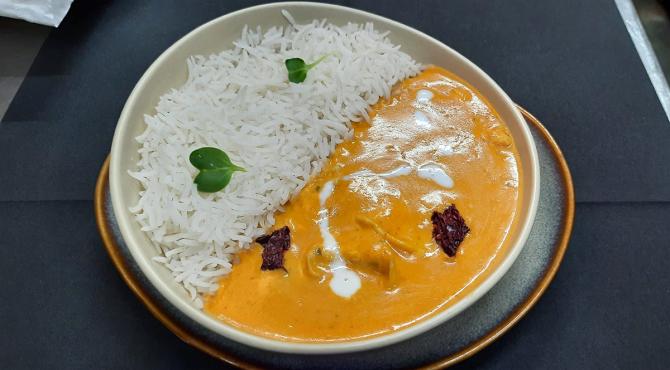 Singaporean Curry Chicken
Serves: 1-2
Ingredients
100 gm Singaporean curry paste, easily available either online or in local stores
100 gm coconut milk powder
40 gm broccoli, chopped into small florets
200 gm chicken breast, boneless, cut into medium-sized pieces
600 ml water
Salt to taste
1-2 dried red chillies, broken into small pieces
1-2 tsp oil
For serving:
Method
Heat the oil in a heavy-bottomed kadhai or wok.
Add the broccoli, red chillies and saute for a few minutes.
Add the chicken along with the Singaporean curry paste and stir.
Add some of the water and cover the kadhai so the chicken cooks.
Take off the lid after a bit and bring the curry to a boil.
Lower heat.
In a small bowl, combine the coconut milk powder along with some of the remaining water.
Mix well so that there are no lumps.
Add the coconut milk to the gravy.
Add remaining water carefully -- do not add too much more water or else the gravy will become very thin.
Add salt and taste for seasoning.
Check the consistency of the gravy.
Add more water if required.
Let the curry simmer for a few minutes.
Take off heat.
Serve with a drizzle of cream and arrange the rice on one side of a plate and the curry on the other side for better visual effect and Instagram pics :) (Please check the pic above).


Rahul Khare is the corporate executive chef at The Finch, a cafe-resto bar at Powai, Mumbai.