Anyone for an indulgent Carrot and Walnut Barfi with a nutty twist?
Inspired by Gajar Ka Halwa, Shumaila Chauhan's adaptation makes for an appetising way to wind up your meal.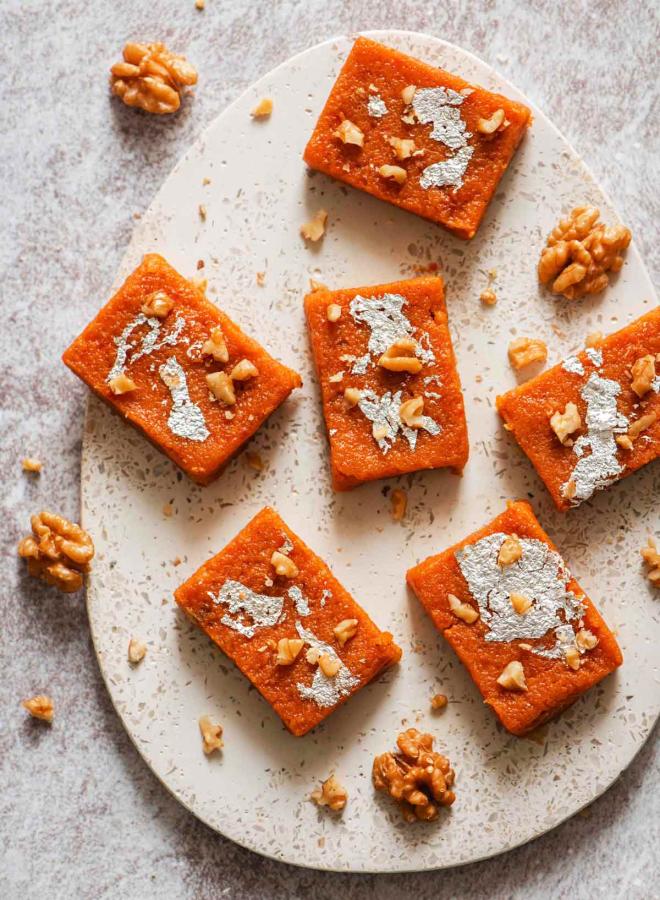 Carrot and Walnut Barfi
Serves: 4-5
Ingredients
500 gm red carrots, peeled
2 tbsp ghee + 1 tbsp extra
3-4 whole green elaichi or cardamom, de-husked
2 tbsp grated desiccated coconut, optional
1 cup milk
1/3 cup sugar
¾ cup walnuts
¼ cup milk powder
Few strands kesar or saffron
¼ cup roughly chopped walnuts, to add at the end
Butter or ghee, for greasing the cake pan
8x8 cake pan, or a container with sides, for setting the barfi
Method
Roughly chop the carrots.
Blend in a mixer/blender with 1-2 tbsp of the milk.
Do not add more milk.
Pulse to a coarse paste.
Alternatively, finely grate the carrots.
Line an 8x8 cake pan (or a container with sides) with parchment paper and grease with butter or ghee.
Heat the 2 tbsp ghee in a heavy-bottomed kadhai or saucepan.
Add the carrot paste and mix well to coat with ghee.
Cover and cook over medium low heat for 5-8 minutes or until the carrot mixture loses moisture.
Add the remaining milk, saffron strands.
Mix well.
Cover and cook on low heat till all the milk evaporates.
Keep stirring and make sure to cook over low heat.
While the carrots are cooking, pulse the walnuts with the milk powder, cardamom seeds, desiccated coconut to a fine powder.
Once all the milk has evaporated and the carrots are no longer leaving any water, add the sugar and mix.
Cook on low-medium heat till the sugar syrup dries up.
Add the walnut powder mixture and mix well.
Add the remaining 1 tbsp ghee and cook for a few more minutes till the mixture comes together and thickens.
Add the chopped walnuts.
Take off heat and transfer the mixture to the greased and lined cake pan.
Pat the barfi mass to with a spatula till it's an even layer of preferred barfi thickness.
Let set for 2-3 hours in the refrigerator.
Once set, cut into barfi-sized pieces and serve.
Shumaila Chauhan is the creator of food blog the Novice Housewife.
Do you have any recipes to share? Please mail the recipe(s) to getahead@rediff.co.in (SUBJECT: RECIPE) with photographs/videos of the recipe, your name, location and a photograph of yours.