Chef Rahul Khare's exotic dessert departs from the ordinary -- traditional beetroot halwa wrapped in cannoli shells and served with rabri.
Oh, and it's garnished with chopped pistachios and decorated with edible flowers.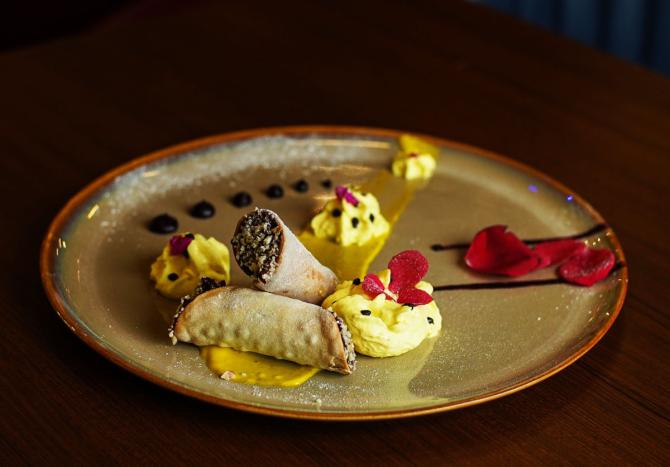 Beetroot Halwa Cannoli with Rabri
Serves: 1-2
Ingredients
For the beetroot halwa
200 ml milk
200 beetroot, grated
70 gm sugar
1 tsp or less green elaichi or cardamom powder
30 gm khoya or mava or milk solid
10 gm ghee
7 gm cashews, chopped
7 gm pistachios chopped
5 gm almonds, chopped
For assembly
2 cannoli shells (please see the recipe below)
Finely chopped pistachios
30 gm rabri (please see the note below)
5 gm or few edible flowers along with their stems, available in some gourmet gorcery stores (please see the note below)
Chocolate sauce
Method
For the beetroot halwa
In a saucepan bring the milk to boil over medium heat.
Lower the heat and keep stirring until the milk thickens.
In a heavy-bottomed kadhai or saucepan fry the chopped nuts in the ghee until golden in colour.
Set aside.
In the same saucepan or kadhai, add the grated beetroot and fry for a few minutes until aromatic.
Add the thickened milk and cook till absorbed and the beetroot is cooked.
Add the khoya, sugar, cardamom powder and stir well.
Cook till the halwa thickens.
Take off heat and garnish with chopped nuts.
Keep aside but keep warm.
For the assembly
Stuff the 2 cannoli shells with the warm beetroot halwa.
On a plate spread the rabri with the help of a palette knife or a butter knife.
Place the stuffed cannoli on a the rabri (please see the pic above).
Using a piping bag, decorate the plate with a few swirls of chocolate sauce and then swirls of rabri.
Sprinkle chopped pistachios on both ends of the cannoli shells.
Garnish before serving with edible flowers.
Cannoli Shells
Recipe by Get Ahead Team
Servings: 6 shells
Ingredients
1 cup maida or all purpose flour
2 tbsp sugar
Pinch salt
1 tbsp chilled butter, cut into small pieces
1 egg
¼ cup dry white wine + 1 tsp brandy (please see the note below)
Oil for deep frying
Cannoli moulds or substitute with aluminium foil (please see the note below)
Method
Mix together the maida, sugar, salt.
Work the pieces of butter into the flour mixture till you have coarse crumbs.
Pour in the wine and the brandy and add the egg.
Knead well to make a soft dough.
Refrigerate dough for 25-30 minutes.
Heat the oil in a large kadhai or wok over high heat.
While the oil is heating, divide the dough in equal 1-inch-diameter balls.
On a floured surface roll each ball into a thin circle with a rolling pin.
Wrap the first circle of dough around the cannoli mold, making sure the ends overlap.
Seal by pressing down lightly with your fingers.
Deep fry until a light golden brown.
Cool a minute or two.
Carefully easy the mould out from the cannoli shell, using a kitchen towel and use the mould for the next shell.
Repeat till all the shells are fried.
If you have multiple moulds, fry two or three shells at a time and then de-mould.
Allow the shells to come to room temperature before stuffing
Note: Jasmine and roses are edible flowers. For more information on edible flowers available in India, please click here: 12 edible Indian flowers (external link).
Either purchase a small quantity of rabri from a sweet shop to use while assembling this dessert. Or make rabri at home following this recipe.
Beets can be substituted with an equal quantity grated carrots in the halwa recipe and you could opt for carrot halwa cannoli.
Cannoli shells can be made without wine. Substitute the wine plus brandy with ¼ cup sparkling white grape juice, available online.
Steel cannoli moulds for frying cannoli are easily available online. If you don't have cannoli moulds on hand, use aluminium foil.
Scrunch 6 large pieces of foil into 6 balls of nearly an inch diameter.
Tear off a large sheet of aluminium foil and fold it in half lengthwise and place on a clean surface or a cutting board.
Line the balls of foil in a row, on top of the folded foil, along its width, and roll up the foil tightly to obtain a tight solid tube of foil about 4 inches long and 1 inch in diameter.
Rahul Khare is the corporate executive chef at The Finch, a cafe-resto bar at Powai, north east Mumbai.