Executive chef Sheriyar Rustom Dotivala from The Resort, Mumbai, tells you how to set the mood for winter.
Turmeric Tomato Detox Soup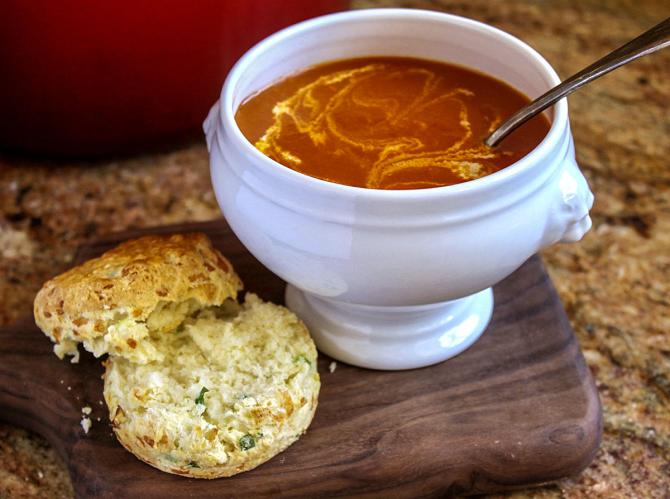 Ingredients
5 cherry tomatoes, rinsed and cut in halves
1 can diced tomatoes with their sauce
½ cup vegetable stock
1 small onion, finely diced
2 garlic cloves, minced
2 tsp turmeric powder
1 tsp coconut oil
½ tsp sea salt
1 tsp dried basil
1 tbsp apple cider vinegar
Freshly ground black pepper
Mixed seeds and nuts, to garnish
Method
Heat the coconut oil in a sauce pan and fry the onion and garlic for one minute.
Add turmeric and cherry tomatoes, and cook until the tomatoes soften and leave their juices.
Add the tomato can, vegetable stock, apple cider vinegar and basil.
Bring to boil, cover with a lid and let simmer for five minutes.
Transfer into the blender and pulse to obtain a creamy liquid.
Season with salt and pepper and serve garnished with mixed seeds and nuts.
---
Tomato and Vegetable White Bean Soup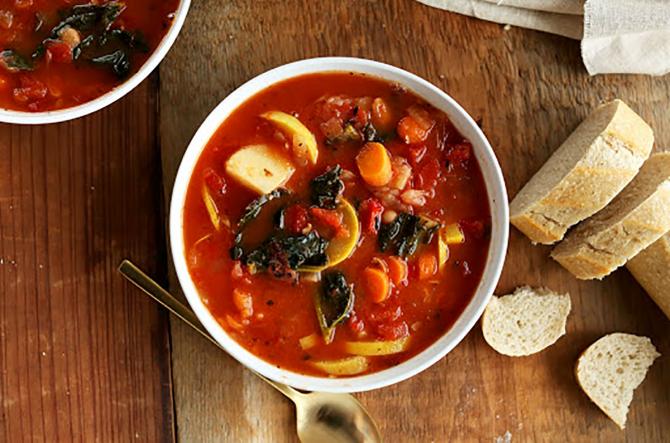 Ingredients
2 tbsp olive oil
1 large white or yellow onion (diced)
3 cloves garlic (minced)
1 cup carrots (sliced)
1/2 tsp each sea salt and black pepper (plus more to taste)
1 tsp dried basil, oregano and garlic powder
1-pound red potatoes (quartered)
2 medium yellow squash or zucchini (sliced)
2 cans fire-roasted tomatoes
30 gm tomato sauce
5 cups veggie stock
30 gm white beans (rinsed and drained)
3 cups kale (or other sturdy green // chopped)
Method
Heat a large pot over medium heat and prep veggies.
Add oil, then onion, garlic, carrot and stir. Season with salt, pepper, and spices and stir again to coat.
Add squash, potatoes, fire roasted tomatoes, tomato sauce and veggie stock.
Bring soup to a simmer and then reduce heat to low and cover.
Continue cooking for 15 minutes, then add beans, another pinch of salt and pepper, and stir.
If the soup starts boiling, be sure to lower heat to just a light simmer.
Cook for at least another 10 minutes to let the flavours meld, and then add kale, stir, and cover. Cook for 5 minutes more.
Taste and adjust seasonings as needed. Serve with a hearty bread.
We ask you, Dear Readers what is your go-to dish in the winter?
It could be a green leafy vegetable sabji or a immunity boosting soup.
Do you have a special hot chocolate recipe? Or is gajar halwa your winter favourite?
Please share your recipes and we'll publish the best ones on Rediff.com.
Please mail your recipe(s)/video(s) to getahead@rediff.co.in (Subject: Winter Recipe) along with your name, location and, of course, the recipe(s).