This homemade wrap by food blogger Nadiya Sarguroh has the perfect balance of falafel, mixed green salad and tahini sauce.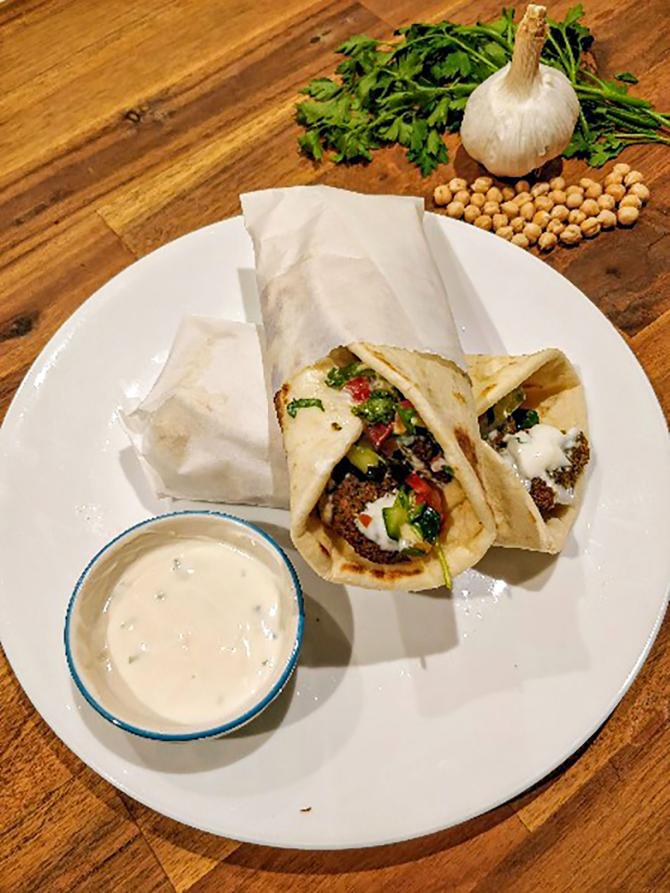 Falafel Wrap
Ingredients
For the falafel
1 cup dried kabuli channa or chickpeas, soaked for 24 hours and drained well. Do not use canned chickpeas.
1 cup parsley, roughly chopped
1 cup dhania or green coriander or cilantro
1 tsp jeera or cumin powder
½ tbsp dhania or coriander powder
½ tsp red chilly powder
½ tsp baking powder
1 small onion, roughly chopped
6 garlic pods, chopped fine
2 tbsp flour
Salt to taste
Extra virgin olive oil
Oil for greasing the fryer
For the salad
1½ tbsp extra virgin olive oil
¼ tsp black pepper
1 tbsp lemon juice
1 small cucumber, finely chopped
1 small tomato, finely chopped
1½ cup mixed greens, finely chopped, like baby spinach, different types of lettuce, a little basil, a little parsely
Salt to taste
For the tahini sauce
1 cup plain yogurt
1½ tbsp tahini paste, easily available in grocery stores
1 tbsp lemon juice
1 tbsp chopped parsley
Salt to taste
For the wrap
Method
For the falafel
In a mixer or food processor, coarsely grind parsley, dhania, onion, garlic, jeera, red chilly, dhania powder, baking powder, chickpeas, flour and salt.
Keep pulsing till you get a coarse mixture and drizzle olive oil into the mixture if it does not grind well. But do not make it too runny.
Transfer the mixture into a bowl. Cover it with a cling wrap and refrigerate for at least 1-2 hours or overnight.
Once it is well chilled, take out of the refrigerator and scoop portions of the batter into golf-sized balls and roll them into patties in the palm of your hand.
The mixture should yield around 18-20 patties.
Grease an air fryer basket* with a little oil and place 8 patties into the tray.
Cook at 170°C for 10 minutes.
Flip the patties and cook again for 10 minutes.
Take out the patties once they turn golden brown on both sides and place them on a plate.
Repeat for the balance patties.
For the salad
In a medium-sized bowl mix the cucumber, tomato and mixed greens.
For the dressing, in another small bowl mix the olive oil, black pepper, lemon juice and salt.
Pour the dressing over the salad and mix well.
For the tahini sauce
Mix the yogurt with the tahini paste, salt and lemon juice. Adjust the salt.
Sprinkle some chopped parsley over it.
Assembly
Heat up a roti tava or large non-stick frying pan or a griddle. Warm the pita bread on both sides, until soft and fluffy.
Place the pita on a board and smear the surface with a tbsp of tahini sauce and evenly spread some salad.
Alternately, if the pita bread is too thick to roll, cut each pita in half.
Open out each half so you have a pocket and smear the insides with a tbsp of the tahini sauce and stuff with salad.
Place 2 falafel patties over the salad layer and drizzle more tahini sauce over it and roll up the pita.If using the pita like a pocket, stuff 2 falafel patties into each pocket and drizzle some more tahini sauce over it.
Serve warm with more tahini sauce on the side.
Note: Do not use canned chickpeas -- it will make the batter runny.
If the batter doesn't hold together, add some more flour to it.
Make sure to refrigerate the batter for at least one hour.
Alternately: Can pan fry, deep fry or oven bake the falafels.
*If you want to know what an air fryer is, please read this (external link).
Nadiya Sarguroh lives in Mumbai and publishes the food blog HautePot.