With World Environment Day on June 5, Chef Shantanu Gupte shares his special recipe for a yummylicious decadent Black Forest Sundae.
The chef's inspiration for this dessert goes back to 2010, when British celebrity chef Heston Blumenthal created his flower pot Tiramisu.
Layered with fluffy whipped cream, edible soil and sour cherries, this is Chef Shantanu's own version of the ultimate desert.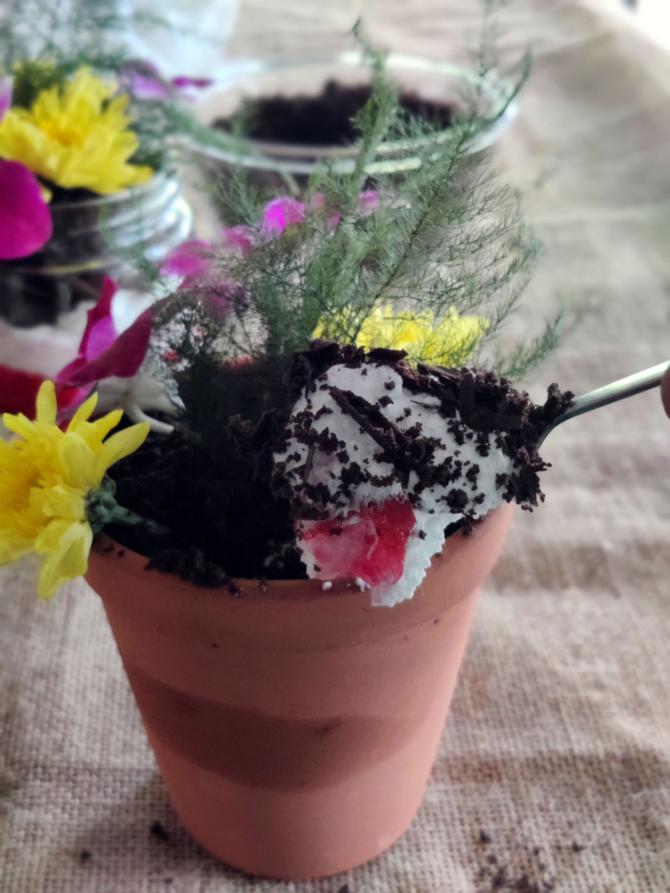 Plant-Themed Black Forest Sundae
Serves: 1
Ingredients
150 ml whipping cream
75 gm cherries, de-seeded, canned will do fine
150 gm chocolate sponge
75 ml sugar syrup
A regular, clean flower pot or a glass jar, to serve
Edible flowers along with their stems, available in some gourmet gorcery stores (jasmine and roses are edible flowers)
Ice cubes
Method
In a large bowl, using an electric beater, whisk the cream to a soft-peaks consistency.
Ensure the bowl of cream is in a tub of ice before whisking it.
Transfer the whipped cream into a piping bag with a nozzle attached.
Place it in the refrigerator for later.
Hand crumble the sponge to fine crumbs.
The crumbs will be used to recreate soil, so they should be really fine.
Chop the cherries into small pieces.
Fill the pot one fourth with the sponge crumbs.
Drizzle some of the sugar syrup on top.
Pipe in one inch of the whipped cream and top it with a layer of the chopped cherries.
Add some more of the crumbled sponge and place a few flowers along with the stems so that the jar looks like a flower pot.
Please check photograph above.
Note: For more information on edible flowers available in India, please click here: 12 edible Indian flowers (external link).
Chef Shantanu Gupte is the founder of Shiifu and Chef Shan Cakes, Mumbai.