Moist and juicy on the inside, crisp and golden on the outside, these Coconut Prawns by Nadiya Sarguroh are superbly satisfying and can be made in under 30 minutes.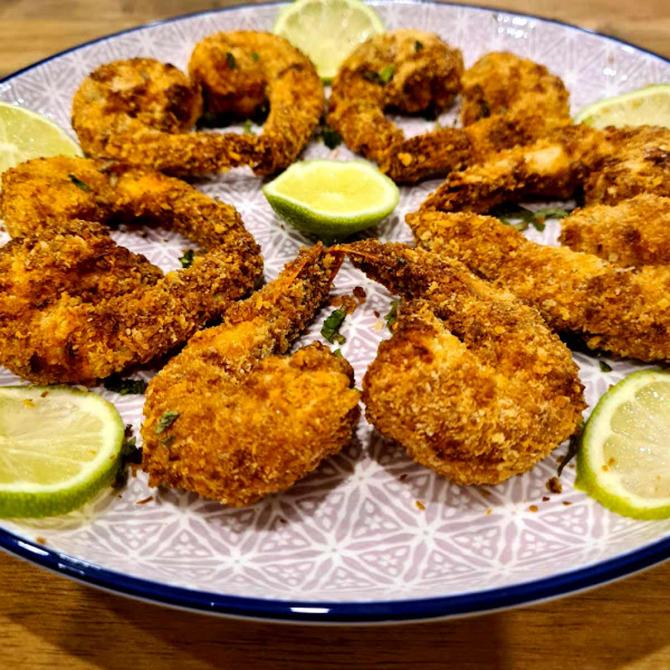 Coconut Prawns
Serves: 4
Ingredients
½ cup flour
½ tsp crushed black pepper
½ tsp chilly powder
2 eggs, lightly beaten
2/3 cup coconut flakes
1/3 cup Panko bread crumbs, available in gourmet food stores or online (can substitute with regular bread crumbs)
300 gm medium to large prawns, peeled and deveined, keep the tail
Salt to taste

Oil, for pan frying
Slices of lemon, for the garnish
Chopped green dhania or coriander or cilantro, for the garnish

Method
If you opt to use an air fryer, pre-heat to 180°C.
In a bowl combine the prawns, black pepper powder, chilly powder and salt.
To dip the prawns, place the flour another shallow bowl, eggs in a third bowl and Panko combined with coconut flakes in a fourth bowl.
Then holding each prawn by its tail, dip into the flour and then the beaten egg.
Coat with Panko crumbs and coconut flakes.
Make sure the tail is not coated.
If using an air-fryer, place in the basket.
Repeat the process for all the prawns.
Drizzle some oil over the prawns.
Cook for 15 minutes at 180°C in the air fryer or until golden brown, turning over halfway through.
If frying on the stove, heat a little oil in a heavy-bottomed frying pan and fry the prawns in batches until golden brown.
Drain excess oil and transfer onto a tissue or paper towel-lined plate.
Garnish with green coriander and slices of lemon and serve warm either as a snack with a sauce or chutney of choice or with steamed rice and curry or dal.
Nadiya Sarguroh lives in Mumbai and publishes the food blog HautePot.