We'd asked you, dear readers, to share your recipes of the dishes that were on Barack and Michelle Obama's plates.
Rediff reader Lopamudra Tripathy shares the recipe of Malpua with Rabri.
Malpua with Rabri is a very common sweet in Odisha as it is one of the 56 offering (chappan bhog) of Lord Jagannath, at Puri temple. Though Malpua alone is very delicious, serving it with rabri makes it rich in taste and look, says Lopamudra.
Here's the recipe: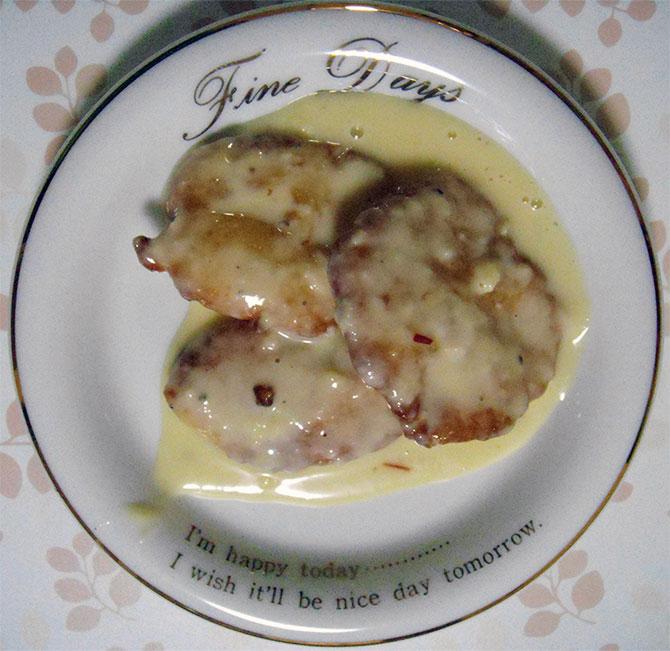 Ingredients
For Malpua
I cup maida (all-purpose flour)
Half cup milk powder (sugar less milk powder)
2 tbsp sugar (not needed if milk powder has sugar)
2 tsp chopped ginger
2 tsp saunf (fennel seeds)
1.5 cups thickened milk (boil 3 cups of full fat milk to 1 cup)
¼ tsp baking powder
Oil for frying
For sugar syrup
1 cup water
2 cups sugar
2 cardamoms
For Rabri
2 liters full fat milk
1 can of sweetened condensed milk
A pinch of saffron
½ tsp of cardamom powder
Method

Mix all the ingredients for malpua and make a fine paste. Its consistency should be almost like Dosa or Pancake batter. If needed add a table spoon of warm water to make it smooth.
Heat oil in a pan. Add a spoon full of batter to the oil. It should come up immediately. Fry the malpuas till golden. Fry 3 to 4 malpuas in a batch.
In the meantime make the sugar syrup by boiling water and sugar for a couple of minutes. Add the cardamom pods. Then reduce heat and keep stirring till the syrup becomes one thread thick. To check one thread thickness, put a drop of syrup on your finger tip and try to pull it with another fingertip. If it makes a thread then the syrup is done.
Soak the Malpuas in hot syrup for 30 minutes.
For Rabri, Boil 2 liters of full fat milk and keep on stirring to avoid sticking to the bottom of the vessel or burning. Keep it boiling for around 45 minutes until the milk thickens to half. Add a can of sweetened condensed milk and saffron strands to it. Mix nicely. Add the cardamom powder. Switch off the flame and let it cool a bit.
To serve the preparation, Place the malpuas on serving plates and pour warm rabri over it.
Photographs: Lopamudra Tripathy
ALSO SEE
Want to share your favourite recipe?
Simply e-mail your recipes to getahead@rediff.co.in (subject line: My Fav Recipe) with your name, hometown and any interesting details about the origin of the recipe, along with a photograph of the recipe, if possible.
We'll publish the best preparations right here on Rediff.com and India Abroad.
Loved this recipe? Click here for more interesting recipes and food features!