Get ready to pack on some extra pounds with Adadiya Pak, a traditional winter sweet from Gujarat made with urad dal, ghee and nuts.
While it is usually shaped like a barfi, Maharaj Bhanwar Singh's version is rolled into a laddoo and has channa dal aatta or besan as an ingredient as well.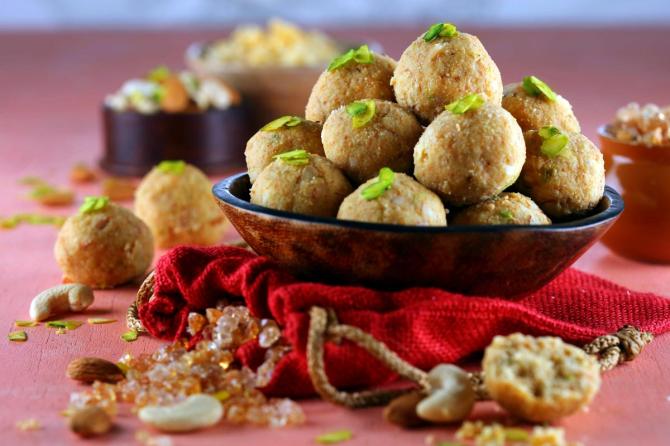 Adadiya Pak
Servings: 10-12 pieces
Ingredients
150 gm urad dalor split black gram, ground into aatta
150 gm channa dal aatta or besan or gram flour
100 gm mixed nuts like pistachios, cashews and almonds, chopped or sliced
100 gm gondh or edible gum
25 gm khus khus or poppy seeds
3 tbsp milk
250 gm sugar
250 gm or 1 cup ghee
50 gm saunth or dry ginger powder
1 tsp green elaichi or cardamom powder, optional
A pinch of jaiphal or nutmeg powder, optional
Method
In a bowl combine the urad dal aatta and the channa dal aatta.
The texture should be coarse like suji and not very smooth.
Add the milk and ¼ cup of the ghee.
Mix thoroughly with your hands.
Set aside for 30 minutes.
Gently press and sieve the mixture through a channi with big holes.
Keep aside.
In a heavy-bottomed kadhai or saucepan heat a few tbsp more of the ghee.
Add the gondh and fry for a few minutes.
Set aside to cool.
Once it cools, using a mortar and pestle, crush into a coarse powder.
In the same kadhai/saucepan, heat the rest of the ghee.
Add the flour mixture and the poppy seeds.
Roast on medium-low heat, stirring continuously, till the mixture turns a rich brown.
Be careful not to burn.
Add the coarsely-powdered gondh and mix well.
Take off heat and let the mixture cool 10-15 minutes.
Add the saunth powder, sugar, elaichi powder and jaiphal powder.
Mix well.
Spread the mixture on a square or round plate/thali.
Garnish with the chopped nuts and let it set for a few hours.
Or shape, while warm, into laddoos and garnish with nuts.
It can be stored for 2-4 weeks in an air-tight container.
Maharaj Bhanwar Singh is the corporate chef at Khandani Rajdhani.