Anik Jain, founder and CEO at Symbo, will answer your questions on insurance -- life, health, motor, travel, etc -- on a weekly basis.
Please mail your questions to getahead@rediff.co.in with the subject line 'Insurance Query', along with your name, and Anik will offer his helpful advice.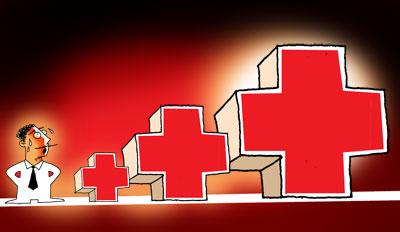 ---
Bhavna Bacha: I am looking for a policy, which can cover all my medical bills, doctors' consulting, and all kind of reports without hospitalisation.
I have checked a couple of mediclaim policies which offer almost complete health insurance, OPD wellness, etc. But this is having coverage limit on an annual basis of around few thousands and the same is not sufficient in current situation of highly polluted atmosphere. Hence looking for your suggestion if any such policies are available in India?
Anik Jain: Yes, you are right. All health insurances policies in India cover medical bills, doctors' fees and reports costs once the policyholder gets hospitalised.
However, OPD expenses depend on sum insured of the policy. Higher the SI, higher is the OPD expense cover and OPD will always be covered up to a certain limit in the policy -- up to 25 per cent of the cost / up to 10 per cent of the SI / limit of coverage on certain ailments such as dental treatments, spectacles, etc.
100 per cent OPD coverage plan is yet not made available in India but here are few insurance companies that cover OPD expenses within certain limits: Manipal Cigna, Max Bupa, Bajaj Allianz, ICICI Lombard, among others.
---
Yashish Pahwa: Natural calamities are becoming routine and are causing immense damage to property and other belongings worldwide. What according to you are the few non-life insurance covers that a person should have to protect against losses from natural disasters?
Anik Jain:
a. One can secure home against calamities with home insurance (Structure and assets inside the home along with liability cover). One should carefully check the policy conditions to ensure covers against earthquake, flooding, storm etc.
b. A comprehensive motor insurance policy to cover your car against calamities such as floods, tornado, hails, hurricanes, animal hit and like.
---
Rahul Agasti: What are the things covered under home insurance?
Anik Jain:
1. Standard Fire and Peril policy:
Natural calamities like lightning, fire, volcanic eruptions, bush fire, forest fire, earthquakes, storms, floods.
Damages caused due to explosion/implosion, man-made anti-social activities like strikes, riots, damage caused with malicious intent.
2. Home Structure
3. Public Liability Coverage
4. Personal Accident
5. Burglary and Theft
6. Content insurance
---
Munnawar Shaikh: How important it is to have a health insurance cover? How much cover should one ideally take?
Anik Jain: Health insurance in India is the fastest growing industry. According to the latest report by NSSO (National Sample Survey Organisation), only 20 per cent Indians have health insurance coverage.
It is very important to have health insurance due to many reasons:
Changing lifestyle
Rising medical expenditures
Income tax benefit
Covers more than hospitalisation
Protects savings
Qualitative treatments
Coverage for family
Health insurance covers the following:
Pays your medical bills/ hospitalisation expenses
Covers pre-existing diseases after a certain period of time
Tax benefits
Add-on one can opt: Personal Accident (PA), Critical Illness (CI), Top-up policy
Senior citizen plans are also available
Coverage in health insurance always depends on your lifestyle, your current health condition, how often you visit the doctor and like. Having said that the early you buy health insurance the better it is.
Choice of sum insured varies basis income levels, city of residence, family history of critical illness etc. We recommend a minimum sum insured of Rs 5 lakh, which should be increased regularly basis change of above said parameters. One should keep inflation in mind to regularly review sum insured under the programme.
---
Mukund Chhajed: I want to renew my car insurance but am unsure what I should look out for. What should a car insurance ideally cover? Should you go for comprehensive cover over third-party insurance?
Anik Jain: Third party liability insurance policy covers loss/damage done to the third party only; third party property damage; third party bodily injury.
But if a customer wishes to protect herself/himself and their car, there is no better option than a comprehensive insurance plan. Comprehensive insurance plans cover both third party as well as own damage of the vehicle.
Own damage includes:
Vehicle theft
Accidental damage to the vehicle
Damage due to manmade and natural disasters
Thus, it is always advisable to buy comprehensive insurance cover for your vehicle as it covers own damage to the vehicle as well as third party liability cover.
Illustration: Dominic Xavier/Rediff.com
---