Ajit Mishra, Vice President, Research, Religare Broking, answers readers' queries on a weekly basis.
Here are his replies to some of the 'buy, sell, hold or avoid?' emails that we have received.
If you want his advice on your investments, please mail your questions to getahead@rediff.co.in with the subject line, 'Stock Market Query', along with your name, and Ajit Mishra will offer his unbiased views.
Illustration: Dominic Xavier/Rediff.com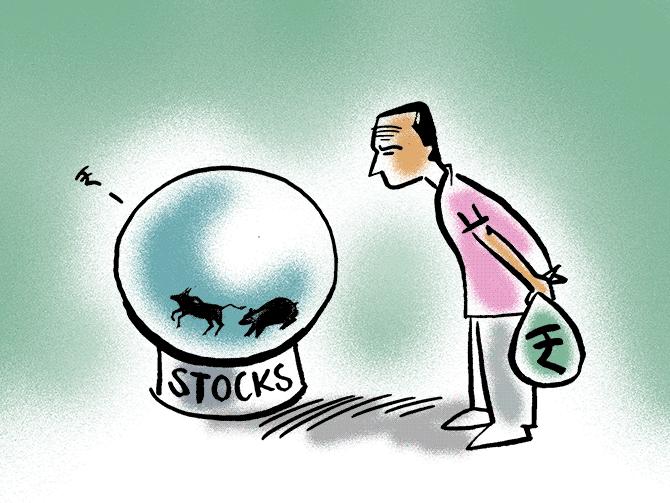 ---
Ajay kumar Seth: I am holding following stocks for the last 2-3 years:
ICICIPRU 50@400 –
PETRONETLNG50@253
Tataglobal50@@259 –
TCS15@1887 –
At what target price should I exit?
Ajit Mishra: We suggest you hold all these stocks for the long-term (at least a year) as they can deliver 12-15 per cent returns going forward.
---
Tanvi Mehta: I have 75 shares of Bajaj Finance bought at Rs 3222. Please advise whether to hold or exit and if hold, then till what price?
Ajit Mishra: Hold Bajaj Finance for healthy returns of 12-15 per cent from current levels.
---
Yogesh Indoria: I have 3000 Yes Bank shares bought @ 140/share. Please guide me whether I should hold these or sell. My perspective is for a longer period and I can hold it for 1-2 years. What is the future of Yes Bank?
Ajit Mishra: Yes Bank is currently in downturn and share price will witness high volatility at least in the short-term. Hold with a view of 2 years and try exiting partially in an up-move.
---
Ajay Alagh: I have following shares:
L&T Finance @ 123
Reliance Ind @ 1180
Kotak Bank @ 1225
Yes Bank @ 60.40
Exide Industries @ 220
CG Power @ 21.30
L&T @ 1365
I am holding some since last year and bought Yes Bank & CG Power since last month. I want to hold for long term (3-5 yrs). Kindly advice whether I should continue to hold or average Exide Industries as it has gone 15 per cent below my purchase cost.
Ajit Mishra: You can hold L&T Finance, Reliance, Kotak and L&T for the long term. Hold Yes Bank at current levels and exit partially on an up-move. Exit CG Power. Exide Industries will underperform in near term but one can hold with a view of 3-5 years.
---
Gopal Krishna: I am a beginner. I don't have any sort of knowledge in stock market. If you suggest me how to start or which book I have to read for stock market knowledge then it will be helpful for me.
Ajit Mishra: Start investing with a small corpus in either blue-chip stocks or through mutual funds. There is a lot of information available online to understand the basics of investments in the stock market.
---
Abdul Malick: Kindly advice on the prospects of Insecticide India, NIIT, TNPL, Tubes India Investments.
Ajit Mishra: Insecticide India and NIIT are good for the long-term. TNPL and Tubes India should be avoided as upside is limited from current levels.
---
Rabindra Deb: Ref. to the above mail I would like to invest in this market Rs 50,000 to Rs 100,000 for at least 1 year span. Kindly advice stocks for investment.
Ajit Mishra: Invest in stocks like Reliance industries, Infosys, HDFC Bank, Dabur, MGL, Inox Leisure and Rallis India.
---
Sanjay Patil: I have stocks which are 50 per cent down from my purchase price. Is there any chance they will rise again?
GIC: 48 @ 867
SAIL: 1000 @ 98
Ashok Leyland: 125 @ 120
Ajit Mishra: You can hold Ashok Leyland and GIC for the long-term. Book losses in SAIL on any up-move in the stock.
---
Rish Bhattacharya: I have bought 1200 shares of Gujarat Gas at Rs 180; 100 shares of HDFC Asset Management Company at Rs 2100, and 300 shares of Khadim India Ltd. for 272. Please advice with a 6-month view.
Ajit Mishra: Gujarat Gas and HDFC Asset Management are fundamentally sound stocks and one can hold them for 9-12 months for healthy returns. Khadim India has run up significantly and the upside from current levels will be limited. Exit on an up-move.
---
Vedantam SSRB: I am holding Yes Bank acquired when it was at more than Rs 200 and still holding it! How long should I wait? Same case with Kajaria; shall I hold or exit?
Ajit Mishra: Yes Bank is currently in downturn and share price will witness high volatility at least in the short-term till some clarity emerges post Q2 Earnings. Hold with a view of 2 years and try exiting partially in every up-move. Kajaria Ceramics: Hold with a view of 2 years.
---
Dhananjay Pandhade: Please advice about following stocks with one to two years view:
Tata Elxsi @ 840/share
Titan @ 1238/share
Stovec @ 2000/share
Ajit Mishra: Hold Titan and Tata Elxsi for the long term. Stovec has very low volumes and the last quarter results were not good. Hence, exit the stock.
---
Gowri Easwaran: Kindly advice if these stocks are good for long term investment?
1. Frontier Springs
2. Albert David
3. Deepak Nitrite
4. Nila Infra
5. Affle India
6. Varroc Engineering
7. Aries Agro
8. Orient Electric
9. Rajratan Global Wire
10. Magma Fin Corp
Ajit Mishra: Out of these stocks, Deepak Nitrite looks good for the long-term. In a volatile market, it is better to stick to good quality large and mid-cap stocks.
---
Anil MK: I have these stocks lying idle in my portfolio for last couple of years. I want to exit from these shares on rise. Which is comparatively worse share to hold? Please give your remarks on all shares.

1. Monnet Ispat 300@ 67
2. Jaypee Infra 800@ 5.5
3. Sintex ind 500 @ 17
4. Reliance Home 200 @ 60
5. Sanwaria Consumers 500 @ 15
6. Jet Airways 250 @ 60
Ajit Mishra: You should exit from all the above stocks.
---
K M Jayaprakash: I have invested money in Shree Renuka Sugars Limited. I had bought 6,000 shares at Rs 33 per share.

I am holding these shares since 2012 with hope of making some profit but it has plunged since then to around Rs. 6 to 7 as on date and not increasing since then. Has anything gone seriously wrong with this company's results or background?

Kindly suggest prospects of holding these shares for future.
Ajit Mishra: Sugar stocks are cyclical and highly volatile. You should sell the stock at current levels and on every up-move.
---
Nishith Bhatt: We go through your advice on stocks with interest. I would be grateful for your help in telling me your assessment on Cipla. I have more than 600 shares of this company. Being a senior citizen and long term investor, these are in my portfolio since more than four years.
Its price had gone up to Rs 670 this time last year. Now it's touching Rs 430, lowest in 52 weeks. Can one expect a price rise, say to Rs 550-590 again? If so by when?
Your guidance will go a long way in helping me. Looking forward to your advice.
Ajit Mishra: The entire pharma sector is in a downturn and so Cipla is also getting impacted. However, it's one of the good stocks in the pharma space and can deliver healthy returns in 1-2 years.
---