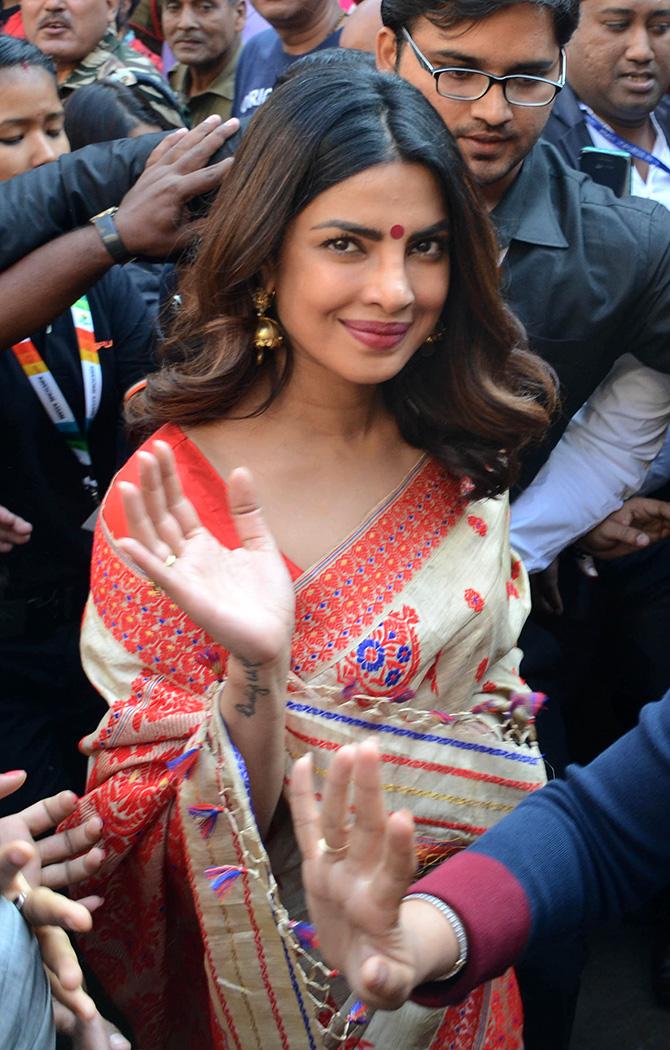 In photos: Priyanka Chopra as Assam Tourism's new ambassador.
Assam, the land of red rivers and blue hills, has found an influential voice to tell its story. The state has appointed Priyanka Chopra as its tourism ambassador.
'I will take the state, its people, food, wildlife, greenery, culture and food to the global stage and truly show the world how awesome Assam is,' the movie star told the media during her maiden visit to the state in her new role.
Chopra is in India while Quantico, Season 2 takes a winter break, and as she always does, she has been working hard and partying harder.
Chopra is expected to tour internationally -- the United States, the United Kingdom, Japan and Germany -- to promote Assam.
'The true essence of Assam and the North East is not appreciated fully in India and maybe even the world does not know much about it, but I am committed to present the incredible part of Assam's diversity and unity to the outside world in the right perspective,' PC, who played Manipuri boxing star M C Mary Kom in a film, added.
Snapshots from the trip...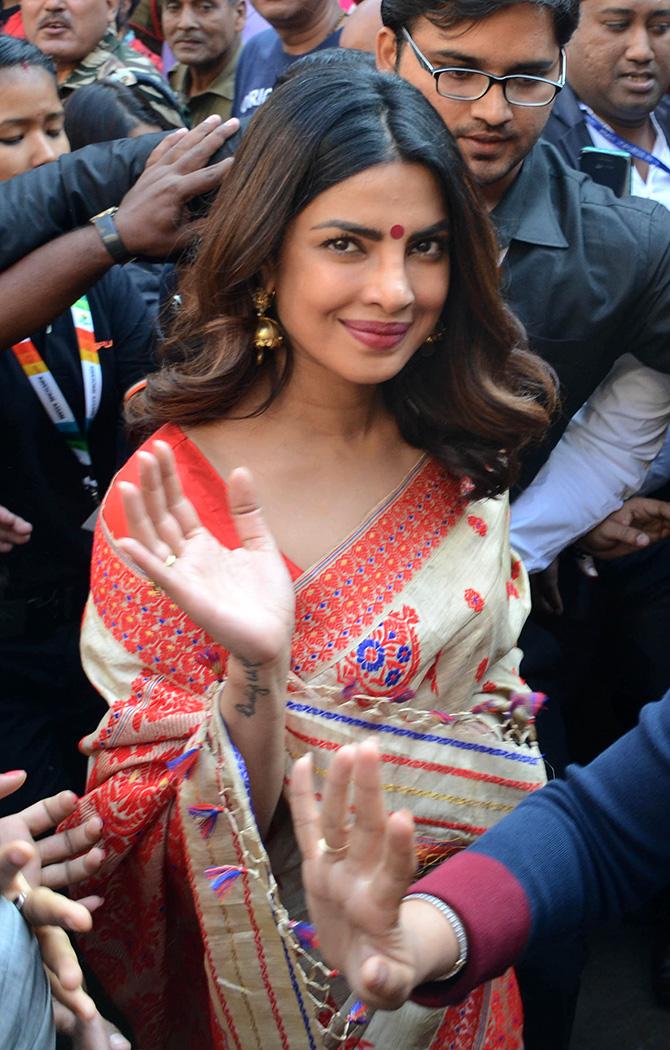 IMAGE: Priyanka Chopra visited the revered Kamakhya temple in a traditional Assamese sari.
She called it a 'magical' visit in one of her Instagram posts.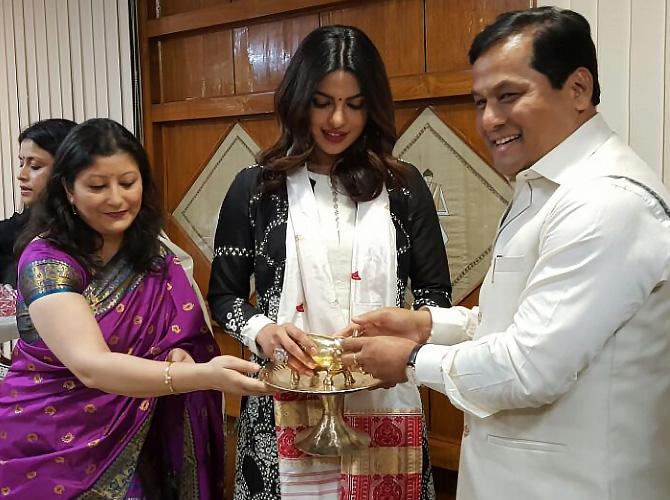 IMAGE: Assam Chief Minister Sarbananda Sonowal welcomed her with a traditional shawl and a souvenir depicting the state's famous great one-horned rhinoceros. Photograph: Kind courtesy Sarbananda Sonowal/Twitter.com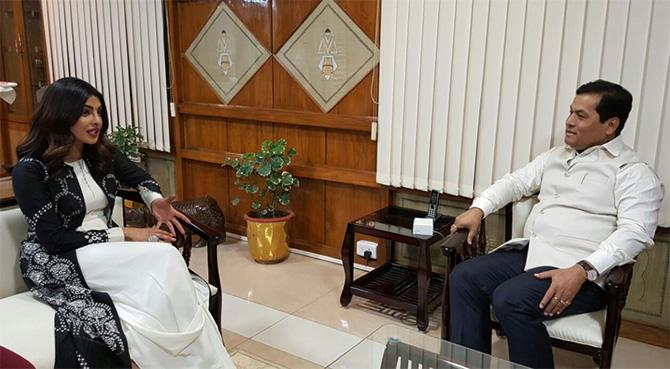 IMAGE: PC and the CM discuss their vision for the state.
Among the projects planned is one called Amar Aalohi, which will encourage villagers to arrange homestays to promote tea tourism, religious circuits and ethnic culture.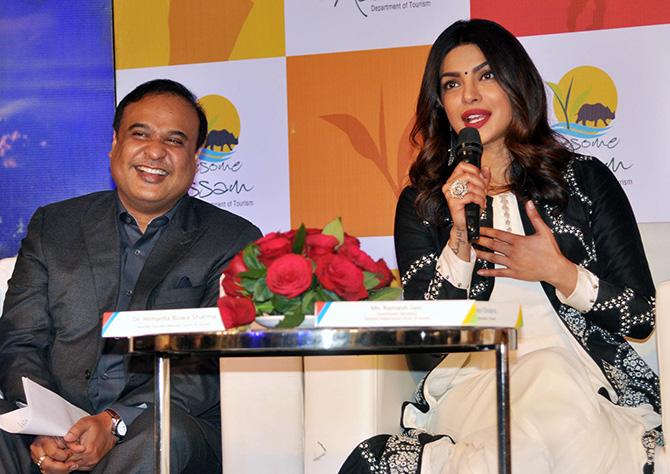 IMAGE: Assam's Tourism Minister Himanta Biswa Sarma, left, revealed to the media that the state had earlier approached Sachin Tendulkar, who refused.
'After that, we went to 4, 5 more celebrities. Finally, we zeroed in on Priyanka Chopra,' Sarma told the press conference.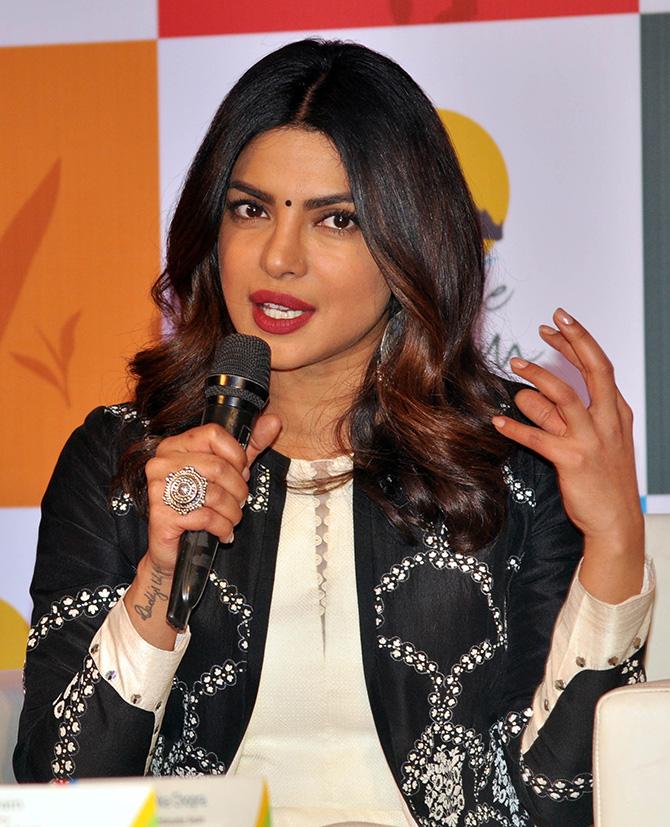 IMAGE: 'I may not have been born in Assam, but I am an Indian and take incredible pride in my country,' Chopra said.
Calling herself an 'honorary Assamese,' she also spoke of her earlier visits to the North-East.
''I have travelled with Mary (Kom) to Manipur (while filming the biopic on her) and had earlier come to Guwahati when my uncle was posted here and also after becoming Miss India.'
'Awesome Assam' at a glance
Rs 100 crore


What the Assam government presently allocate for tourism.


Rs 460 crore
What the Assam government will allocate for tourism in FY18.


Rs 15 crore
The sum allocated in September 2016 to undertake a publicity campaign under a new logo.


55,16,565
The estimated number of tourists, including 24,720 foreign travellers, who visited Assam in 2015.