Lease, Subscribe or Own?
Bindisha Sarang has the answers.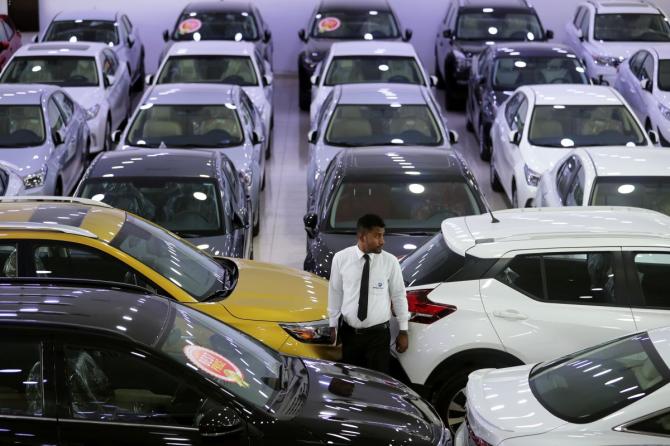 Why own when you can subscribe? This mantra is slowly catching on in urban India, just like it has in the Western world.
As per the media reports, the country's two biggest automobile manufacturers, Maruti and Hyundai, are seeing good traction in subscription-based flexible ownership of vehicles.
Shashank Srivastava, executive director-marketing & sales, Maruti Suzuki, says, "This seems to be a consumer-behaviour phenomenon, especially in larger cities, where people prefer to rent instead of owning."
"Our research observations indicated that 20-24 per cent of people preferred renting cars than buying them," he adds. "This trend is seen also in other items such as white goods and furniture."
This shift follows the pandemic and is characterised by a change in the mindset of people, many of whom have become increasingly debt-averse.
"People don't want the liability of a loan anymore, or the hassle involved with servicing and repairs, or finding a buyer when they want to sell. Hence the trend is shifting," says Kavan Mukhtyar, partner, leader-automotive, PwC India.
So if you are looking to buy a car this season as the economy and offices open up, you now have three choices; buying, subscribing and leasing.
Here's a quick guide for you to make an informed choice.
Subscribing:
Ravi Bhatia, president and director, JATO Dynamics, an automotive research firm, says, "This is a way of getting a new car without having to buy or own it.
It is more flexible than traditional car ownership, as you can get a new car of your choice with zero down payment, with or without maintenance cost hassles, etc."
Some companies are even offering a pre-owned car on a subscription model.
The subscribed car is specifically for you and stays with you throughout the tenure, as the vehicle will be registered in customer's name.
This comes with an average lock-in period of 12 months, with an option of choosing a longer tenure of up to 48 months.
You pay a flat monthly fee for the tenure of your choice.
While your mobility is limited to 25,000 kilometres a year, you pay extra for using more, at an average of Rs 10 per km, depending on the model.
Once the tenure is over, you can either return or swap the vehicle for another model or buy it from the company.
Mukhtyar says, "Such subscriptions are more about convenience than cost and are more expensive than leasing or buying a car."
If your job or lifestyle requires you to shift frequently from one place to another, the subscription model works best.
You don't have to pay for repairs, as your monthly subscription fee pretty much factors in basic rental, miles, maintenance, breakdown assistance, and even insurance in the event of damage.
Subscription is, of course, more expensive than leasing.
Some companies let you choose between white and black number plate.
In White plate, the vehicle will be registered in the customer's name and in black, it be registered in the name of the subscription partner.
Bhatia says, "There are a number of self-drive car rental companies that offer rent-a-car service for a few days as well. But such a model is not really subscription as you get a used car."
For instance Zoom Cars gives you an option to subscribe up to 24 months for vehicles that it owns.
Leasing:
Leasing pretty much works like subscription, and both overlap in many ways.
A few finer details vary.
This option was offered by most car makers a few years ago but has penetrated very slowly, mostly in the corporate space and not so much in retail.
While many companies choose this option for their senior executives, manufacturers are now looking to push it into retail as well.
Just like subscription, the initial cost is very low.
Mukhtyar says, "The car is owned by the company. Leasing needs a longer commitment of 2-4 years, can even go up to 5 years. Changing the vehicle type is not permitted."
A leased vehicle also comes with a set cap on the miles driven, beyond which you will have to pay more.
Leasing is more cost-efficient than subscription schemes, but in case of car damage, you pay for the repairs.
Someone who chooses to lease selects the tenure, car and the kilometres he wants to use.
The leasing company then decides the monthly cost.
You can keep the car for the entire duration, but preclosure of the lease carries a hefty penalty.
Leasing has a lower monthly fee, so you can take a car that you cannot afford to otherwise buy, on lease.
There is no flexibility of returning the car before the end of term.
Subscription offers more flexibility here than leasing.
Bhatia says, "Companies usually check the credit score of customers, gauge their repayment capacity with the help of tax returns and salary slips for subscription and leasing."
Leasing a car in India can be costly versus buying, considering the resale value of the car, especially for longer terms.
Buying:
The benefits of owning a car are pretty much self-explanatory.
Adhil Shetty, chief executive officer, says, "Opting between a car lease and purchase is as much a matter of emotional connect, as it is about money. With leased cars, you don't acquire any equity in the vehicle. However, buying a car means that the vehicle is your own with all the accompanying pleasures and responsibilities."
You have the freedom to use your car the way you want.
Shetty says, "A lease is also less attractive in the long term, especially if you are acquiring a car without borrowing, as it provides less flexibility. For instance, most leases do not encourage customisation."
What should you do:
Which option is better? Remember, cost is not the only parameter here.
The answer varies from model to model and company to company.
Check the value of the car along with the monthly EMI payments for car lease and loan.
Calculate your payments and compare them before deciding.
The numbers will change as per your choice of model.
Considering the lack of maintenance charges, leasing may be cheaper than subscribing or taking a car loan in a general sense, typically.
If your main purpose for owning a car is commuting, then car leasing might work for you.
If you want a flexible and convenient experience, then the subscription model is better.
However, as a safer financial bet from a long-term purview, the need for personalisation, and being a car owner in true sense, then buying a car makes more sense.
The monthly payment for a lease is considerably less than that of a car loan.
Subscription can be a costly affair for a shorter tenure.
Car leasing or subscription is a good option especially if you are in a transferable job or are planning to move cities.
But if you enjoy driving and drive over 2,500 kilometers a month, buy a car, even if it's a used one.
Feature Presentation: Aslam Hunani/Rediff.com