They may come from different continents but both love their cropped tops, says Anita Aikara/Rediff.com.
Photographs: Hitesh Harisinghani/Rediff.com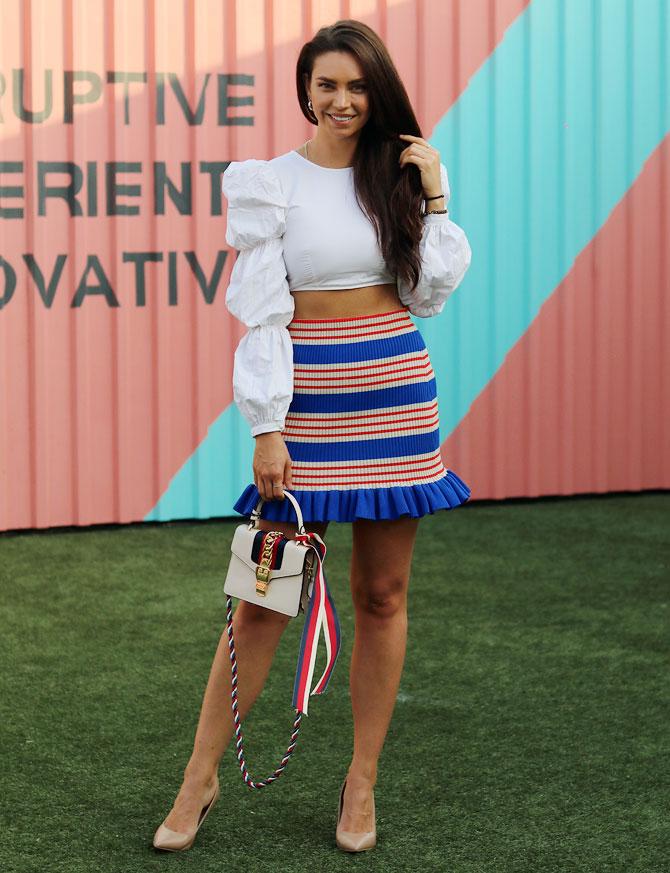 Name: Sarah Todd
What are you wearing?
I decided to wear a couple of Australian designers today.
I chose a white cropped top with layered sleeves and paired it with a blue, white and red skirt.
Red is my favourite colour, so I had to bring it in my look today.
I completed my look with nude heels.
Normally, you'll spot me wearing black, white and grey.
But India is all out colours, so I make sure that I add a pop of colour to my wardrobe when I am here.
Fashion mantra
I like to keep my look minimalistic.
Minimalism is the way forward with food as well as fashion.
Name: Meghna Sahijwani
What are you wearing?
I'm wearing a cropped white shirt and regular black pants.
I was on the lookout for a good cropped white shirt, but didn't find any.
So, yesterday, I took a regular white shirt and cropped it.
Fashion mantra
You need to be comfortable in what you're wearing without having to try too hard.
I love to wear high-waist pants with a cropped top.
I'd choose comfort over style and feel that people shouldn't hesitate to try new things.