Nandhitha was diagnosed with autism spectrum disorder when she was one.
She can't communicate like you and me.
She hasn't been to a design school or learned how to stitch or sew.
But with the help of her school and the support of her parents, Nandhitha's fashion collection was recently launched online.
Sometimes all it takes is a little push, some courage and a few words of encouragement from the right people to put good talent on the map.
A few days ago, actor Parvathy Thirvothu modelled herself in a sleeveless summer dress designed by Nandhitha, a 13 year old specially-abled child from Chennai.
'Wearing Nandhitha's design! Nandhitha is an exceptionally talented 13 year old student,' Parvathy wrote while sharing pictures of the dress curated by the teen and styled by Abinaya Subramani.
Within hours, the post was liked and shared by thousands of followers who wanted to know more about Nandhitha.
Nandhitha, who was born with ADHD and later diagnosed with autism spectrum disorder, is not a student of fashion.
She can barely communicate, hasn't learned how to sew or stitch and neither watches TV or YouTube for inspiration.
She studies at Gurukulam, a Chennai-based school for children with special needs and is largely dependent on her mother Gandhimathi.
According to Gandhimathi, Nandhitha was five years old when she picked a rectangle shaped pencil box, covered it with socks, fixed a doll head on top and fashioned it like a dress.
"I used to see her collect plastic covers, bags, rags, newspaper cuttings, even price tag stickers, basically anything she could lay her hands on, and then turn them into dresses for her dolls. Some times when she sees a particular material -- fabric, paper, anything -- she feels inspired to drape a dress for her doll. Basically, she loved Barbie dolls," Gandhimathi tells Divya Nair/Rediff.com from her home in Anna Nagar, Chennai.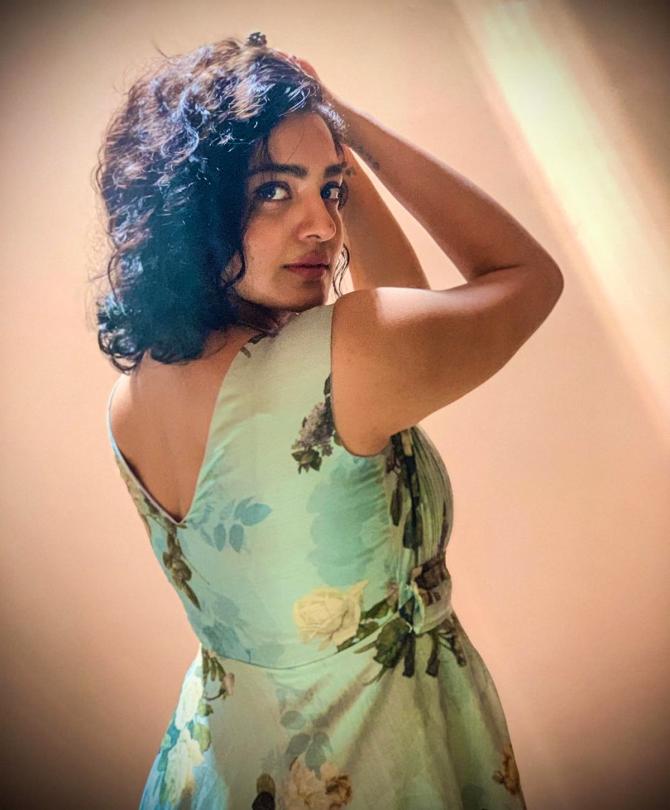 While Nandhitha changed several schools in the last few years, it was only after she joined Gurukulam, where the teachers -- especially Supriya, the school trustee -- noticed her creative instincts.
During the lockdown, Supriya introduced Nandhitha's designs to a bunch of stylists and designers she knew in Chennai.
In April 2021, three of her design ideas were turned into signature outfits and launched as a special collection under her name.
The outfits, put together by fashion stylist Abinaya Subramani, was modelled and promoted by singer Maalavika Sundar, actor Parvathy Thiruvothu, journalist Dhanya Rajendran and actor-entrepreneur Samyuktha Shanmughanathan.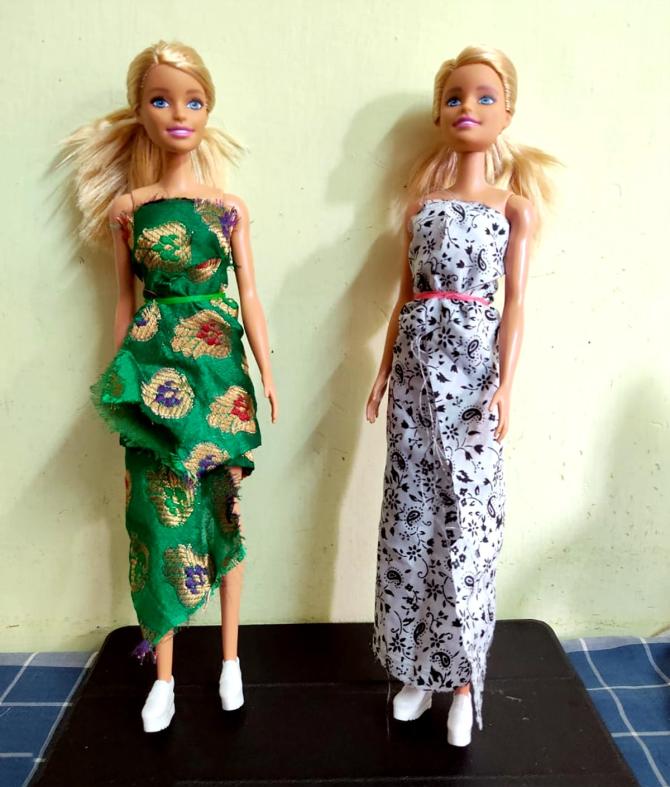 Although Nandhita likes to observe a lot, she doesn't watch TV or videos on YouTube for design ideas.
"She will watch songs. If she likes something, she will watch it the whole day. But if I show her something related to design, she will nod, take the phone and watch something else she likes."
So where does she get her inspiration from?
Gandhimathi feels her daughter may have derived the skill from her great grandfather. "My husband's grandfather, I am told, would stitch clothes for the British while he was in Sri Lanka. My father-in-law also learned the skill from him," she adds.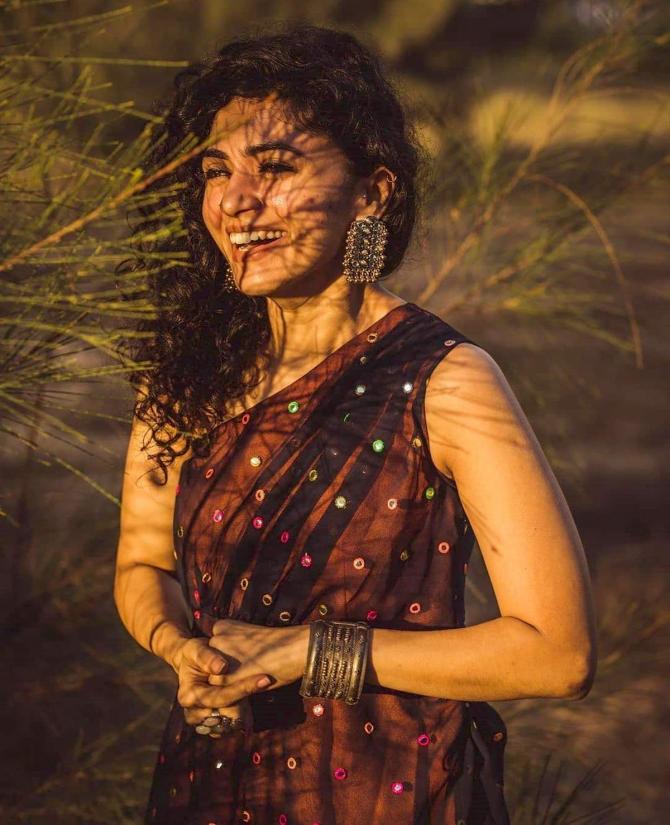 "Growing up, I used to hear other parents hear that their child is interested in singing, dancing, volleyball or some sport. But when I saw my daughter dressing up dolls, frankly I never thought it could be pursued as a vocation," Gandhimathi says.
"There were times when I felt she was too obsessed with dolls so I would hide them away for some time so she could focus on and learn other tasks," Gandhimathi remembers, adding it was the one of the gifted skills Nandhitha had that got better with her age.
Since the collection was unveiled online, Gurukulam's phone hasn't stopped ringing, asking for details about their 'exceptional' student.
"I am still new to Instagram and social media," says Gandhimathi. "But we are getting calls. Some just want to appreciate Nandhitha's creativity. An instructor also expressed his interest to teach designing to Nandhitha. But we are taking things very slowly right now."
Chennai designers Rubeena Afroz, Rehana Basheer and Prajanya Anand, who were part of the first collection, have been supportive of Nanditha's passion and creative pursuits.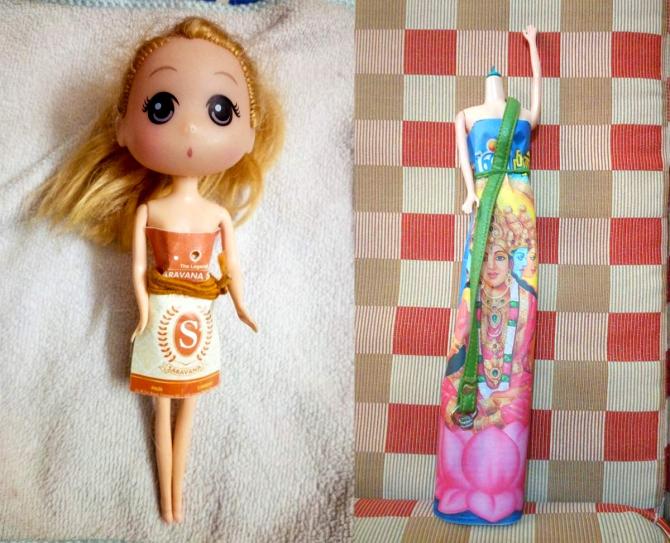 "Nandhitha doesn't usually ask for suggestions or follows our ideas. She likes to watch, observe and do her own thing. In all these years, I have rarely seen her design something from scratch." says Gandhimathi.
"She would always pick up the things she wants, sit in one place and finish her thing. Earlier she used to bite or tear things to make an arm hole. Now I have taught her to use scissors. After knowing her talent, the school has introduced her to learn sketching once a week," adds Gandhimathi.
Recently, Rehana invited Nandhitha to spend some time at her boutique so she could explore and learn things at her own pace. Meanwhile, the mother and daughter are both waiting for the lockdown situation to improve so they can find a way to help Nandhitha polish some of her skills.
"I am happy and proud to see her growth. From dressing up dolls to see her creations being worn by celebrities is a huge achievement for her," says Gandhimathi.
As a parent, she has her concerns and wants to wait for the right time and opportunity.
"Nandhitha is only 13. I know she cannot be like other normal kids. If someone is interested to teach and train her, we will have to find a way how to involve her. She cannot communicate like other kids, but we want to give her as much exposure and training we can," says Gandhimathi.
"At the same time, I want her to understand things with more clarity, become independent and self-reliant so she can take her own decisions and basically take care of herself even when we are not around."