He was christened Dhaval Parab, but, one day, he would become famous as D'Evil.
The release of Gully Boy has focused attention on Mumbai's strong hip hop culture.
D'Evil is one of the many stars who shine there.
The Mumbai rapper shares his story with Rediff.com's Hemant Waje.
Photographs, Video: Hitesh Harisinghani/Rediff.com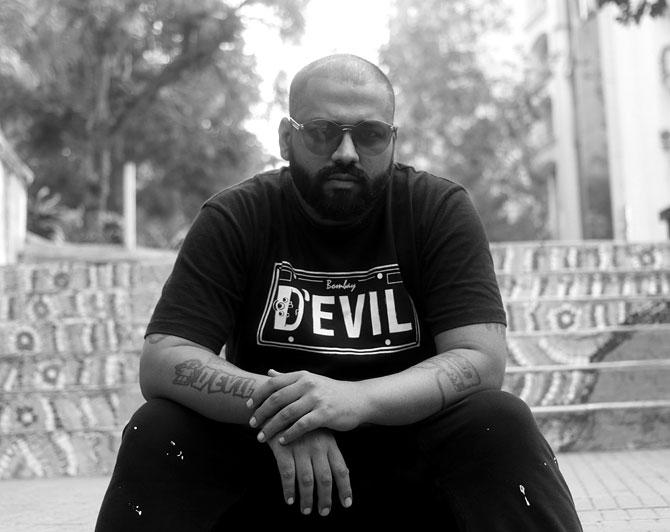 Dhaval Parab says he "was just 15 or 16 years old" when he first began rapping.
By the time he was "18 or 20 years old", his talent started earning him money.
Like most hip-hop artists those days, he initially didn't know what he was actually specialisng in was a well-known genre.
"I used to listen to rap songs, but didn't know it called rapping," says the 31 year old.
Born in a Maharashtrian middle class family who lived in a chawl in Dadar, cental Mumbai, he says, "We used to go to each other's home to watch TV.... basically wrestling, cricket matches."
"We also used to watch MTV. That's when we saw Eminem's video and realised he was singing differently. My cousin told me that style was called rap."
D'Evil says he wrote songs, but did not know if his talent had a future.
The Internet boom in India answered that question. Dhaval shared his lyrics online and asked for the feedback from the rapping community.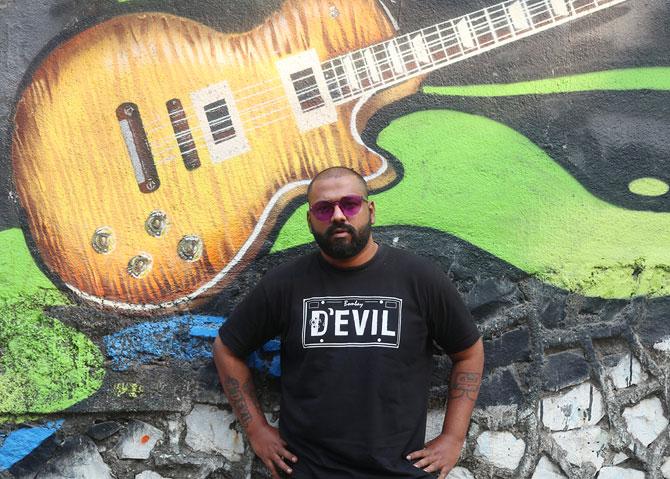 There came a point when he had to tell his parents that he was leaving his regular-pay-cheque-at-the-end-of-the-month job for a career as a rapper.
Like most Indian parents, they worried if it was the right choice.
"Stability ka kya? Paise ka kya? (What about stability? What about money?)"
But as he started doing shows, and even some small roles in Bollywood, he got recognition and his parents, the assurance they needed.
"My relatives started telling my parents that they had heard my songs, that they saw me in films or shows. It convinced my parents I would achieve something in life," he smiles.
One of the movies he has worked in is Nawazuddin Siddiqui's Freaky Ali.
He has also rapped the theme song Baba for Sanjay Dutt in Saheb Biwi aur Gangster 3.
In Zoya Akhtar's Gully Boy, D'Evil has an appearance.
Now, like it does for most single thirty year olds, the marriage question looms.
"It's not like somebody has to have a family," he says. "If you don't want to get married, then other people should not have a problem with it. Some people are ready for it, some people are not. Nobody should force a person to get married."
"You need maturity; you need to be settled to get married."
"Mostly, girls face a lot of problems because of forced marriages. It should be left to the person concerned. The forced marriage concept should not be there."
If you've seen Gully Boy, you've seen D'Evil. Now, watch him in this exclusive video where he shares his life story and performs for you guys.