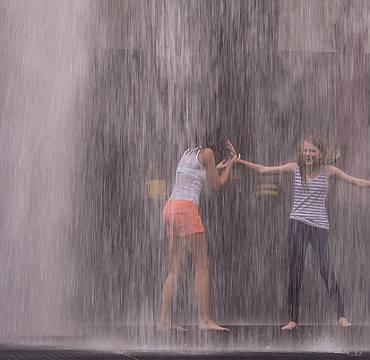 If used without much care credit cards can become debt traps. But there are ways to use them to your advantage, says Rajiv Raj
As the monsoon has now covered India, a general feeling of happiness has spread among the people. It is not only relief from scorching heat, but also a time to rejoice. No wonder that so many companies come up with their 'monsoon bonanza' and 'monsoon sale' offers that encourage you to take out your credit card and swipe them everywhere to enjoy the monsoon season. Of course, we don't want to mar your happy feeling by telling you that this may unnecessary swell your credit card debt. But the fact of the matter is that unplanned indulgence with your credit card can spoil your happiness at the end of your billing cycle.
The good news is, with just a bit of care, you can actually save money using a credit card this monsoon.
First of all a few basic rules of using a credit card
The best thing about owning a credit card is that you can actually leverage them to your advantage. But, before indulging yourself in another purchase through your credit card this monsoon, there are a few basic rules that you need to abide by. If you cannot follow these rules, any purchase you make through your card is going to add significantly to your debt.
Always make timely payments on your credit card. The late fees can be hefty and will negate any savings that you will make.
Always make full payments. The interest rate on credit card is pretty high, as compared to the other types of credit. If you are not making full payments, the interest rate accrued will counteract against your savings. Never fall in the trap of 'minimum payment'. It will mount up your credit card debt beyond your payment capability within no time.
If you have an unused credit card, do not close it. It will increase your credit utilisation ratio and hence lower your credit score.
Do not portray yourself as credit hungry, by applying for a credit card frequently. It will negatively impact your credit score.
Only purchase what you can afford with your monthly income.
Don't use your credit card to withdraw cash, as you will have to pay higher interest rate.
How to save money with your credit card
Once you are committed to the above rules of using a credit card, you can go ahead and use your card wisely to actually save some money this monsoon.
1. Use the credit card that gives you maximum cash back
Whatever you are buying this monsoon, whether it is groceries or apparels, use a credit card that gives you the maximum cash back. For instance, if you are getting cash back of 5 per cent on grocery purchase from your credit card, you are saving Rs 250 on purchase of Rs 5,000. The higher cash back you can get the better. Find out if your credit card issuer has teamed up with your favourite store to provide you cash back offers this monsoon and take advantage of this opportunity.
2. Beware of schemes that sound too good to be true
Everybody must have heard of schemes like convert your purchases in easy EMI with 'zero per cent interest rate'. These schemes are to draw the customers to purchase things that they cannot afford with their monthly salaries. However, the issuers always charge money in the form of processing fees, service charge etc. RBI has placed a ban on offering any schemes that are not transparent. The key here is to make an informed decision.
3. Get a store credit card
If there is a store that you frequent, then it is worthwhile to apply for their credit card. Purchasing from these credit cards will earn you reward points, that can be accumulated. These reward points can then be used to save money on your next purchase. However, if they have a very small window of reward expiry, then it is better to not apply for the card.
Photograph: Georgie Pauwels/Wikimedia Commons
The author is a credit expert with 10 years of experience in personal finance and consumer banking industry and another 7 years in credit bureau sector. Rajiv was instrumental in setting up India's first credit bureau, Credit Information Bureau (India) Limited (CIBIL). He has also worked with Citibank, Canara Bank, HDFC Bank, IDBI Bank and Experian in various capacities.