'If standing in a bank or ATM line is a test of patriotism, why is not a single leader standing in that queue too?'
You too can share Your Cash Crisis story with us.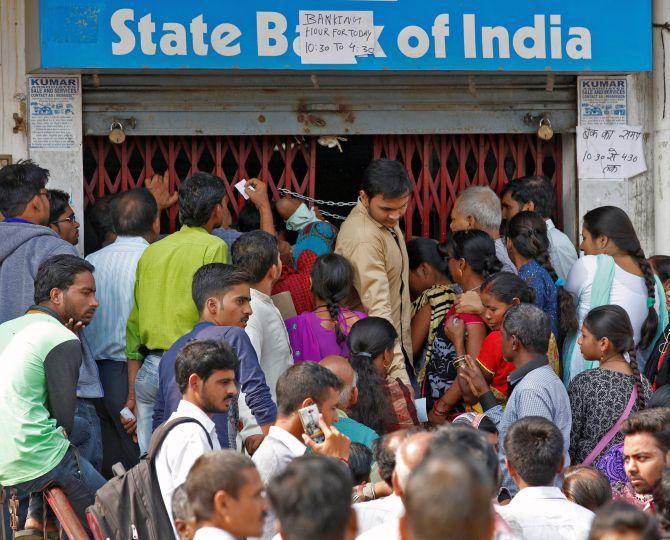 IMAGE: People queue outside a bank. Photograph: Pawan Kumar/Reuters
Nikunj Shah tells us why Indians like him are complaining:
"I have been observing the cash crisis very closely at all levels from Ground Zero to political debates and arguments.
"We as common people cannot debate the decision as it needs to be followed, but at the same time, we would like to put forth our views. This is a open letter to the prime minister of India.
"Sir Narendra Modiji, the last few days has brought a sea change in the world of possibilities to middle class people.
"All these years, we have been ensuring our India goes ahead, and we voted for so many governments, including yours, hoping for change.
"First of all, we salute the decision as you must be having much more information about our country's security and safety than we have. I, as an individual, am not questioning the decision at all.
"However the execution, I must say, is a disaster.
"What wrong have we done as common people who have voted for change?
"In our entire lives we have struggled to keep our family and our country proud.
"We work, pay our taxes, put our money in banks and pay for our education. In return, we, the resilient middle class do not ask for anything.
"What you have done with us is ensured our hard earned money which is not black at all, loses value and for reasons best known to all of us, kept in our homes which can be anywhere between Rs 1 lakh to Rs 20 lakhs.
"The past governments had no solutions to curb black money and hence common men had no option but to stack cash to buy houses, pay corrupt government officials and move on with our lives.
"The educational institutions in which our kids study demand donation which we pay promptly in black; both your government and the earlier governments have failed to do anything about it.
"We invested in equities/mutual funds to ensure long term savings, but your master stroke bought down our hard earned net worth in a matter of days. None of this is reported in the media as we are common men.
"I once again repeat, it is a master move by your side and a bold decision, results for which you or us cannot be yet sure of.
"What I fail to understand is the speeches given by your party spokespersons about patriotism.
"We do not have to give any test to prove our patriotism. If standing in a bank or ATM line is a test of patriotism, why is not a single party leader standing in that queue too?
"Why are only common people standing in the queue, Sir?
"We commoners are always patriotic to our country.
"We respect our culture, show resilience, support change, do some jugaad to manage our lives, but never ever show our country in bad taste when we travel abroad.
"So why are questions being asked about our patriotic feelings?
"When you took a bold step for our neighbouring country everyone supported you. In my house, no one including my wife can listen anything negative about you.
"You are therefore more responsible than your party in ensuring this revolution goes smoothly.
"A week has passed by and I don't have money, but for me, survival is not an issue but I sympathise with those who are standing in queues for nine hours just to get their own money and people who have breached bank rules are enjoying overseas and laughing at us.
"Cash Crisis by itself is not big, but the execution by your government has made it look big.
"Why should the common man suffer if the government has failed to curb black money?
"We would appreciate if you would follow up with more steps to ensure wrong ones are not in the line, but behind the line."
---
Nitin Nayar, rom Chennai, feels the cash crisis is an "understatement".
"Two days ago after great difficulty I got a fresh Rs 2,000 note and when I was in the queue someone stole my helmet.
"Now I had to get a new helmet or the cops would fine me for riding without helmet. So I went and got a helmet which cost Rs 1,000. The shopkeeper did not have change for the new Rs 2,000, so he gave me an old Rs 1,000.
"Yesterday I went to fill fuel with the old Rs 1.000 as it's been declared that petrol pumps will take old currency till November 24. I filled for Rs 500 and he gave me back an old Rs 500; so much for the currency being invalid legal tender.
"Next, I headed to the medical store considering they take old notes. But the poor guy at the counter explained, 'Sir we take from you, but we cannot deposit more than Rs 250,000 per week at the bank.'
"And his average weekly collection was Rs 450,000.
"So what does he do to convert this balance? Find a black market guy and discount the old cash for new at a premium of 20 to 30 per cent.
"Mr Prime Minister, you call this 'surgical strike'; you are a bad doctor, rather a quack trying to practice. It's high time you did your homework better.
---
Umesh Macwana, from Noida, shares his experience:
"I went to Agra on November 14 as my Australian friend and his family wanted to see the Taj Mahal.
"I was not carrying any old notes. I had only Rs 2,000 in new notes. I had a credit and a debit card with me.
"I paid Rs 600 toll on the Expressway. I had Rs 1,400 left in new notes.
"I expected that I would be able to pay the entrance fee for foreigners @ Rs 1,000 per person by card.
"Imagine my horror when we reached the counter. They were asking for cash -- new or old did not matter.
"There was no foreign exchange counter. They also do not accept foreign exchange.
"Now I had to arrange Rs 1,600. I first asked my wife and our maid to get inside. They asked for ID proof. My wife showed her PAN Card. They said that is was not accepted.
"I can get into an airport and travel on a flight, but I cannot get inside the Taj Mahal with a PAN card. Luckily, my maid and I had other ID proof.
"So now I had to arrange Rs 2,600 as my wife was refused entry. All this took two hours and two trips from booking centre to gate which must be a kilometre or more.
"One guide helped me. He took me to a shop where I got my credit card swiped and got Rs 3,000 by paying Rs 100. The shop owner was so helpful that he was waiving off the Rs 100 also. I embraced him.
"The sad part is that if you have a Rs 1,000 ticket no one asks for ID proof, but God forbid, if you look like a foreigner and have a Rs 40 ticket!
"They did not ask for any ID proof from my wife when she carried a Rs 1,000 ticket. The people at the gate, CRPF etc were all so rude and misbehaving.
"All this left me so hassled that I got inside and sat down in the shade and asked my friends and wife to go ahead with the guide. I gave the guide an extra Rs 100 over the Rs 200 he asked for.
"If a heritage site like the Taj Mahal does not have a card swipe machine at its entry point, I pity this country and its tourists. It means, if you take 10 foreigners you need Rs 10,000 cash.
"I agree there is an online booking for entry, but since our decision was in a hurry and I did not have a printer I waived the idea off.
"My Australian friends were quite amused. In fact, we had lunch in a hotel where they accepted cards.
"I also tweeted to @pmo- india and @maheshsharma about this, but no response yet.
"Today I logged in my grievance in the portal set up by the government for the same.
"I hope my efforts pay off and no foreigner suffers like this in the future.
"I pity the poor who stand in queues and suffer. It pains to see government officials/politicians take their cars up to the limit allowed and enter without any pain.
"That is one class which never suffers in India, whether it be Ruling or Opposition."
---
We also received this response from Lieutenant Colonel T S Anand who supported the government's decision and also offered some advice:
"I wholeheartedly support the Government of India for launching a surgical strike on corruption and black money.
"I do agree some problems exist in rural areas. I am a service officer posted in Bangalore and have arrived in my hometown Hyderabad a few days ago.
"At least in cities there is no requirement of keeping cash. All persons can use debit/credit cards.
"Small time kirana stores, Hot Chips stores and small time medical stores are now advertising use of Paytm. Even a barber shop in my lane in Begumpet, Hyderabad, has advertised Paytm for payment.
"Almost all major and minor stores in metros and even tier-2 cities use point of sale machines/Paytm.
"However, if one has to pay the maid, there is an issue. But I am sure if all maids can operate smartphones and WhatsApp, they can open a bank account.
"That way, you can transfer her salary to her bank account and give her a day off to go and withdraw using a cheque/withdrawal slip.
"If the maid is illiterate, you can help her fill the form at home.
"According to me, all of us working in the government, private or corporate sector must stop using cash and start using cards for payment.
We must support the Government of India in this great and noble cause for all of us to have a better future.
---
B Murthy from Kengeri, Bangalore, also welcomes the decision.
"I used to withdraw Rs 5,000 every fortnight to spend on petty items.
"Last week at ICICI Bank I exchanged my old Rs 500 notes and this week I withdrew money from an ATM. I waited in queue for 15 minutes only.
"In fact, this restriction in cash has made me spend money judiciously.
"Think twice before spending and wasting it. This is a good move for all middle class and lower income citizens."
---
And finally, we have Smitha 69, who feels we must stop highlighting the woes and instead time our visits to the bank.
"No pain no gain. Ever heard of that one," she says.
"I live in south Bombay and it is not so bad; just choose an appropriate time and go.
"There are banks and ATMs at every nook and corner. Every time I would pass I would notice the queues and when and whenever I saw a small line outside, I stopped and got Rs 2,000.
"Spend less this week. Now I am waiting to withdraw from my bank account. I have figured that late lunch time is a good time.
"Common guys, where is the jugaad. You can beat it!"
***
Dear Readers, please tell us YOUR CASH CRISIS stories.
Good and bad, please share your stories with us.
Please e-mail your experiences, tips and suggestions to getahead@rediff.co.in (Subject: Cash Crisis) along with your Name, Age and Location.
We will feature the best responses on Rediff.com