'Even today, a woman cannot enter a temple when she is menstruating. How do you explain that?'
'What logic or women empowerment are we talking about?'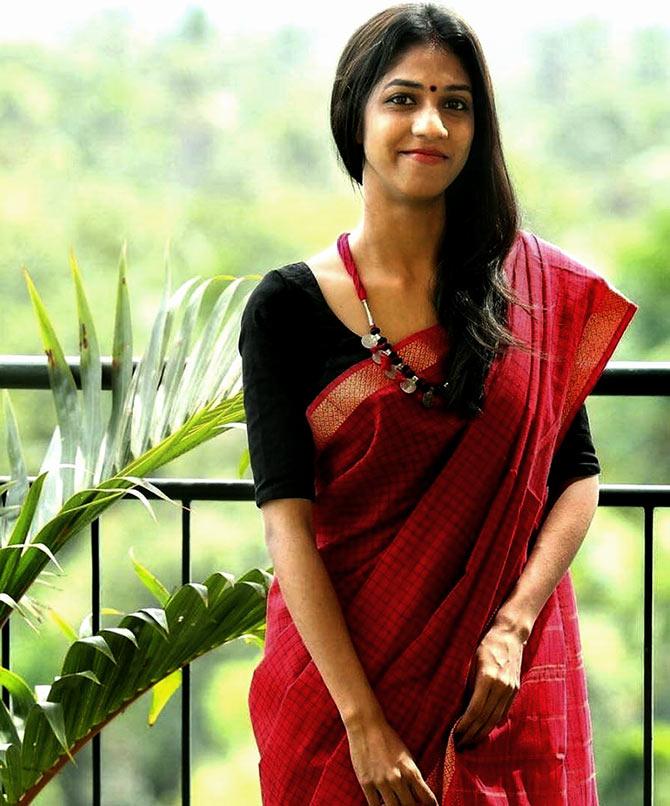 In January 2019, two women -- Kanaka Durga (39) and Bindu Ammini (40) -- made headlines when they defied angry mobs and created history by entering the Sabarimala temple in Kerala. Traditionally, the temple bans the entry of women of menstrual age.
But on September 2018, the Supreme Court ruled that women of all ages must be allowed into the Sabarimala temple, ending a ban that prevented women and girls between 10 and 50 years from entering the shrine.
In 2018, at least 13 women -- including Kanaka and Bindu -- had tried to enter the temple, but were denied access which had led to a state-wide protest led by ardent devotees and political organisations.
In many ways, the protest inspired Kochi-based entrepreneur Sharmila Nair to start a dialogue about the way in which Indian society treats its women and daughters.
Sharmila, who founded Red Lotus -- an online handloom boutique to promote Indian artisans and weavers -- wanted to use fashion as a medium to address the ground realities women face -- at work, in their own homes and in society, at large.
In a bold and powerful move, the first generation entrepreneur started '18 Shades of Black' -- a fashion and social campaign to encourage women to talk about how the restrictions they faced while growing up, how it influenced their opinions, decisions and how they'd eventually fought and overcome it.
Do click here to watch the teaser of 18 Shades of Black (external link).
The campaign recently received global recognition when UNICEF acknowledged her efforts and invited Sharmila to form a core team to take the campaign to other countries and discuss solutions.
In a telephone conversation with Rediff.com's Divya Nair , the 28-year-old businesswoman and mother of a 5-year-old son, who was once bullied for being 'petite' and 'so thin', talks about her own evolution, the success behind her campaigns and how she plans to use fashion as a medium to discuss and solve important social issues in the future.
What inspired you to start '18 Shades of Black'?
The idea came to mind when the Sabarimala issue was being deliberated in Kerala.
A lot of people I knew (both online and offline) were talking about how they weren't allowed to make choices, simply because they were women. The issues were different for different women and they were all equally important.
I realised how we've all faced some kind of restrictions and stereotyping in our lives.
It was shocking to know that there are several women who are still fighting for basic freedom of choice. That really set me thinking.
If these women -- who face restrictions every day -- can fight for their own rights, what will happen? If only they could address these issues and change them, it would have been such a better society.
It was high time we addressed some of these issues.
I started the campaign in 2018 and it took me 7 to 8 months to talk to all these women and shoot their videos.
A lot of women who had shocking stories to share didn't want to come and say it in front of the camera.
But once the videos went up, the response I got was tremendous.
What's the significance of the number 18 and the colour black?
I had to give a subtle reference to the Sabarimala -- it has 18 steps; hence the number 18.
The devotees mostly wear black, hence the colour.
A lot of people think that black is dark; but if you see, all these women (in the campaign) are wearing black with different shades. So each one has a different story of struggle.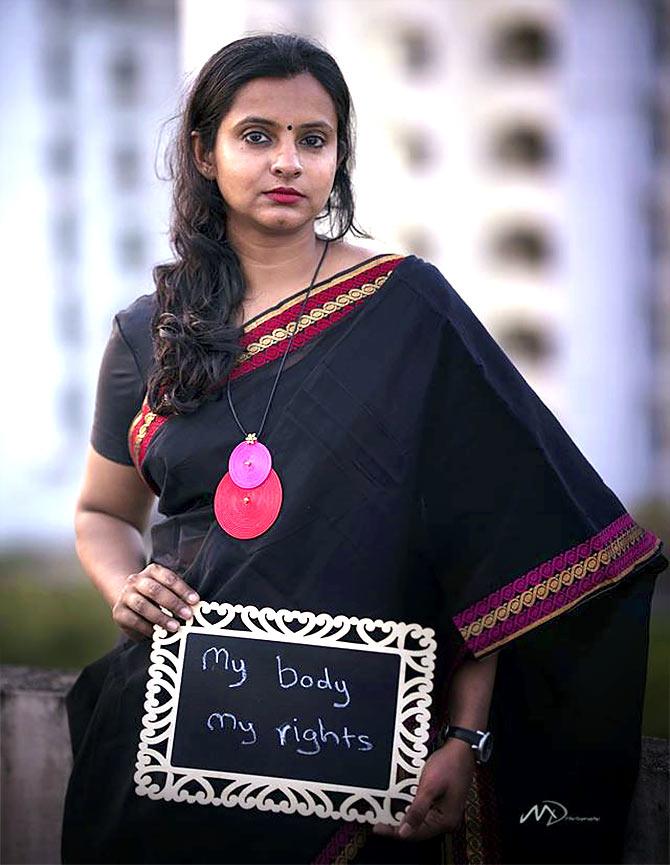 What were some of the revelations you came across while promoting the campaign?
I was very affected with one woman, Swati. She faced restrictions from her mother.
It was surprising for me, because in India, we respect our mothers a lot.
In Swati's case, her mother was her enemy.
The mother was short tempered, never gave her any attention or support and at the same time, put so many restrictions on her that it affected her the whole time.
In fact, she got used to having male friends; partly also because of the way her mother treated her.
She either wasn't comfortable or did not trust another woman.
While shooting (the campaign) also, I could see that she could relate better to the men on the sets.
Initially, I was finding it difficult to get into her comfort zone. But after I heard her story, I could understand where it all came from.
In fact, today she works as a lactation consultant and psychologist promoting natural birth and helping women through their pregnancies. That's the kind of evolution she has seen, which I felt, was very inspiring.
Another woman -- Remya Saseendran -- who comes from a traditional Kerala family spoke about motherhood being a choice.
If you ask any woman in India, she'll agree that this is a problem we all face.
They first ask you: When are you getting married?
Once you are married, they want to know when you plan to have a baby. And this just doesn't stop.
So it was really brave of Remya to come and say 'There is nothing wrong with my body or organs.'
Most of the time when a woman says that, people tend to assume there is something wrong with the couple or the woman, rather than respecting her choice.
Another powerful video that went viral was of Indu Jayaram who spoke about colour discrimination. Indu comes from a Brahmin family; and her family was colour sensitive.
In fact, her husband is fair and both her children were born fair. But during her pregnancy, she had a lot of concerns and faced discrimination from her mother-in-law.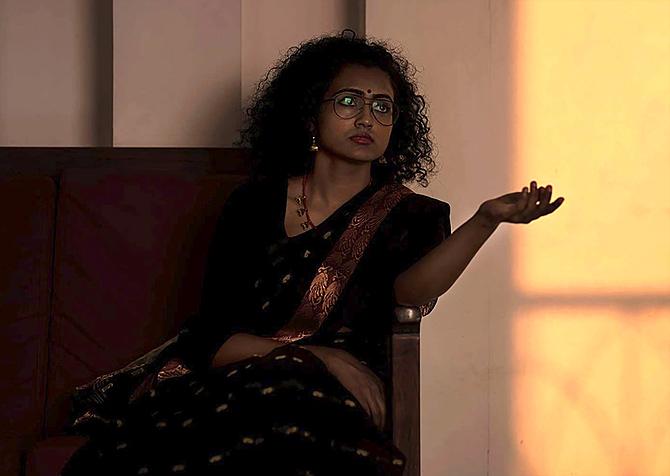 What kind of challenges did you face while growing up?
I have always been petite in nature. But my husband is unlike me -- he is 6 ft 3 in and heavy.
Whenever we are together, people always comment: 'Hey, why are you like this (petite)? You should put on some weight.'
Initially, this used to irritate me a lot.
When I was a teen I used to research and read a lot about how I can gain weight.
I would eat a lot, try different ways... But later on, I realised... I mean why should I do any of this?
This is MY body structure and I can't do anything about it. It's okay.
Today, I am happy and comfortable the way I am. If people say something, I ignore.
What feedback did you receive while shooting the campaign?
When I was shooting this campaign, a lot of devotees called up to say, this is mandala kalam (pilgrimage period) and that I shouldn't be doing it now.
They mistook it (the campaign) to be anti-Sabarimala, anti-religion.
Now that the campaign is out, I want to reiterate that this has nothing to do with Sabarimala or the verdict.
I am not here to say whether women should enter Sabarimala or not. It's a personal choice and the court and law will decide what's right.
My campaign involves just a bunch of women using fashion as a platform to start a much delayed social conversation.
What's your personal opinion about the Sabarimala protest?
I personally feel it is a belief.
I don't know how you can evaluate certain things. Something that is right to me, can be wrong to others.
Personally I am not a believer, so I shouldn't be commenting. It is up to the people to decide.
I have done my research and the Mala Arayan community (a tribal community in Kerala) have their own rights. If you read history, you will know that their older generations never had these kind of rituals.
So I don't really know what history we are talking about. In fact, women used to work there and even do a lot of rituals. But it has become very difficult and complicated to talk or have a logical discussion about this issue now.
You had transgender models as part of your early campaign. How did the idea come about and what was the response you received?
In 2015, I did my first campaign called Mazhavil (meaning rainbow) with transgender models.
It wasn't a loud campaign, but I think I was the first one from Kerala to do something like this, so the impact was huge.
Usually transgenders are shown as loud people who scream for attention; I wanted to portray them as beautiful.
How do you see 18 Shades of Black making a difference?
It is making a difference in the sense that it is encouraging people to talk.
The same women who were hesitant to come and speak in front of a camera now want me to do '18 Shades of Black part 2' so I can include their stories as well.
The issues are many; we have only started.
In the video, there is one lady talking about driving and how society judges women drivers.
After seeing the video, a lady messaged me from the US saying: This is not just in Kerala, it also happens in the US.
With so many awareness campaigns and ad films on menstrual hygiene and awareness, there is not much change.
Even now, so many women and children message me on Instagram saying they still face the same issues at home.
So we need to keep doing these campaigns hoping it will make a difference someday.
Do you feel the recent Sabarimala verdict will change anything?
In India, men worship Durga and Kali, but don't respect their own women and daughters at home. That's hypocrisy.
The kind of heinous rapes and crimes being committed against women are proof of our hypocritical society.
Even today, a woman cannot enter a temple when she is menstruating. How do you explain that?
What logic or women empowerment are we talking about?
There are bigger issues we need to address -- about the way we treat our women -- and it's time we focus our energies on changing that.
I just wanted to start a conversation. I wanted women to come out and talk, share their experiences and giving courage to others.
About the verdict, we are one of the largest democracies in the world; we should welcome and follow the law.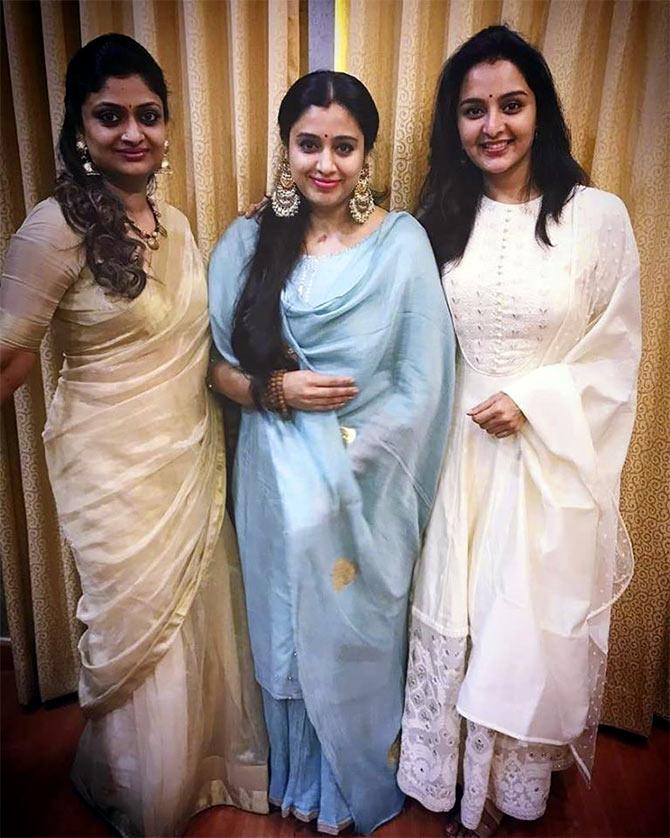 What are some of the challenges you faced while starting your company?
When I started Red Lotus in 2014, I had a lot of issues dealing with weavers without a middleman.
They were not so tech savvy.
My father-in-law K P Sunil (former senior journalist at the Illustrated Weekly of India and ex-vice president, Jaya TV) had a good network of people who helped me get in touch with weavers.
That's how I could identify good weavers without a middleman.
The local channel reporters knew where to go; they guided me to the weavers.
Today, things have changed.
Most weavers and looms have their own Facebook page; you can reach them through WhatsApp.
The younger generation has stepped forward, so they are directly selling to you. It's easier.
Five years ago, if a certain outfit was priced at Rs 10,000, the middleman would take almost 80% of it; the actual weavers would get between Rs 1,000 to Rs 2,000.
Today, I mostly work with weavers from Kancheepuram and Benaras. In Indore, we have tied up with 5 looms.
Our Mazhavil campaign was done with Hubli cotton weavers.
What were some of the mistakes you made and what did you learn from them?
Initially, when I was struggling to build a customer base, a lot of people suggested that I should also sell powerloom saris -- they'll be cheaper and it will help reach out to a wider audience. This decision backfired for me.
The customers who bought powerloom saris came back with complaints which reflected poorly on the brand.
So I made a tough decision -- that I will only deal in handloom. It doesn't matter if the cost is steep; I may get a few customers less, but I will guarantee that they get good value for the money they spend.
Your advice to people wanting to start their own company -- dos and don'ts to follow
Never compromise on the quality of your product.
When you start, you will fail many times.
You must have a lot of patience and courage to pass through this. Remember failures don't judge your merit. Ask yourself what went wrong.
What's next for you?
i am glad UNICEF has come forward to take up this campaign to the international level.
There are a lot of issues we have discussed in the video that they want to explore.
Their South Asian head sent me an e-mail saying they want to take it (the campaign) to other platforms and countries. They want me to form a core team. Let's see how that goes.
I also want to showcase it and reach out to a wider audience. I intend to portray this as an art project at the upcoming Biennale (to be held in Kochi in December 2020).