When the Indian brunost bravely ventured into the international cheese arena in Spain, along with 4,000 others from 45 countries, before 230 judges, its sterling desi pedigree spoke for itself, winning a silver in the brown cheese category and giving India a berth on the global cheese map.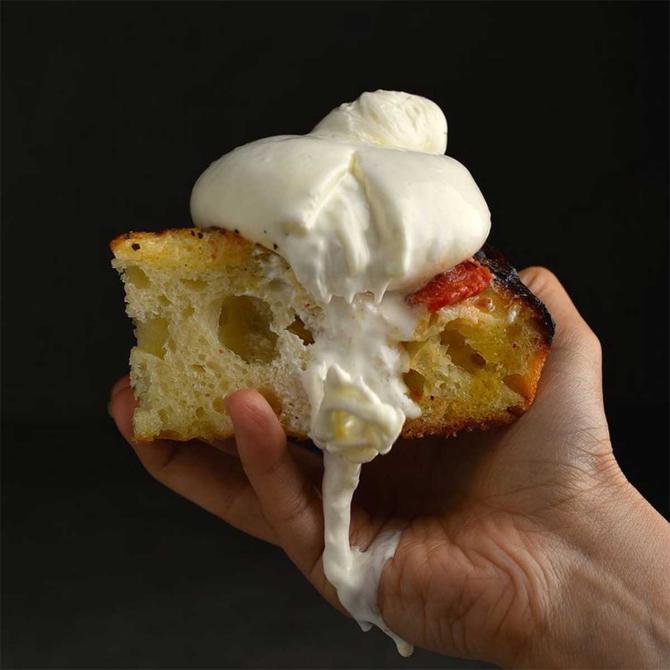 The little box, after months of official documentation, departed India in October.
It wore several hefty overcoats of dry ice for its long, arduous journey overseas.
It crossed several borders, passing through a variety of checks -- customs, security etc -- and, likely, through several countries in the EU.
It finally reached the balmy town of Oviedo, northern Spain, near the Bay of Biscay, in October, well in time for the prestigious gastronomic event, the Asturias Paraíso Natural Internacional Cheese Festival that was being held there, from the November 3 to 6, 2021.
A lot was riding on this small packet.
Many years of hard work. Plenty of hope.
Within the package was a 500-odd gm sample of a marvellously versatile, caramel-like Indian cheese named Eleftheria brunost, after a distant and very famous Norwegian cousin.
It's a cheese that's quite like a fusion take on khoya or mawa, the traditional Indian milk solid, and this rich Mumbai brunost has a lovely sweet, unsalty but umami taste and a grainy texture.
Its adaptability, because it is neither actually particularly sugary nor briny, allows it to be had on toast with a drizzle of honey, or on a piece of khakra, or rolled in a roti with a dab of ghee, or atop a biscuit, or with pancakes/waffles, or maybe even grated as garnish for a batee or a sweet milk-and-coconut-laden idiyappam.
"For our Indian context, it's almost like a pedha. You cook it down and cook it down, till it resembles a fudge. And like how pedha-makers/butter-makers, back then, always have their family name embossed, like for brand recall, we decided to put the initials of the company name in Devanagari script," says Mausam Jotwani Narang, founder of Eleftheria, the Mumbai-based artisanal cheese outfit, and the 'mummy' of this sturdy brown cheese, whose own story is as interesting as her cheeses -- but more on that later.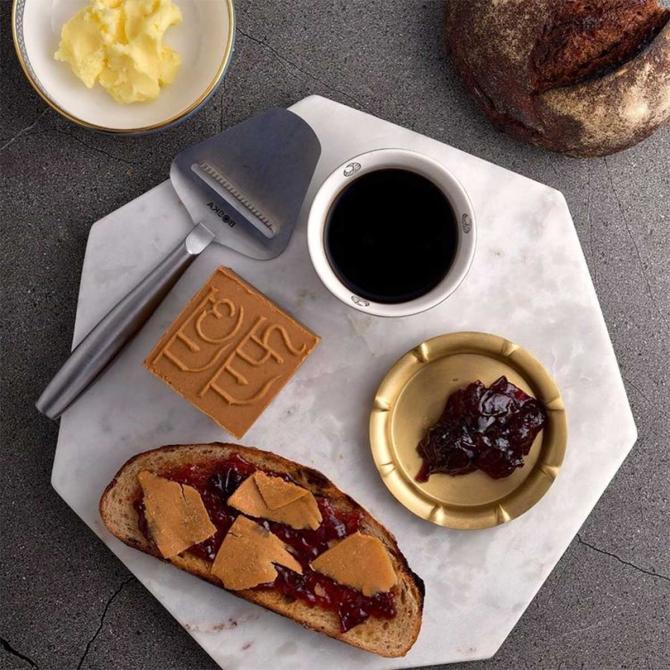 The Bombay brunost, the little cheese that could, did not disappoint.
When the Indian brunost, at its final destination, bravely ventured into the international cheese arena in Spain, along with 4,000 others from 45 countries, including Guatemala and Ukraine, before 230 judges, its sterling desi pedigree spoke for itself and it made off with a silver in the brown cheese category on Diwali day, giving India a berth on the global cheese map.
The win that Eleftheria's brunost made at the cheese festival held in Spain is an important moment in Mausam's life -- in that split second all her hopes had paid off and the silver validated more than 100 long months of effort and time invested in becoming a respected cheese-maker or fromager.
"I got the news on Diwali night. That was really special," Mausam tells Vaihayasi Pande Daniel. "This was the first cheese that was ever entered from India, and in that category to get a silver was very, very special."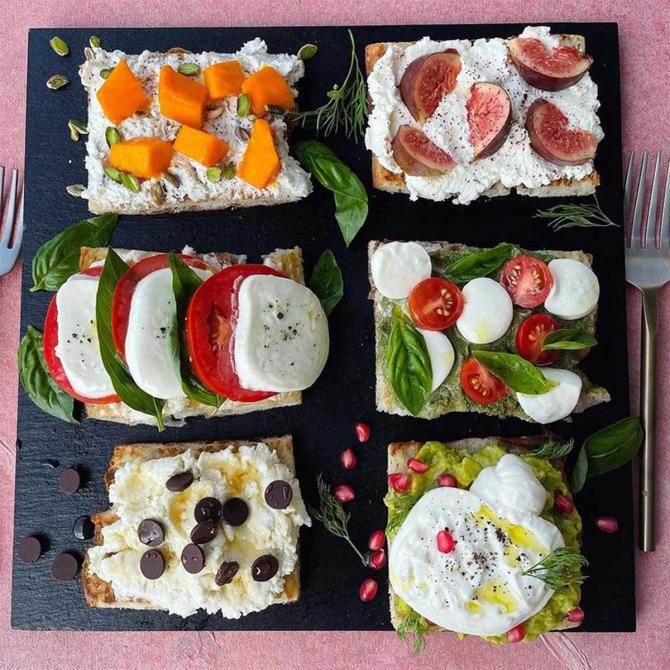 Made from discarded whey, Eleftheria's brunost was birthed when Mausam was trying to find a use for the prodigious amounts of leftover whey her cheese unit produced.
She decided to enter only the brunost in the 2021 cheese show, because it was the only one of her cheeses, she felt, that could make the gruelling trip to Spain, unaccompanied. But the procedure of despatching it was so mind-boggling, that towards the end Mausam stopped tracking its progress because she wasn't sure it would reach.
She says she thought to herself: 'Let's see where it goes and I'm just gonna enjoy my Diwali and not worry about it'.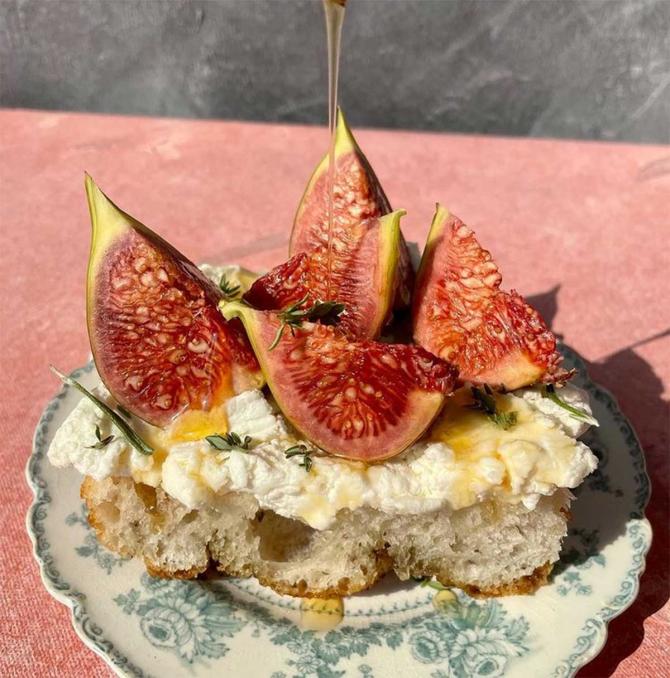 Mausam's own charming cheese tale began nine years ago.
After earning her master's in human resources in the UK, Mausam's goals were totally on track. She had found a good job with the leading HR firm CapGemini back in Mumbai and her career was taking off.
And then The New Big Love named Cheese wickedly waltzed into her life, disrupting it, derailing it, much to her family's dismay.
While studying in Britain, Mausam had grown accustomed to adding the fresh cheeses she loved to her daily diet.
On her return to India, she was quite disappointed to discover there was hardly any fresh cheese to be had or being made in Mumbai.
"I ate a lot of cheese (in the UK). I always had a hunk of good quality cheddar or mozzarella or mascarpone in the fridge and I cooked a lot with cheese. All of us friends got together and cooked and I really missed doing that when I got back to India."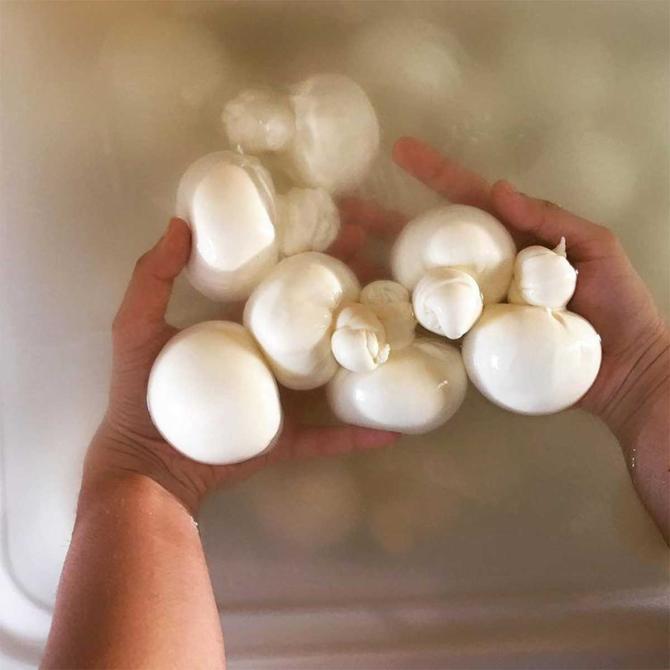 When she started looking for the answers for why India sold no/not much fresh cheese, she discovered a new hobby for herself.
For a long time, it remained just that, a hobby, albeit a slightly crazy, fanatic one.
"I was making my own breads. I liked doing that over the weekends, so I thought I'll make my own cheeses, how difficult can it be (laughs)? That's how it all started. I realised it's absolutely difficult to make cheese in Mumbai. Not at all easy."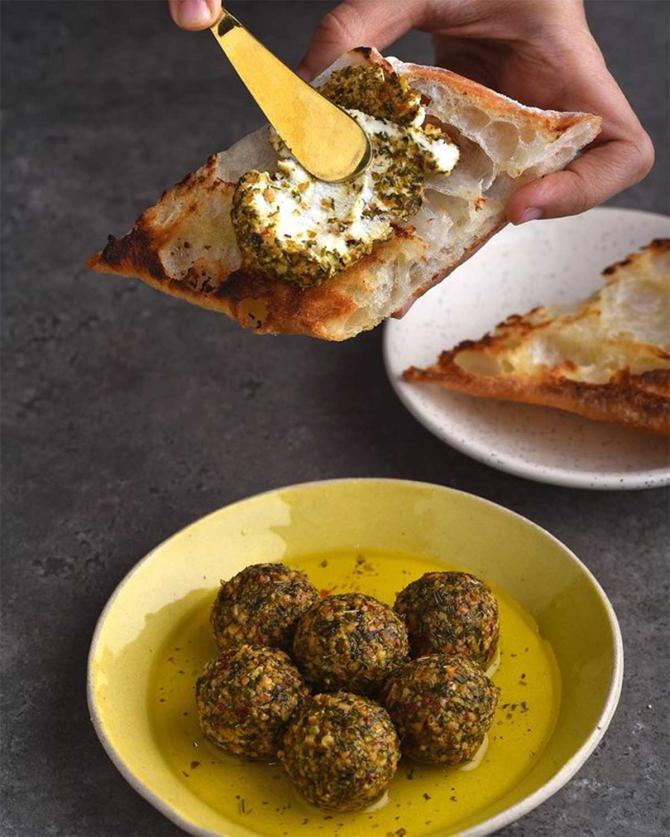 What started out as a hobby -- because "one thing led to another" -- grew into something huge, perhaps alarmingly so for those around Masaum.
"I sort of became obsessed with it. I started ordering a lot of milk over the weekends and experimenting with all kinds of aged cheeses. I even had a fridge converted into a cheese cave in my room and I aged cheeses there.
"It turned into like a mad obsession. So much so that I had like about 30 odd cheeses aging (in my room) and I would make fresh cheeses (too). My parents were sick of it and were like 'just do something about this because it's getting out of hand'!"
But one fine day, Mausam realised it was high time she converted this eccentric leisure pursuit into her passion, her life. And Eleftheria was born.
"Eventually I decided I quite enjoyed the entire process of creating something from scratch. You know: a liquid transforming into something so delicious. It was quite joyous. And then (there were) people's reactions, when I gave it (cheese samples) out to friends and family -- they absolutely loved it. I thought to myself: Why not pursue this?"
That thought was not exactly greeted with generous amounts of enthusiasm by her family. Encouragement was not really forthcoming.
She recalls ruefully: "I was called crazy... They were like: Why this? I was 26 or 27 when I started doing all of this. They're like why are you switching careers now. Don't you want to stick to your path? All of that happened, but it's what your heart wants.
"I was really passionate about the whole thing. I didn't want to leave it. I didn't care actually, honestly, what they said," she says with a laugh.
"Eleftheria is a Greek word that means freedom. I thought that was a nice name; nice ring to it and back then it made sense -- I was quitting my job."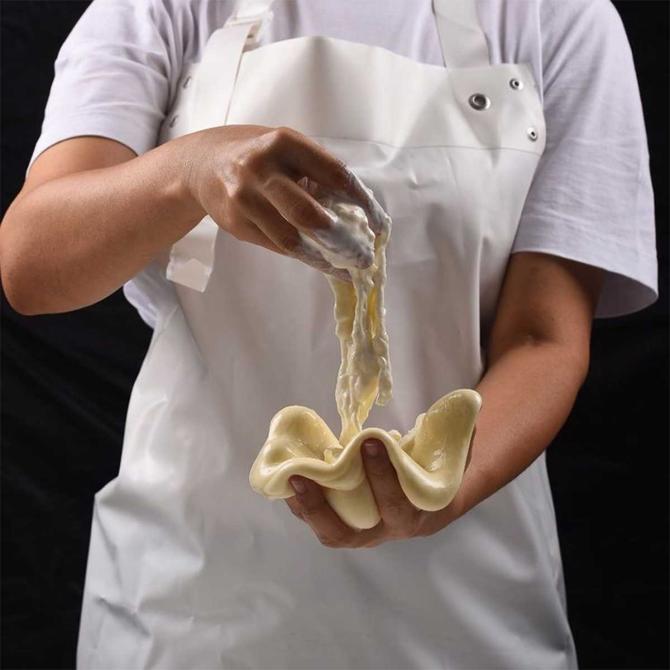 Mausam spent from 2013 to 2016 doing research, experimenting and getting the raw materials in place.
Finding, for making cheese without preservatives, the right milk - pesticide free, correct pH, from cows getting the best type of feed etc - and transporting it, in a manner that it stays fresh, in a country that has awfully poor cold chain logistics, was a pretty darn tough task, she remembers cheerfully. Over the phone, Mausam comes across as a rather buoyant personality with a never-say-die kind of spirit.
"Once your milk is in place, it sort of becomes a little easier."
She had to also decide the kinds of cheese she could possibly make. The fact that Mumbai didn't seem to have much fresh cheese excited her.
Mausam set up her own micro-creamery in 2015. Up until then she had been selling only at farmer's markets and other such places.
Her R&D and a trip(s) to Italy to places like Campania, indicated where she should enter the market: "I decided to launch the Italian mozzarella family of cheeses in 2016. I gave out a few samples of raw mozzarella to a bunch of chefs here in the city. And they absolutely loved it."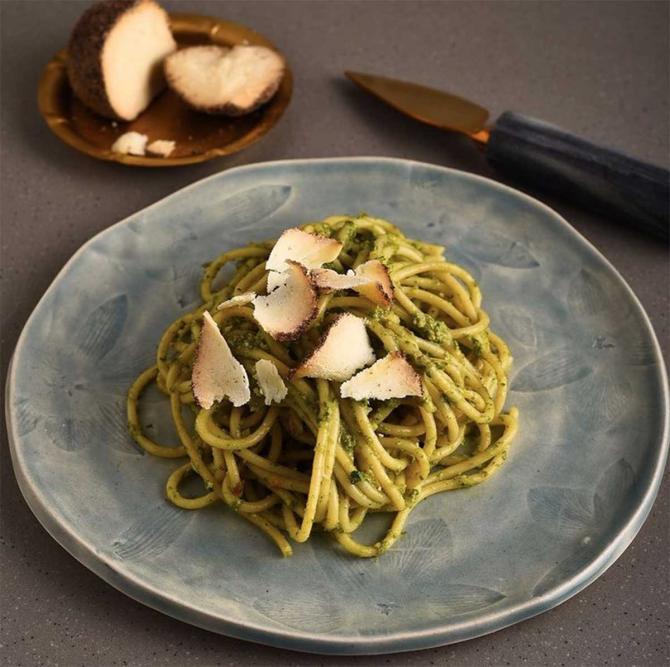 Mausam was finally, nearly four years later, on the road to success - she had evolved from a hole-in-the-corner bedroom cheese cave owner to a known wholesale supplier.
For any foodie making cheese sounds like such a romantic idea, a dream profession -- puttering around a shiny test kitchen, dabbling with whey, curd, milk, cream and ripening wedges of cheese and all their millions of pungent flavours.
"Oh well, actually that's what I thought as well. Cheese making is 80 per cent cleaning - 20 per cent cheese making and 80 per cent is just scrubbing, cleaning, sterilising and sanitising everything."
At her unit, located in Mumbai's north east suburbs at Bhandup West, they scrupulously go through the entire cleaning process twice a day, once before the milk comes in and again after the daily quota of cheese is made. Meticulous cleaning is critical or else the ingredients or the not-yet formed cheese can get contaminated and the day's effort for a batch will be in vain.
Masaum adds with a hearty laugh: "All of those bits (the cleaning, the struggle to find milk, wrestling with cold chain issues) are quite unglamorous. And as much as I'd like to have a bunch of cows and be milking them first thing in the morning and making cheese in a chalet overlooking the mountains, that's not the reality of a cheese-maker! So, it's a bit unromantic that way."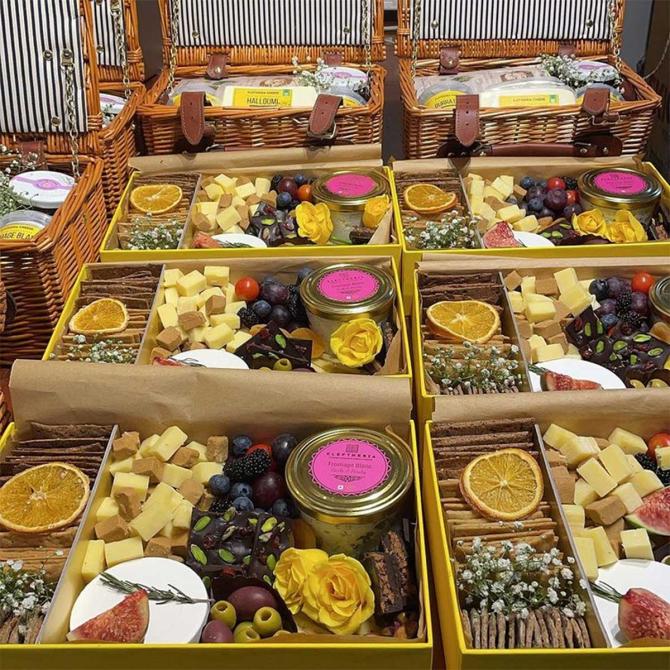 Making good cheese is equally about failure. Without failure there are no learnings or improvements or better cheese emerging.
"It's a lot of trial and error. Weeks and weeks of failures. It's not as simple as I thought it would be. Like any other craft, it took a lot of determination to get it right."
And it requires time. Oodles and oodles of it.
"Cheese is a slow food. You need patience. It's not that it's going to happen overnight. If you are making aged cheeses, you got to wait for six, eight or 12 months to see the results of your efforts. If you're making fresh cheeses, the gratification is sooner. But it's not like splitting milk into paneer. It takes a really long time to transform milk into something.
"It took a period of three to four years of trying my cheeses out with friends and family, getting my recipes, dumping a lot of milk and making a lot of garbage cheese!"
Cheese has a steep learning curve not only for its makers but for consumers too, on many counts.
Because of the difficulty in getting the right milk and the issues with the cold chain, Indian cheeses, especially preservative-free, fresh ones, are much more expensive to make. In time, Mausam hopes, that will improve.
But even if you are paying more, the consumer has to realise you are paying more for a less processed, fresher Indian cheese.
In an effort to educate consumers and develop or expand their palates, Eleftheria puts out a series of videos on its Instagram account.
Experience has also taught Mausam that customers can be prodded into trying new and unfamiliar products if they are also taught to expand their imagination and learn what to eat them with. To that end, Eleftheria sells their cheeses along with food items that pair well with cheese, like the right crackers/crisps, condiments, jams, preserves, olives, nuts and chocolate.
Her reasoning: "It can't be just about cheese. It has to be like a one-stop shop of cheese and everything that goes with it. Because when somebody is buying a product from you, they want to know what to pair it with."
That was the logic too for offering hampers ie choosing the cheeses and the accompaniments for people who may not know how to. "A lot of people would come to us and say 'make a cheeseboard for us'. The hampers have been doing really, really well to be very honest. It's picked up a lot. People have been gifting cheese platters. We're doing birth announcements with cheese platters! It's been pretty crazy."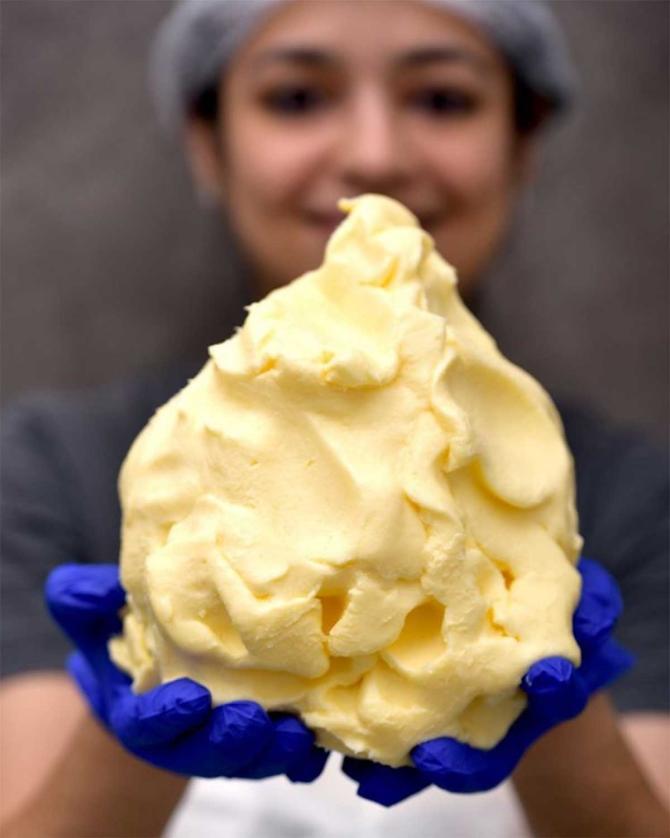 Eleftheria today, Mausam tells you with pride, does two tonnes of cheese per month and at her unit her employee strength has grown from 2 to 25. They sell some 30 or so varieties of fresh cheese, butter, ricotta, fromage blanc etc. Their best-selling product is their burrata.
Her cheeses can be ordered from their website and are delivered to your doorstep in Pune, Navi Mumbai and Mumbai. They are also available in gourmet food stores and delivered by food apps.
The burrata is one of Mausam's favourites too: "I absolutely love our burrata. It's really a labor of love. I mean, we do the money-bag burrata with the top knot. And we fill it with stracciatella, which is shredded mozzarella and fresh cream. We hand tie it. We don't use any machines."
Their more recent addition, the Cyprus-inspired halloumi is doing rather well too, with restaurants buying into it
Eleftheria is now planning to get into more and more aged cheese. "We're working on a bunch of aged cheeses, since nearly two years now -- it's all in the R & D phase, we're making them, eating them until we're happy with the texture, flavor, etc."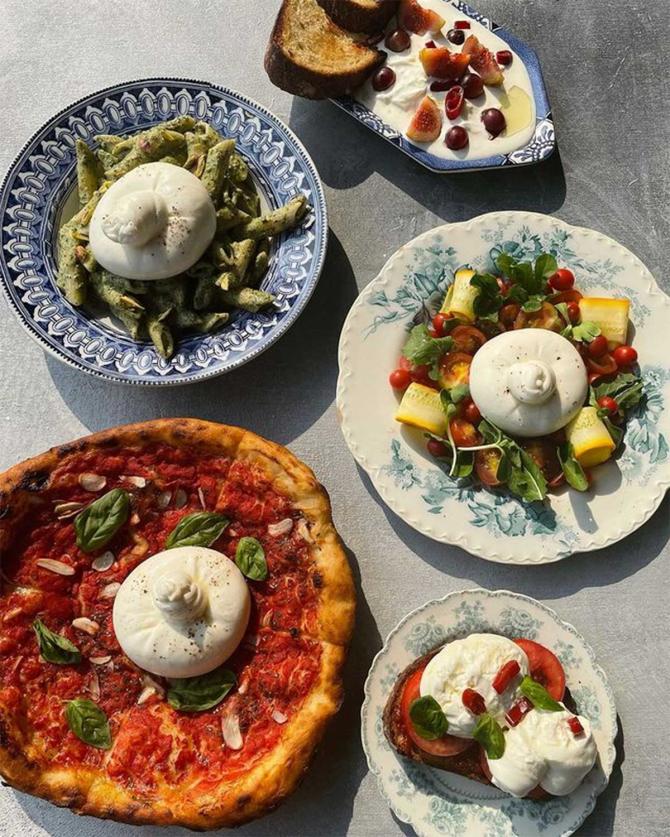 Does she meet a lot of other Indian artisanal cheese-makers?
Those kinds of meetings would, no doubt, be fascinating affairs, where Kodaikanal and Coorg fromagers might be comparing notes on flavours and milk pH with cheesemakers from the high Himalayas, Pune, Mumbai, Sikkim and Delhi.
"You can count us on the fingers of two hands. Now even too. We do meet on and off, whenever an opportunity presents itself. Because of COVID-19, it's been a while.
"The biggest question that everybody asks when they meet each other is: 'Where's your milk coming from?' That's the first question!"
Feature Presentation: Ashish Narsale/Rediff.com