'... Regardless of orientation and gender.'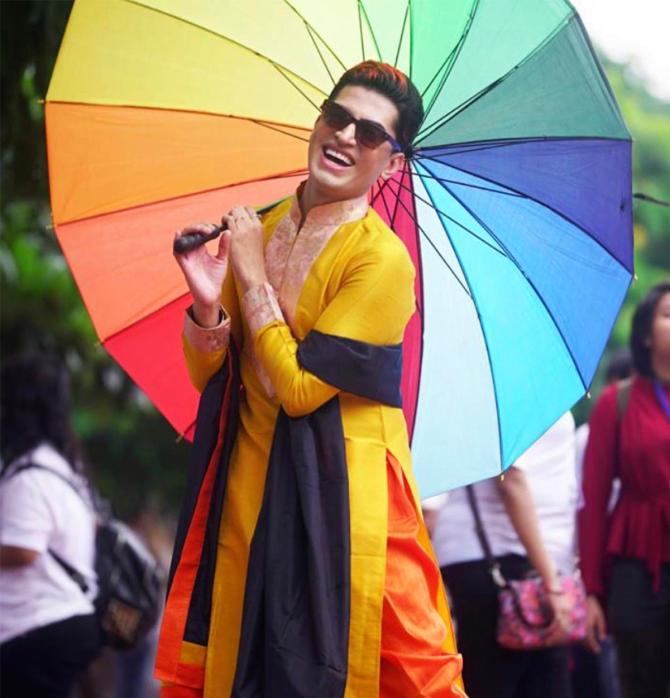 To celebrate two years of the historic judgment that declared Section 377 as unconstitutional,MTV Beats, a contemporary music channel, is all set to give India its first ungendered love duet album by artists from the LGBTQIA+ community.
The album -- MTV Beats Love Duet -- will celebrate love that goes beyond the 'ladka-ladki ka pyaar'.
The album has 3 songs and the first song will be launched September 10.
It features some of the talented musicians from the community including Sushant Divgikr, Shubhangi, Ma Faiza, Prachi, Rtunjya to Rushik Thakkar, who have written and composed the album.
"It's my first original Hindi song and I can't wait for it," Sushant Divgikr aka Rani KoHEnur tells Hitesh Harisinghani/Rediff.com.
Talking about his inspiration to be a part of the project, he says: "We wanted to show atypical genders in the mainstream and we wanted to say that love is love regardless of the orientation and gender."
"Love between two consenting adults is absolutely normal and there is nothing abnormal about it."
Sushant is obviously happy that September 6, 2018 turned out to be a red letter day for his community.
"It's been two years since Section 377 was scrapped. I'm very happy that Section 377 is in the dustbin."
Sushant feels it doesn't matter whether you are gay, straight or transgender as long as you productively contribute towards society.
"What matters is being a nice person and being a productive member of society which I along with members of my community are so, please give us an opportunity and we will not disappoint you."