September 6 marks one year since the historic judgment by the five-judge Constitution Bench of the Supreme Court in reading down the provisions of Section 377 of the Indian Penal Code and decriminalising consensual same sex relations.
We republish this feature to mark that moment, which changed the lives of many in India.
---
'When Arnab Goswami announced on TV, it's over, it's done, dad patted me with love and said congrats.'
'I broke down,' Nakshatra Bagwe, a 'proud gay' film-maker, tells Rediff.com's Divya Nair.
We grow up seeing a man and woman together. Everyone tells you that is normal.
In my case, it wasn't.
My father is a banker and had a transferable job. I was 14 when he was posted to Malkapur village, near Akola, Maharashtra.
That was the time I slowly realised I wasn't interested in girls. When my friends spoke about girls I felt uncomfortable.
I liked boys.
At school, I was physically attracted to a male classmate. But I could never share it with anyone.
Sometimes (my) odd behaviour led (got) me bullied in school.
We lived in a village at the time (and my) exposure to the outside world was limited. There was no Internet.
The next three years were spent in self doubt. I didn't know what was happening.
Telling the family
When I was 17 we moved to Mumbai.
I logged into Google and typed: I am a boy. I like boys.
I was overwhelmed with the kind of information that Google threw at me.
I read about gay men, gay groups and why it was natural to be attracted to boys.
I felt a little confident about my emotions.
I had always been a good student and son. I never did anything irresponsible or kept any secrets.
I didn't want to keep this new discovery from them.
One day, at the dinner table, I casually mentioned to my parents: "I think I like boys."
The reaction was instant. My mother, who was pro-Shiv Sena said: 'Why didn't you die when you were born?'
She was worried about how society would receive us when they found out.
She was angry, upset. She was crying.
My father was silent. That hurt me the most.
At least my mother was responding. She was aggressive. I knew she cared. She had to know the truth.
We did not finish dinner that night.
Fighting a lone battle
The next five years were the most difficult. We lived under the same roof but hardly spoke to each other.
I'd cut out whatever articles or material I found interesting and started collecting them.
I was 19 when I fell in love. My boyfriend supported me. He understood me and heard me out.
I had finally found someone with whom I could share my feelings without the fear of being judged.
He didn't tell his parents, but he proposed on New Year's Eve. It was so memorable.
Then one day, I got the news that he had met with an accident. I lost him and my world collapsed.
It felt like god had snatched my favourite toy and he wasn't going to give it back. It was harsh and heartbreaking.
The incident has left a scar; I'm scared of entering a new relationship because I fear I will lose him.
I felt depressed, but didn't want it to break me.
I started making films and gave it my all. I started telling stories of people like me who were scared of coming out.
My film Logging Out was successful. At the premiere, my mother had hugged me and said she was proud of me. My father didn't say much.
Now that my mother was on my side, I felt I could conquer the world.
Initially she wanted it to be between us. She was scared I wouldn't be accepted.
But I realised that if I got scared, I'd never overcome this.
I never screamed it, but I continued to support gay rights on social media.
If someone asked, I'd just say I was gay. I wouldn't beg for their approval or let their opinions affect me.
In 2012, I participated in Asia's first pride march, which was held in Mumbai. I was a dancer, so I also performed, spoke to the press. My photograph appeared in The Times of India.
Now it was our turn to face my relatives.
They called and abused my parents. One of them suggested (my parents) take me to a good doctor.
Another said I was a disgrace to the family. I should stop using my surname.
Their taunts only made my will stronger.
I started making more films, being vocal about my feelings.
As my films (began) getting recognition, people's reactions changed.
The same people who abused me started applauding my talent, my hard work.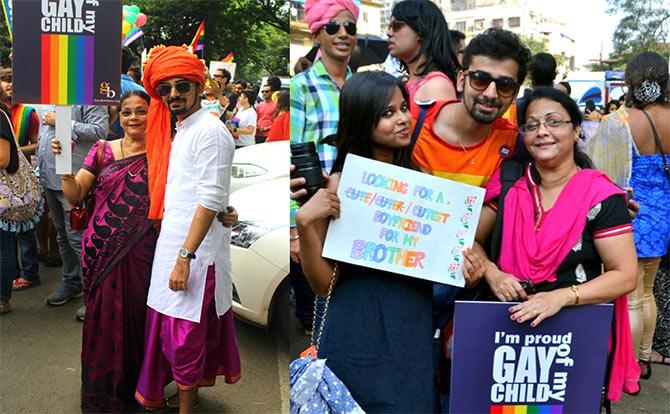 Finding support, social acceptance
In 2015, my sister and mother participated in a LGBT Pride Walk in Pune. My family had accepted me in public.
Thankfully, my profession never discriminated against my gender or sexual orientation.
My friends always supported me. And so did my pets.
I'm so glad we have pets. They never discriminate; they love you for who you are.
In 2017, I lost my mother to breast cancer. Her dream was to see me get married to a good man and have a peaceful life.
My father doesn't say it aloud, but he supports me.
Future of relationships
I am single and that's my choice. I'd like to focus on my career till I'm ready for a relationship.
I'd like to settle down with a partner, who is honest to his family, has good education and is financially independent.
My dream is to settle down in Goa and adopt a kid so we can experience the joy of parenting.
The Section 377 debate
The Section 377 is not about sex, it is about acceptance.
When you criminalise sex for LGBTQ, you reject us as individuals.
We are normal people, we don't need privileges.
Being gay is normal. Gay rights are human rights too.
The section was being misused by people to threaten and blackmail us.
A friend who went on a date through a dating app, was attacked by a group of men. They snatched his phone and threatened to inform his parents and share their pictures.
Naturally, this friend was scared and had to pay up.
This had to change. We can't let people take advantage of the law.
What does the verdict mean for you?
When Arnab Goswami announced on TV, it's over, it's done, dad patted me with love and said congrats.
I broke down.
Today, I feel like I am born again.