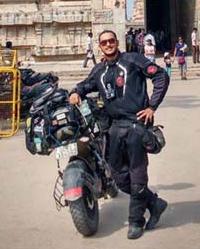 'I travelled without a road map and a plan; I just went with the flow.'
'I'm not the world's best motorcyclist and the trip didn't require extreme motorcycling skills.'
At 24, an age when most people struggle to make a mark in their first jobs, Krishanu Kona rode solo for 224 days non-stop, covering 25 states.
Krishanu tells Anita Aikara/Rediff.com about his Green Dream challenge, where he rode 50,000 km across the length and breadth of the country.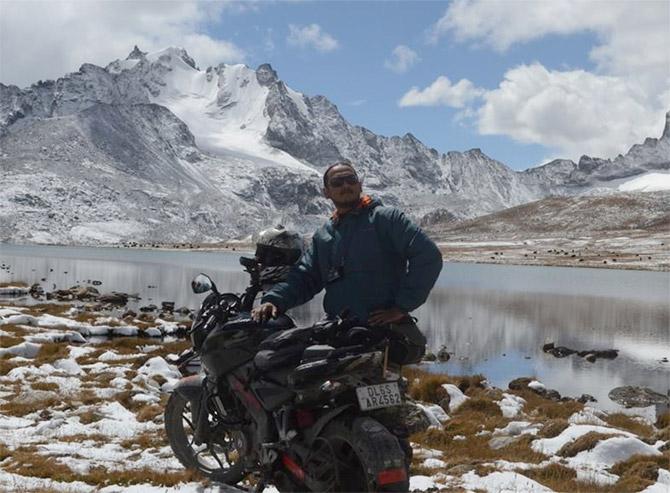 IMAGE: Krishanu Kona at the Tso Lamhu lake, the highest lake in India. Photograph: Kind Courtesy Green Dream Challenge/Facebook
Being in the thick of uncertainty, riding through rough terrain, staying at budget hotels and eating at dhabas along the way made him feel truly alive; a feeling Krishanu had been craving for, he says.
His words echo travel writer Pico Iyer's, who once wrote, 'I sometimes think that so much of our lives takes place inside our heads... that if I really want to change my life, I might best begin by changing my mind.'
Krishanu too began by first changing his mindset, planning a six-month trip that covered most states.
He hopes he has created a new Guinness World Record for the longest journey by motorcycle in a single country.
It began March 16 last year when Krishanu returned home after a tiring day at work. Not happy with his "boring" desk job, which involved sitting in front of a computer for 10 hours daily, he logged into his saving account in the hope of finding enough money for a long vacation.
What he saw threw him off-track.
There was a humble sum of Rs 24,000.
"That was probably how much a last minute return ticket to my favourite holiday destination would cost me!" he laughs. Sadly this was Krishanu's reality.
"The feeling of disappointment flowed through my body, draining the bout of enthusiasm that had hit me!"
Krishanu was first bitten by the travel bug back in October 2014, when he travelled with a biking group to Munsiyari, Uttarakhand.
"It was a four day trip, and I rode solo for most of it. Of the 550 km, 300 km were spent riding in the hills, which was challenging. In the evenings especially, after 8, riding in the forests was difficult given the poor visibility. I wear spectacles and I could barely see the road ahead."
He survived that trip and returned charged to think of taking the trip of a lifetime.
"I wanted to go on a long journey, one where I could experience the entire country in one go. I worked five days a week unhappily... On Saturdays, I'd rest the entire day and by Sunday, I was already hating the thought of going back to work. I desperately needed a break."
In spite of just Rs 24k in his pocket in May last year he finally quit his job.
IMAGE: Krishanu at the Keoti Falls, Madhya Pradesh. Photograph: Kind Courtesy Green Dream Challenge/Facebook
The initial plan was to travel around India using public transport. Not quite sure about his parents' reaction, Krishanu told them 10 to 15 days before he quit. "I promised that I wouldn't take a single penny from them."
His mother was shocked. She wanted time to process things. "But after two hours, she returned and said, 'I wanted to travel when I was young. But my dad said a 'no'. I won't stop you. This is something I wanted to do all my life.'"
Recalling his childhood, Krishanu says, "As a family, we took few vacations. My mother is a school teacher and my father a government employee. He loves travel however the expenses bother him."
Unlike his father, he was not ready to put his dream on hold for lack of funds. "I just needed to find a way out. A motorcycle was the best mode of transport. But I didn't mind touring the country on a bicycle too."
His bank balance was minimal, but his determination was strong and he decided to set out on the journey with the money on hand.
Nearly 15 days before his journey Krishanu was introduced to an acquaintance at a family get-together.
"He had heard of my desire to travel and asked me about my budget. He said it was something his company could easily sponsor."
A few meetings later, the deal was sealed. Armed with the sponsorship, Krishanu set out on his 50,000 km Green Dream Challenge on his Bajaj Pulsar 200 NS on August 30.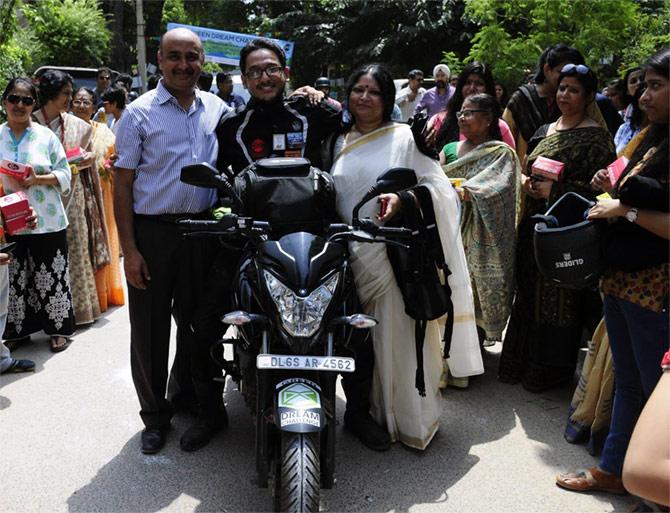 IMAGE: Krishanu kicks off his journey in New Delhi as his parents bid him goodbye. Photograph: Kind Courtesy Krishanu Kona
The route
He had a rough idea of the route he planned to follow. But he ended up sticking to just 20 per cent of it, he remembers with a laugh.
Krishanu's trip began in New Delhi.
He then proceeded northwards first, before heading east and then around the coast of India, first south and then north from Kanyakumari.
After that he realised that sticking to the route during such a long journey was not possible from one end of India to another.
He covered 25 states in all. He didn't stay in any one state for more than 10 days.
Please click on the map and see some of the places Krishanu visited.
Why the zigzagging? "I couldn't go from state to state," he explains.
He had to keep his plan flexible: when he was tired of traveling in the mountains, he headed south. And when the rains in the south began to bother him, he went exploring states in the west.
"I was in the hills for almost one-and-a-half months. It was beginning to take a toll on me. At high altitudes the scenery is beautiful, but the terrain is rough. Riding 400 km on a highway is much less tiring than 100 km in the hills."
The hardest part
As he made his way down south, Krishanu was welcomed by rain.
"The most difficult part was going to Bangalore, riding in the rain for six, seven hours in the night. Visibility was poor and I could barely see vehicles coming from the opposite direction. Bangalore rains are crazy. Despite a raincoat I was totally drenched."
Krishanu could not cover Kerala and Tamil Nadu the way he had planned it. So he touched Kanyakumari and then started moving back upwards. "I decided to return to explore these states at length later."
He had to give four north-eastern states -- Nagaland, Mizoram, Tripura and Manipur -- a miss.
He considered heading to Nagaland at the end of the journey, but was concerned about his safety because of the conflicts in the state and the rough terrain.
The rest of his trip had gone off well till then and he didn't feel doing Nagaland was worth the risk.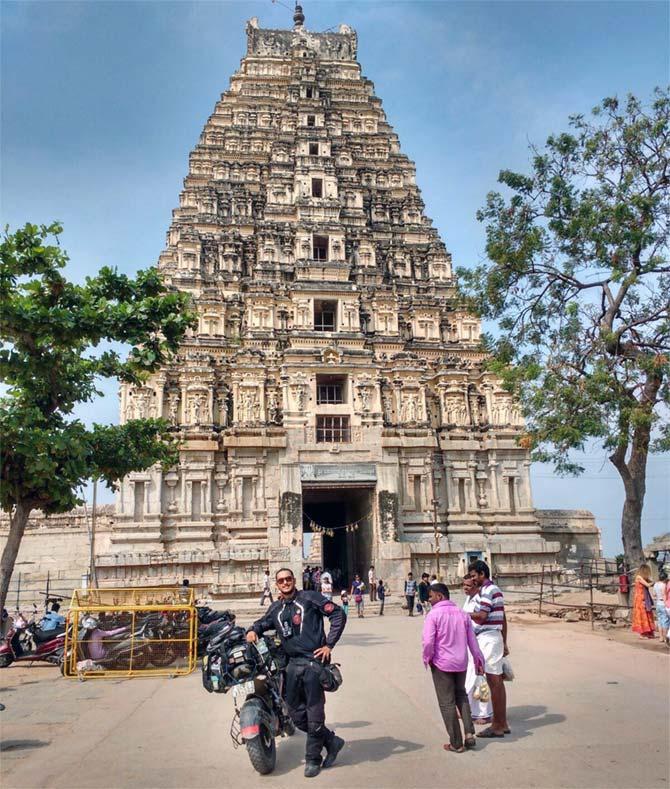 IMAGE: Krishanu outside the

Virupaksha Temple, Hampi, Karnataka

. Photograph: Kind Courtesy Green Dream Challenge/Facebook
Taste of India
Krishanu declares that food on Punjab highways was most accessible, because of the wonderful dhabas serving parathas and lassi everywhere.
Gujarat proved tough. "It was difficult to get non-vegetarian food. Breakfast was a challenge. Fafda and dhokla don't fill your stomach."
His best meals were in West Bengal and Assam where he could get for under Rs 100: Delicious fish fry, dal, sabzi with rice. It reminded him of home.
"I was travelling from Guwahati to Jalpaiguri and stopped at a small village. Three or four shops were open. I stepped into a deserted restaurant, unsure about the food (available). "They served me fish fry, daland sabzi. The fish was so tasty. When I asked the waiter where they got it from, he turned around and pointed to a river flowing behind the restaurant. After being on the road for so long, the taste of home-cooked food was divine."
"The most expensive meal on the road (set me back) Rs 300. It was at Kanyakumari and it was a horrible experience. I ordered a full chicken and couldn't finish it -- a desi murgi, which was not skinned well."
His cheapest meal was a Goalpara lunch, 200 km from Guwahati. For Rs 70 to Rs 80: Fish curry, two vegetables, dal, four gulab jamuns, and rice. Everything was unlimited except the curry.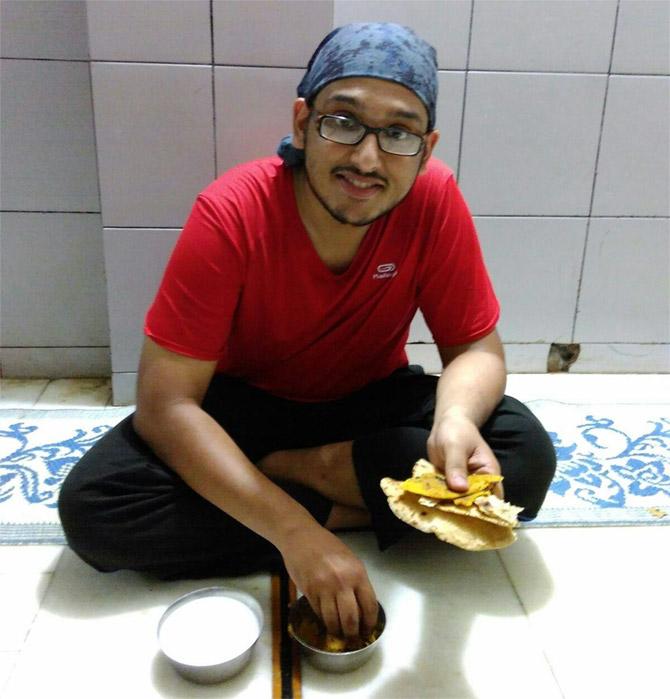 IMAGE: Enjoying a meal at a gurdwara. Photograph: Kind Courtesy Krishanu Kona/Facebook
Helpful strangers
Riding through the heart of Punjab was memorable.
"I stopped to ask for directions. A few people came up and asked where I was headed and why. When I was talking to them, two Sardarjis invited me home for lunch. A stall owner also offered me tea and didn't charge."
Krishanu turned down the free lunch since he was in a hurry to go onwards. Surprisingly, after he rode 15 km, and reached the next town, another polite stranger offered him a cold drink.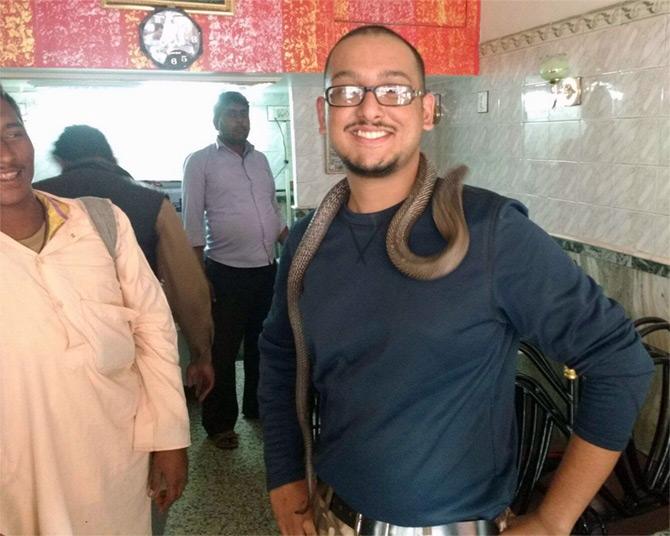 IMAGE: At Bikaner, with a snake. Photograph: Kind Courtesy Green Dream Challenge/Facebook
Some revelations
"I'm not the world's best motorcyclist and the trip didn't require extreme motorcycling skills," Krishanu discovered. But it did require plenty of mental strength.
Riding solo, for the extroverted New Delhi boy meant making plenty of friends along the way. "You get to meet and talk to locals. The people I met often told me, 'Bahut sare bikers dus-dus ke group mein yahan se guzarte hain. Lekin kissi se baath karne ka mauka nahi mila (plenty of bikers have passed by in huge groups of 10. But we haven't got the chance to talk to any of them)'."
"As I was travelling solo, I would stop by and chat with them. They would indulge me with their stories. I craved to talk to someone, just have someone ride along with me."
Travelling from state after state was about being introduced to different cultures. "As soon as I arrived at the state border, I would see the transition. People living on the border would speak the languages of the neighbouring states (as well)."
When Krishanu rode from Assam to Meghalaya, he witnessed a stark contrast in landscape. "There is a Northeastern tribal culture evident in almost all the states there, except Assam."
Language barrier was another challenge. "The only languages I spoke were Hindi and English. My mother is Bengali, so I know a little of (that language). Once in Idukki, Kerala, I was unwell and needed a place to sleep. I ended up at a hotel where the receptionist didn't understand Hindi or English... I used sign language to communicate."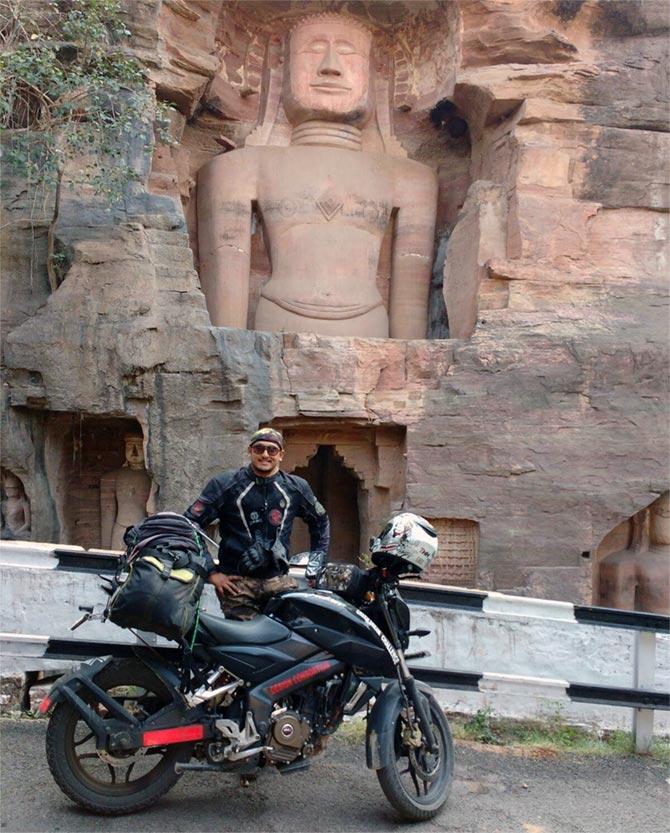 IMAGE: On the way to Gwalior Fort. Photograph: Kind Courtesy Green Dream Challenge/Facebook
Frugal travel
ATMs are a rarity in the hills and Krishanu says his worst fear was riding all the way up a hill to an ATM only to realise that it didn't work. "That would mean that I'd have to ride downhill at least for 30 or 40 km just to find another ATM."
He remembers one occasion when he had to literally ask a tourist for money. Krishanu was riding from Dalhousie to Khajjiar in Himachal Pradesh.
He'd kept his money in his riding jacket which he did not wear that day. "It was too late by the time I realised I had no money on me. I went to a tourist site where they charge Rs 10 for entry. It was embarrassing, but I ended up asking others for money. Thankfully somebody in the next car offered to pay."
Krishanu had also planned on visiting the scenic Kalatop that day, where Ranveer Singh and Sonakshi Sinha shot Lootera. Entry charges were Rs 100. He recalls, "I just couldn't get myself to ask someone for that amount. So I returned to the hotel."
In total, Krishanu spent Rs 210,000 on the trip -- of which Rs 100,000 was spent on petrol, Rs 40,000 servicing his bike, and around Rs 70,000 on accommodation and food. "That worked out to roughly Rs 300 to Rs 400 a day for accommodation and three meals. I think that's the cheapest one can get."
Krishanu avoided camping since he had plenty of gadgets on him (a phone, a camera, two GPS devices and a laptop) and had to charge them often.
He cut down on accommodation costs by staying with relatives and friends whenever possible.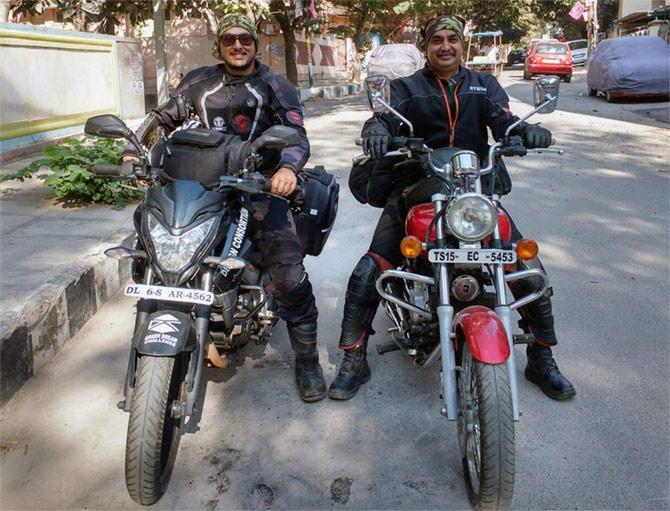 IMAGE: Krishanu's unexpected co-traveller in Andhra Pradesh, his father Madhusudan, right. He rented a bike from Hyderabad and joined his son exploring his home state. Photograph: Kind Courtesy Green Dream Challenge/Facebook
A home on wheels
The challenge for every backpacker is deciding how much to carry.
And there's no set formula, says Krishanu, who had packed a tent, an extra pair of shoes, a sleeping bag, etc. It was like carrying a home on wheels. But that wasn't the best option. "It was difficult to handle the bike due to the excess luggage."
Every morning, he would devote one-and-a-half hours to packing the bags on his bike and another hour to secure them. "If I woke up at 8, I could leave the hotel only at 12."
Finally he reached the stage when he had to offload. Thankfully his parents paid him a visit just around then. "It was my birthday. A month had passed (since beginning) the journey. I was in Bhimtal, Uttarakhand. What a delight it was to meet them. From Bhimtal we travelled to Kanpur together."
Krishanu's parents rarely let him feel homesick. They often caught up with him during his travels. When he was in Jhansi, his parents surprised him again by showing up at his hotel. They then travelled together for days exploring MP and then headed to Mumbai. "I rode the bike and they followed in the car."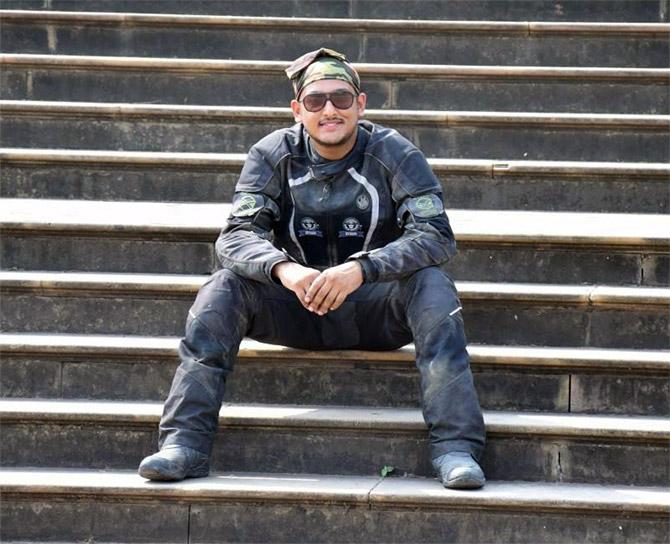 What next?
His all-India odyssey has inspired Krishanu to think about writing about his experiences. He has started work already.
"On my Facebook page (The travels of Krishanu Kona) I have started sharing the stories of my journey and someday I'll compile these stories into a book."
Will he be getting back to his old job any time soon?
"No! Corporate life is not my cup of tea. I plan on doing social work, it's something I wanted to do for long," says the traveler. "I'd also love to work with a travel magazine like National Geographic."