'I was never a class topper or an extraordinary kid.'
'Today, I can proudly say that dreams do come true.'
'If I can do it, anyone can do it.'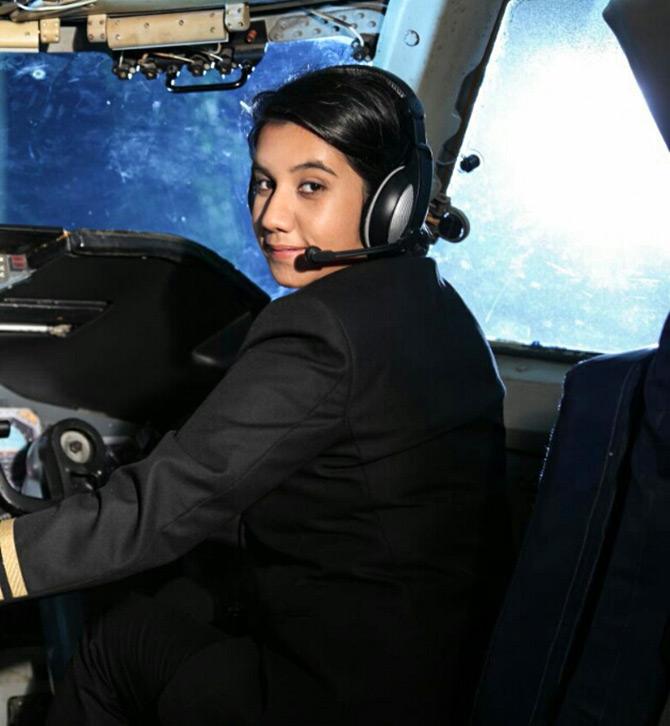 IMAGE: Ayesha Aziz just became a pilot at 21.
All photographs: Kind courtesy Ayesha Aziz
Ayesha was in Class 6 when she heard about Kalpana Chawla, the first Indian-origin woman astronaut to go into space.
Chawla's journey inspired her to think of flying as a career.
Years later, Ayesha and two others were selected for a space training programme by America's National Aeronautics and Space Administration.
She was lucky to meet Indian-American astronaut Sunita Williams and American astronaut Jon McBride during her two-month training in 2014 at NASA's space academy in Alabama.
Chawla and Williams, she says, inspired her to look beyond the boundaries of earth.
To set new benchmarks even if they were simply castles in the sky.
"When I was young and everyone asked about my future, I knew I did not want to become just another doctor, engineer or lawyer. I wanted to do something not everyone did. I wanted to fly, I always wanted to be a pilot," says the 21 year old from Mumbai who got her student pilot license at age 16 and her commercial pilot license on March 31 after completing her aviation degree at the Bombay Flying Club.
This is the story of how an "academically average (she scored 81 per cent in her Class 10 boards), but ambitious and stubborn" young woman drove herself to reach her castle.
Although her family, in part, is from Baramulla, Kashmir, Ayesha studied at the St Agnes High School, Byculla, south Mumbai, and went on to graduate from the Christ Church School, also in Byculla.
Speaking to Rediff.com's Divya Nair from Baramulla, where she is visiting her maternal relatives, the newly minted pilot speaks about the challenges for young women in the aviation industry, dealing with trolls online and flying a MiG-29 someday!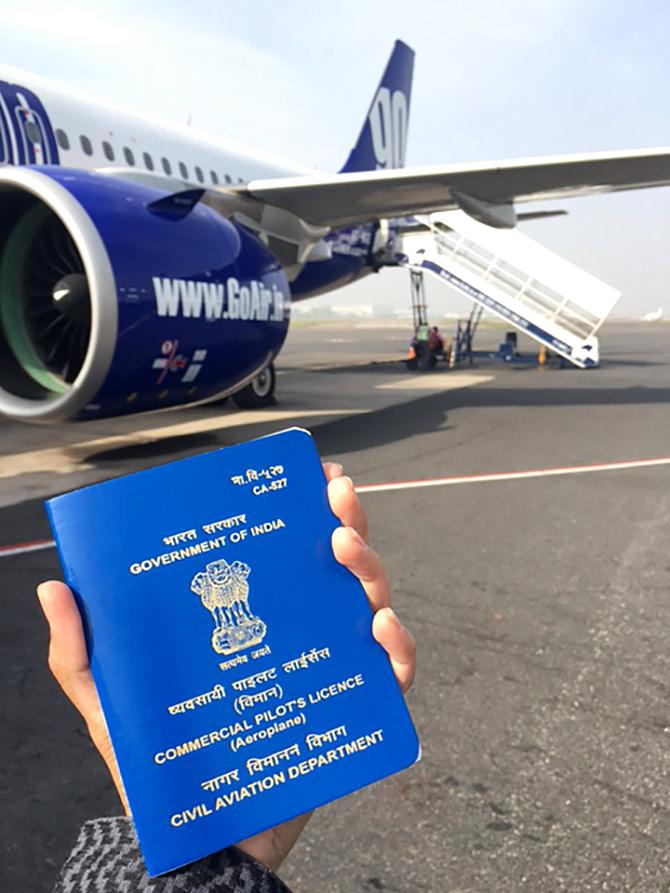 IMAGE: Ayesha with her commercial pilot license.
What did you feel when you got your commercial pilot license?
A rush of emotions.
When I held it in my hand, I could not believe that I had finally done it.
I kissed it.
I thought about my childhood, how I had dreamed (of) this day when I was young.
I would boast to my cousins, friends and relatives that one day, I'll be a pilot.
Some like my parents and closest cousins would encourage me. Others wouldn't pay much attention. They thought I was young and (I was) kidding.
I know a lot of people who said their choice of career depended on their marks.
For me, my marks never mattered. Passion and determination did.
This license is everything I had dreamed of. I was persistent and worked hard for it.
I was never a class topper or extraordinary kid. I would score between 70 and 80 (per cent) in school.
I was just stubborn, ambitious and passionate about flying.
Today, I can proudly say that dreams do come true.
If I can do it, anyone can do it.
When the domestic help (at her home in Mumbai), who has known me since I was young, heard the news, she was as excited as I was. She knows what this license means for me.
Do you remember your first flight?
It was in 2012 in Dhule (northwest Maharashtra), 350 km away from Mumbai, where I assisted someone in the cockpit for the first time.
My parents were in the same aircraft when it lifted off the ground.
We were flying against gravity. That my family was part of the journey made it memorable for me.
IMAGE: At the Bombay Flying Club where Ayesha earned a bachelor's degree in aviation.
What are the requirements to become a pilot in India?
When I got my student license at 16, a lot of people wrote to me to clarify if it was legal.
I would like to use this medium to explain to them that 16 is the minimum age to apply for a student pilot license and 18 for a commercial license.
For the former, you have to be a Class 10 pass, and for the latter, you have to clear Class 12 with maths and physics as your subjects.
There is no fixed duration (in which) to get your license. It depends on how fast you learn and clear your examinations.
What are the financial requirements?
To be a commercial pilot, you'd require anything between Rs 30 lakhs (Rs 3 million) to Rs 70 lakhs (Rs 7 million) for your education, allied examinations, living and learning expenses.
What were the challenges you faced?
There is no denying that aviation was once a male-dominated industry. (When I was getting) my student's license I was the only girl among four boys.
I did not face much bias initially, there is a certain competition that you cannot ignore.
They may not say it, but men always have a little superiority complex over women.
It is not easy for many men to accept that women are matching steps with them.
If you put across an argument or share a suggestion, they (men) may show their superiority by being assertive and not agreeing to your point of view.
And how do you stay ahead?
There is no substitute for knowledge. You have to stay updated all the time.
You have to be faster than the machine.
When you board the aircraft, you have to be alert and attentive.
You can't be sluggish and let the machine do all the work for you. You have to be competitive, learn and work harder and faster.
Just because you are a woman, you cannot pick a time zone like a 9 to 5 job.
You have to be available all the time. You may have to fly an aircraft at 2 in the morning and you cannot refuse that.
Was the journey any different for you because you are Kashmiri?
It would be unfair to compare any one person's journey with another.
Yet, the state of Kashmir is for everyone to see.
There is a war-like situation (there) every day. My mother is from Kashmir and we often travel between Pahalgam and Srinagar.
There is a strike or curfew almost every week. Last year, the state was in turmoil for eight months. I was there for two months.
There was no Internet, no connectivity.
In this digital age, it was like we were cut off from the world.
The markets were shut. There was no freedom. There was fear for life.
When you see so much tension every day, it is hard for the youth to focus on anything positive.
How did you deal with the recognition?
In 2011, when some media reports hailed me as the youngest student pilot from Kashmir, it was overwhelming.
I must admit that at least for a brief time I was carried away with all the attention.
I would sit down and read all the comments and messages.
More recently, when the news of my commercial pilot license appeared online, a lot of strangers congratulated me. At the same time, there were a couple of negative reactions too.
These things used to affect me once. Not any more. I have chosen to ignore them for my own good.
I have realised that for everything positive, there is always someone to criticise you, pull you down.
Why should I give these illiterate people any importance?
IMAGE: Ayesha with her parents, Abdul Aziz, a businessman, and Khalida Aziz, a homemaker, and younger brother Areeb, who is in Class 12.
Would you recommend aviation as a career for women?
Of course. I feel this is the best time to enter aviation.
The ratio of women in aviation is increasing by the day.
So many new companies are launching their services in India and internationally, employing women, which, I feel, is very encouraging.
The remuneration is also good enough.
So if you are passionate, and willing to work hard, aviation is recommended.
Who inspires you?
I find great inspiration in my father. He supports me in everything I do. I look up to him.
I also admire Michelle Obama. I follow her and appreciate the message she shared with girls: 'There is no boy at this age that is cute enough or interesting enough to stop you from getting your education.'
I like the way she put books before boys and encouraged education and career.
Your advice to our young readers?
Chase your dreams, no matter what.
Don't let anything or anyone stop you from doing what you love.
What's next?
I'd like to fly the MiG-29 someday. Maybe the first Indian female to do that.
I cannot imagine how thrilling it would be, to view the earth from a higher height, from among the stars you grew up dreaming about.