'I want to be a trailblazer.'
'I want to show the world and women in particular, that you can have a life even with a challenging job like this.'
Flight commander Rucha Nirale's career journey will inspire you to believe in and fight for your dreams.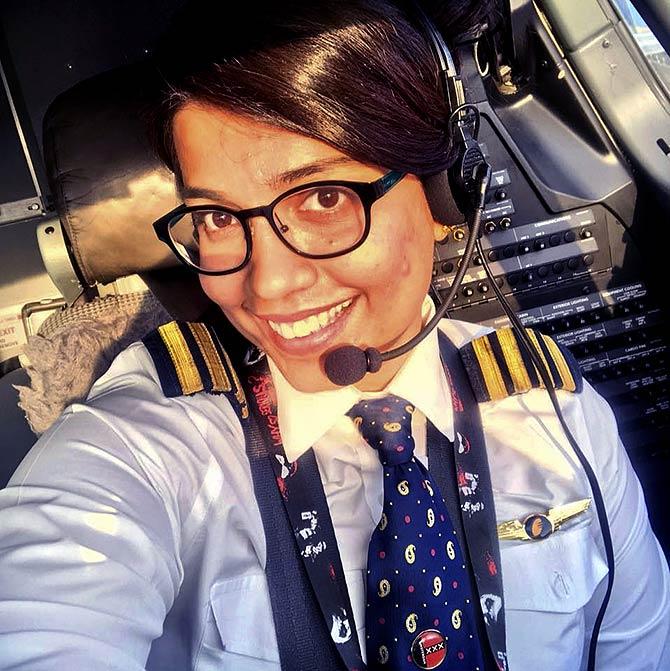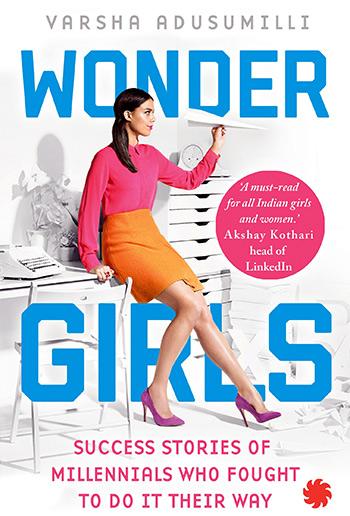 In the book Wonder Girls: Success Stories of Millennials Who Fought To Do It Their Way (pictured left), author Varsha Adusumilli narrates the stories of 15 Indian women who fought the odds to find their niche in different careers that were dominated or rather preferred by men.
We bring you an excerpt from the book where flight commander Rucha Nirale shares her story of triumph.
---
When I was starting out as a pilot, many of my relatives ridiculed the idea of women in the cockpit.
'How long can you fly?' they'd say.
'You will get tired quickly.'
'What will happen once you get married and have children?'
'Will you still fly then?'
To all those questions, my answer was always the same -- if men can do it, so can I!
I've flown more than 2000 flights so far.
A pilot retires at sixty five, and I want to keep going until then to prove the naysayers wrong.
Being a pilot has nothing to do with gender.
When I joined the airlines, there were very few female pilots around.
Today 12 per cent of all pilots in Indian airlines are women.
I want to see that proportion rise to 50 per cent.
It is a demanding job that takes you away from your home and personal life, but it is also exciting, let's you see the world and make interesting connections with people.
The women commanders before me worked hard to pave the way for me, for us.
It's now my responsibility to be an example for the next generation of women.
I want to be a trailblazer.
I want to show the world, and women in particular, that you can have a life even with a challenging job like this.
When I took up the aviation course there was no one I knew whom I could look to for advice, so now I volunteer at schools and talk about my job so that more people, especially girls, can consider aviation as a career choice.
I want to bust the myth that women cannot be pilots or cannot have a personal life if they become one.
I got married two years ago.
I was sure about only one thing while deciding on my partner -- he couldn't be a pilot! It's important to have some variety in life.
My parents asked me if they should find me a groom. I agreed, but on one condition -- he had to be right for me.
I wasn't asking for much, but the man I would marry had to trust me 100 per cent, otherwise our relationship would never work.
I travel all the time, going to different countries and sharing my room with other staff members.
Trust was crucial. And so my parents began to connect me with eligible men.
One of the men I'd been introduced to was shocked to find out how much I earned.
That evening his father called mine to say they were not interested in a woman who earned more than their son! My parents and I still laugh about it.
One day, my aunt introduced me to Saurabh.
She gave him my number and asked him to call me.
Even on our first call I could sense that he was different from the other men I had met.
When we finally met in person, I just knew he was the one.
He is a grounded, sweet man and more importantly, understands the demands of my job.
There is no place for ego in our relationship.
My husband works in real estate and does most of the housework when I'm not there.
Other people may find this unconventional, but in our family we don't even think about it.
Being a pilot is all about sacrifice.
When people are holidaying and spending time with their families, I am working the hardest.
I haven't been home for four consecutive Diwalis.
I don't get to attend parties, weddings or spend time with my extended family. But for every six days I fly, I take two days off.
This is when I catch up on rest, spend time with family, read and exercise.
These two days help me relax and reset.
Even the best airplanes need to reboot once in a while, and similarly, even the human body needs a reset.
As a young woman, you should consider both the pros and cons of a career choice.
Not every day will offer clear skies.
On some days there will be thunderstorms too. And when there is a thunderstorm, you have to find a path through the sky and stay focused on reaching your destination.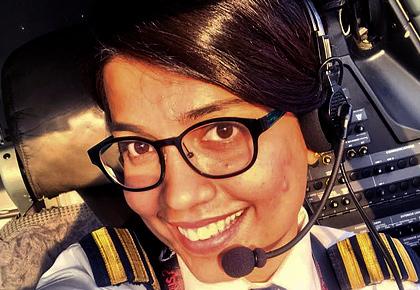 Excerpted from Wonder Girls: Success Stories of Millennials Who Fought to Do It Their Way by Varsha Adusumilli, with the kind permission of the publishers, Juggernaut.