'Zero Day' visitors like Maruti Suzuki, TVS, Tata Motors, Hero MotoCorp, Ashok Leyland and Bajaj Electricals are visiting fewer campuses.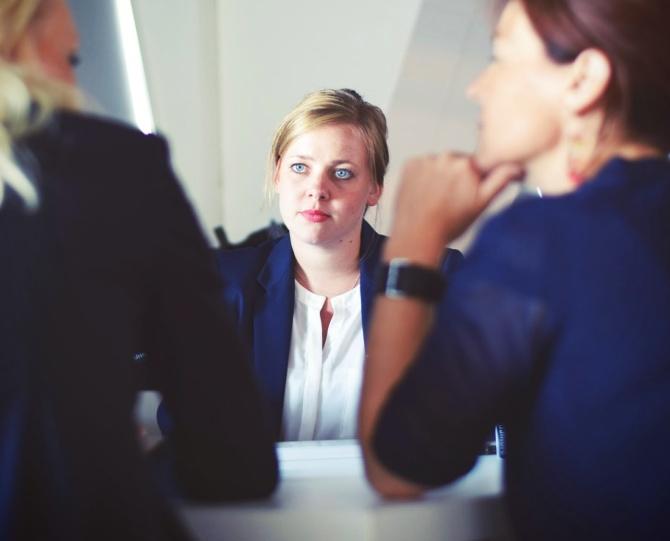 Unlike their top-rung peers, the job placement process at mid- and low-tiered engineering and management campuses has been a mixed bag compared to last year.
While some have seen decent growth in the numbers of offers or packages, others are facing a challenge in getting recruiters or job offers.
For instance, Visvesvaraya National Institute of Technology, Nagpur, has seen a 30 per cent reduction in the number of companies visiting the campus for recruitment.
According to a college placement executive, several reputed companies -- Maruti Suzuki, TVS, Tata Motors, Hero MotoCorp, Ashok Leyland, Bajaj Electricals -- which were 'Zero Day' slot visitors earlier, are now declining to visit.
"This is a big loss to us. Several tier-II and tier-III companies are also denying (us) recruitment because projects are not floating for them," said Prasanna Chaudhari, training and placement officer at the institute.
Last year, VNIT saw around 65 per cent completion of placements by November but it is now 55 per cent.
When compared with October 2018, the Ahmedabad-based St Kabir Institute of Professional Studies has also seen a fall in the number of students placed.
As against nearly 40 being placed till October-end then, this year saw only 33 placed till now.
"While the B-school is banking on the rest of the placement period to reduce the gap, some of the new and emerging sectors, including e-commerce, have not yet come for placements so far unlike last year," Gurpreet Singh Arora, dean, placements, told Business Standard.
He added, "There have been some sectors like FMCG, banking and finance where there have been good openings this year for us. Yet, so far, some of the newer sectors which had hired in good numbers last year haven't done so this year."
"However, SKIPS has seen marquee recruiters like Asian Paints, Berger Paints, ITC and Federal Bank among others, extend offers. Nestle, MRF Tyres and HDFC have confirmed participation," said its placement head and faculty member, Lawrence Menezes.
On the other hand, even as it awaits commencement of its final placements, with market speculation of a challenged campus hiring scenario, Loyola Institute of Business Administration, Chennai, has seen healthy summer (intern) placements.
According to institute director C Joe Arun and placements chair Richa Pandey, it has safely placed 65 per cent of its batch for summer internship so far, with 20 companies visiting the campus and a 20 per cent rise in stipends.
However, they add, even this process has not been devoid of challenge.
"During summer internship, we have observed that companies have reduced the intake of students.
"In general, there is a sulking fear about the recruitment but that has to be validated with data.
"Identifying growth or decline needs a complete picture, not available at the moment.
"If we go by the response from recruiting companies, it is very positive, so far. Any decline, if there is, is on lateral hiring, not campus hiring," said both.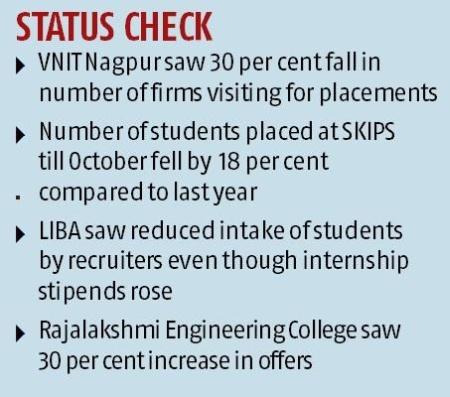 Sector-wise, too, LIBA's summer placements have been a mixed bag.
While campus hiring by management consultancy and banking firms look better than in previous years, those in information technology and IT-enabled services have exhibited a hiring pattern similar to last year. Hiring by the automobile industry has declined.
On the upside, Bengaluru-based RV College of Engineering and Rajalakshmi Engineering College, Chennai, among others, have seen an uptake in recruiters and offers alike.
The former institute has already crossed 800 offers till now, with average salary package of Rs 9.5 lakh a year.
"Apart from domestic consulting, banking and IT companies, a lot of German and Japanese companies are also absorbing students this year," said K N Subramanya, principal.
Cisco has hired 50 students with a package of Rs 30 lakh each at the college and is planning a second round of hiring, he added.
Similarly, I Philip Praveen, director for training and placement at Rajalakshmi Engineering College, Chennai, said almost 80 companies had visited the campus so far from the third week of June.
This compares with around 50 companies having visited during the same period last year.
Recruitments have gone up 30 per cent to a little over 600 from around 420 in the same period last year.
There has, he says, been healthy demand from IT companies, start-ups and core biotech/ biomedical engineering courses.
Around 15-17 start-ups would have visited the campus this year, double last year's figure.
*Image published for representational purposes only.