Abhishek Yadav holds the Limca record for training 5,700 girls in self-defence techniques in Kunda, Pratapgarh and other places in Uttar Pradesh.
Meghna Chadha reports.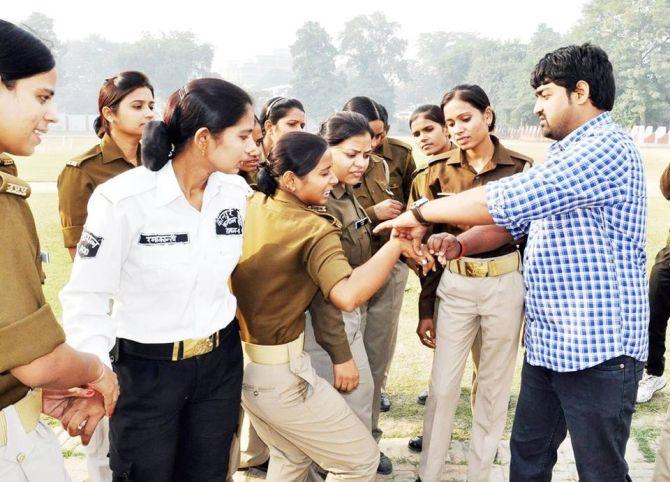 It's around 9.00 pm in Delhi and you're waiting for your cab on the side of the road.
You share the cab details with family/friends.
You notice two men on a bike coming towards you.
Staring at your phone, you secretly hope they won't notice you and move on. But they don't.
They slow down, look at you, pass comments and eve-tease, while you helplessly wait for them to pass because you don't want to provoke them.
This is a scenario most women all over the world, especially in India, face on a daily basis -- the problem of eve-teasing and molestation.
But 23-year-old Neha Singh does not have to tolerate this harassment anymore.
"Passing lewd comments and teasing has become very common these days and there are no strict laws regarding them. Police also can't take any immediate action in these cases.
"So, for self-defence and helping those around me, I learnt aikido (a modern Japanese martial art) from Abhishek Yadav in 2014-15. It was both empowering and liberating."
Singh, who has a full-time government job now, takes time off every year to volunteer at training camps to teach young school girls self-defence.
"Learning how to defend myself and being able to teach others has made me more confident. I believe the stereotype that women are weaker than men will be broken sooner than later," she adds.
Jyoti Mala, a 25-year-old from Lucknow who just completed her BSc in nursing, can't help but smile as she remembers the one time she and her friends taught a lesson to a few boys from her college who were following them and passing comments every chance they got.
"We were taught a few easy but effective moves by Abhishek and let's just say that after we taught those boys a lesson, we never saw them around again."
Abhishek Yadav holds a Limca World record for training 5,700 girls in self-defence techniques in Kunda, Pratapgarh and other places in Uttar Pradesh.
This record was previously held by the Delhi Police and the Delhi government when they trained over 5,000 girls in self-defence.
The 27-year-old is also the youngest achiever of Yash Bharti Award, the highest award given by the UP government for contribution in social work.
His vision is to empower women by teaching them aikido and other martial art techniques for self-defence and road fights by setting up camps in various cities.
These workshops last a week to 15 days.
"It started in 2007, as a camp to teach female police officers in Uttar Pradesh to take down guys without using weapons with basic and minimal power techniques.
"After the 2012 Delhi gang-rape case, I felt there was a need to teach young girls how to protect themselves," Yadav recalls.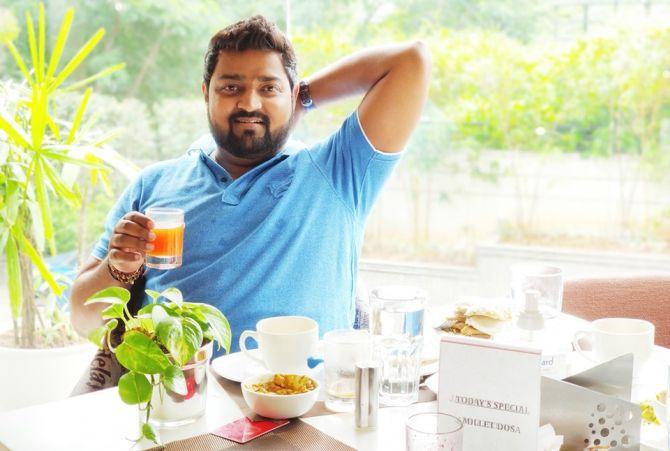 Yadav's foundation Abhiself Protection Trust trains these girls under the 'Meri Raksha Mere Haathon Mein' programme.
The foundation coaches girls free of cost and is all set to create a Guinness World Record by training 21,000 women from schools, colleges and the police in Mumbai by December.
"In a country where crimes against women are increasing rapidly, women must learn to fight back and not be victimised.
"I don't want any female to be left out from deterring potential attacks just because of their financial position," Yadav added.
When asked about his future plans, he said he wants to set up an academy in New Delhi and wants to keep empowering women both in the national capital and throughout the country.
"What started as a means to get back and get even with fellow schoolmates is helping me bring about a change in the country and helping women raise voice against injustice."
SHARE your safety tips for women in the message board below.