With Canada, Australia extending restrictions, admission seekers are deferring their studies or looking elsewhere, report Vinay Umarji and Aneesh Phadnis.
Ready to go and study in Canada, Vishwam Patel (name changed on request) had managed to book a flight from Delhi to Toronto with a layover at Doha when not only was his flight cancelled but Qatar also announced 10 days' quarantine.
"In the last one month, I had to shell out over Rs two lakhs for flight tickets which got cancelled twice. I have no option but to defer my admission to January 2022 as I cannot afford to keep booking any more flights," said a disappointed Patel who had been looking forward to studying mechanical engineering.
The Canadian government extended restrictions on direct flights from India till September 21.
'We are extending the #NOTAM (notice to airmen) restricting all direct commercial and private passenger flights to Canada from #India until September 21, 2021 #COVID19,' the Canadian government tweeted earlier this week.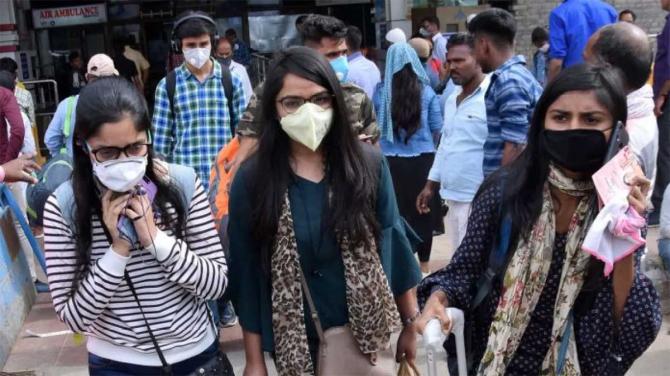 Australia has continued to shut its borders -- asking international students to continue with online education instead.
Indian students have been hung out to dry. They have been forced to travel via third countries like the Maldives, Mexico, Albania and Ukraine. They have been compelled to spend three times the usual ticket fares while facing cancellations.
Yes, despite doing all this, Indian students travelling to Canada are at risk of not making it in time for the Fall semester. Those planning to study in Australia, especially on Science, Technology, Engineering, and Mathematics (STEM) courses, are now looking at other destinations.
India's ministry of external affairs is trying to ease the situation, particularly for students, by taking up the matter with Canada and other countries.
Sapna Rateria, partner, Cirrus Holidays, said travel options to Canada are limited as there are no direct flights. The Maldives and Mexico are common transit points as Canada insists on a third country RT-PCR report to allow entry.
"But getting a seat to Mexico is also challenging because of fewer flights. Tickets too are costlier. Pre-pandemic, we sold return tickets to Canada for around Rs 75,000. Now it costs up to Rs two lakh for a one way ticket, a two-three day hotel stay in the Maldives or Mexico and an RT-PCR test," said Rateria.
Overseas education and immigration consultants have been besieged by worried parents and students who are not only seeing a sudden rise in travel costs but also ticket cancellations and even rejections from third countries.
"Not only are flights triple the price but this time Canada has also seen a lot of student visa rejections. Moreover, since direct flights are not allowed, Canada insists on negative RT-PCR test results from third countries but those are becoming difficult for students as even there, the rules are changing rapidly.
"With multiple flight cancellations, students' funds are also getting blocked as refunds take time," said Sumeet Jain, co-founder of Yocket, an overseas education services provider.
Another consultant, Sameer Yadav of No Borders Consultancy, has seen several desperate parents arranging a chartered flight for their children to take them to Canada via the Maldives. Yadav said these flights are exorbitant.
"The Maldives, Mexico, Dubai, Albania and Ukraine are some of the countries that students are traveling through for Canada but availing third country RT-PCR results is also not easy. For instance, one can't stay beyond eight hours in Dubai for a layover and yet one needs to get tested. All inclusive chartered flights from India to the Maldives and then Canada are costing upwards of Rs 2.50 lakhs," said Yadav.
In addition, there have been cases of students being sent back from the Maldives by immigration officials when they have not been able to furnish proof of return tickets to India from the Maldives.
Recently, in an interview with the Guardian Australia, India's High Commissioner to Australia Manpreet Vohra, said these extended travel restrictions were likely to cause frustration, uncertainty and anxiety among thousands of students who have been unable to travel to Australia for their studies.
Vohra said Australia risked eroding its reputation as a welcoming place for international students if it did not offer them hope about when they could return to study.
An estimated 158,000 student visa holders continued to remain outside Australia as of July 2021, of which over 17,000 were from India.
In frustration, Indian students have begun mulling whether to shift their programmes from Australia to the US or defer their admissions altogether.
*Kindly note the images have only been posted for representational purposes.
Feature Presentation: Ashish Narsale/Rediff.com