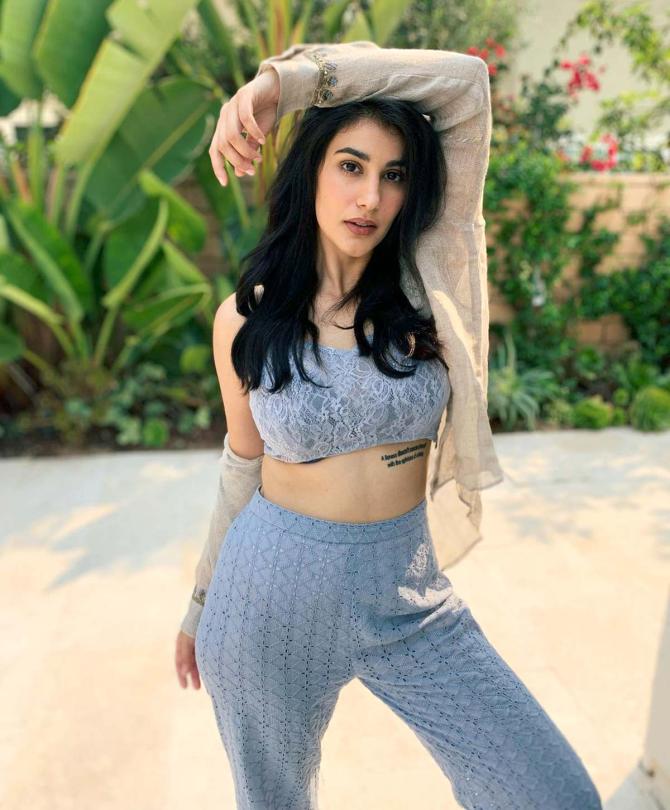 Sonia Rathee has been one of the most gorgeous newcomers we've seen in recent times.
She's stylish, entertaining and often posts cute dancing videos to entertain her fans.
What's the secret to her happiness?
How does Sonia stay fit and beautiful?
"When it comes to fitness, diet is 80% and workout is 20%," the Broken But Beautiful 3 star tells Rediff Contributor Prateek Sur as she shares her fitness mantra, love for ghar ka khaana and more.
How important is fitness to you?
Extremely important.
Getting a little bit of exercise on a daily basis is the key to staying positive and being happy.
Medically speaking, it releases dopamine in your body. So there's no downside to being active on a daily basis.
What's your daily diet like?
When it comes to fitness, diet is 80% and workout is 20%.
You can't just work out and expect to see results. What goes into your body is the most important.
I'm a huge fan of ghar ka khana. It varies sometimes. But I do have cheat days and sometimes go out for dinner.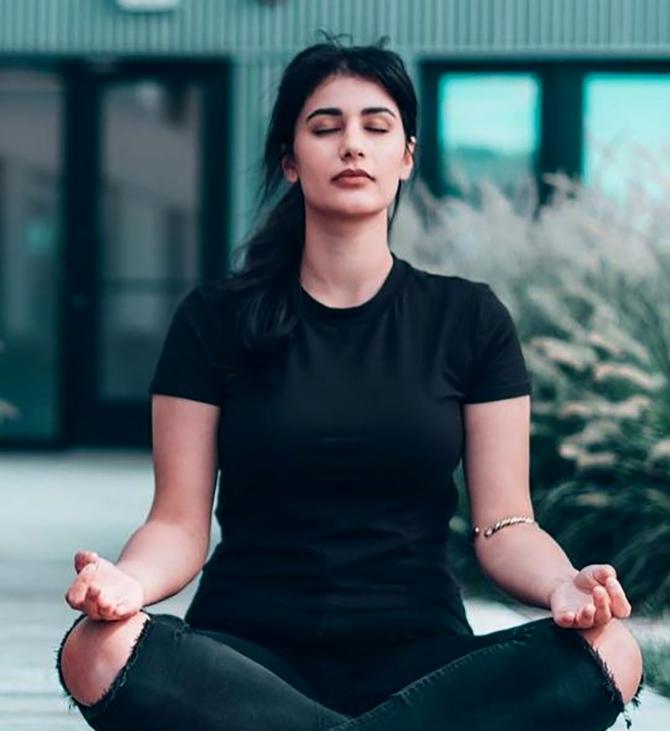 What's your workout schedule like?
I do have a leg day, chest day and biceps day. That being said, I don't keep track of any of this.
I have a trainer. I do whatever he tells me to do.
Mostly it's like a specific day or it's just cardio or it's a mix.
I come from a family that's super big with yoga and meditation.
My mom is a yoga instructor and she's all about meditation.
My uncle meditates on a daily basis.
I have grown up meditating. But I don't do it every day.
I've taken my mom's classes and tried all different types of yoga.
It's just that am a sports person and constantly need to be moving, doing something or playing something.
I don't know how good I would be doing just yoga.
How did you stay fit during the lockdown?
I focused on diet. I knew that that is one thing I can control.
Because I do tend to be very lazy, especially when it comes to being at home.
It was a lockdown after all, and you're obviously a little lazier.
I would do some home workouts and I kept dancing, but mostly it was just diet.
When you don't hit the gym, what's your favourite work out at home?
The best thing for me personally is that I just put on a YouTube video,just like random 20-30 minute workouts.
It could be HIIT, or just cardio, jumping jacks, or whatever.
Sometimes for me, especially if I'm feeling low that day, it's nice to have a video of someone else doing it. Then you also don't feel alone.
You can just turn your brain off and do whatever they're telling you to do. And that definitely helps.
How do you stay mentally fit?
I think mainly it's my family that's keeping me sane.
This time has been very difficult. I spent one half the lockdown away from my family and the other half, I was with them.
When I was with them, it was just so much easier to stay mentally sane. We're all in it together.
Throughout it all, I've had my brother. Those are days when meditation really did help.
A little bit of working out and getting some exercise in helped.
I started reading a lot more and that helped significantly because once you just sit on your couch and watch TV all day you're just bound to feel a little more blah.
So, I picked up some new habits and that really helped with my mental health.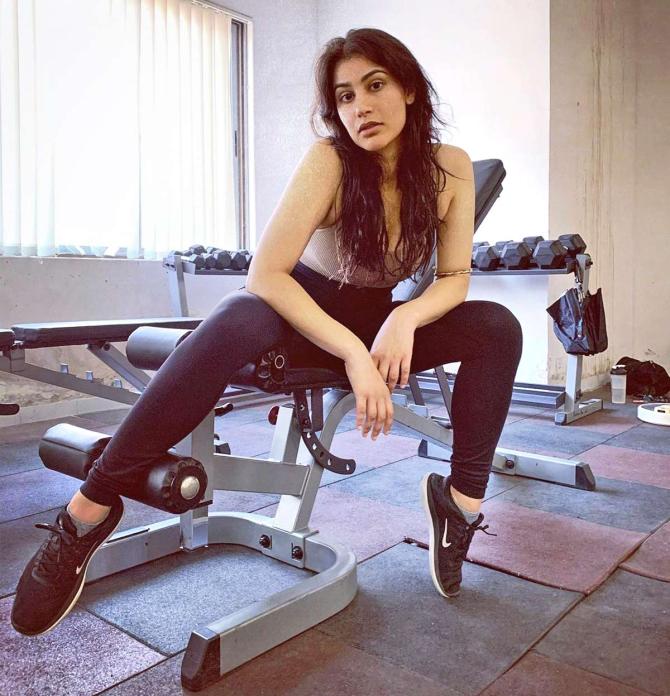 What are your other interests?
I love boxing. I used to box a lot when I was in Boston in college and then I stopped.
I recently got back into it and I really like it. I obviously also dance quite a lot.
I absolutely hated running. You can ask any of my family members. I despised running, but recently I got back to running.
Some good music will just really help me out there.
Do you get enough sleep?
I've been fighting about sleep for so long and everybody calls me lazy, but I need my sleep.
It's so important to wake up fresh and I get about 8 hours of sleep.
I need my 8 hours of sleep. And you know when you're on the set it's really hard to actually get 8 hours sometimes, so I cherish it when I have it.
With tight deadlines and pressure, how do you maintain your body?
I don't know. I've never been a size zero. To be honest, I don't think I intend on being a size zero.
That is something that differs from body to body and not everybody's genetics are made for a size zero. I know that mine aren't for sure and forcing your body (isn't right).
I always say this -- we all have a happy place, our body has a happy place, and unfortunately in our industry most of the female celebrities have to maintain a body figure that's not their actual happy place.
You're obviously cutting out certain food groups or you're working out every day.
So it is difficult to maintain whatever your perfect body is.
That being said, a perfect body is not a size zero.
I think that concept is quite flawed.
Obviously, there are some women who naturally are a size zero, and that is just how their bodies function and that's perfectly OK.
Then there are some girls who are naturally a size eight, and they look perfectly amazing. So, I think it really depends on your body type and your genetics.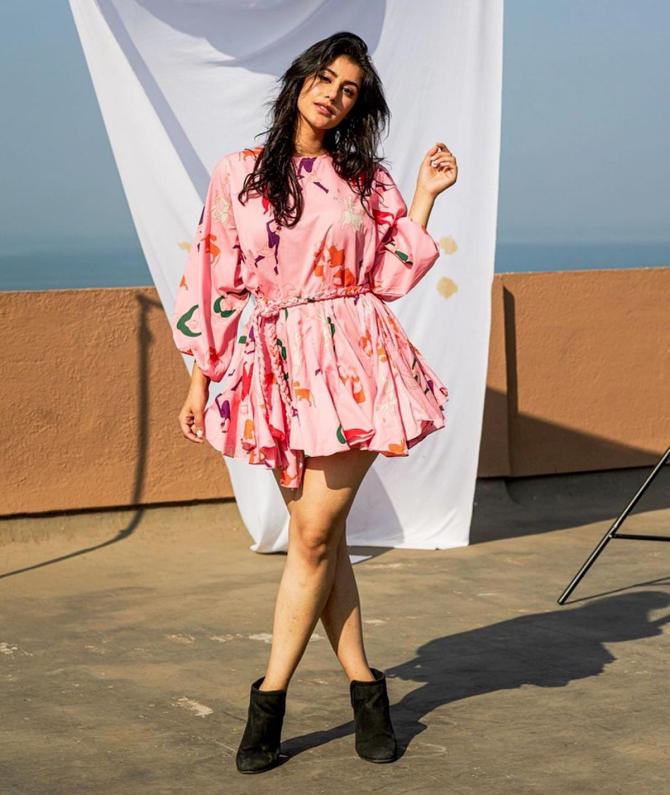 A fitness tip that you would like to share with readers
Do what makes you happy. Doing a workout that you hate is not going to help you.
You're going to have to be doing it every day. Or I would recommend doing it at least five days out of seven.
And if you're going to do something, pick up something that you genuinely like, whether it's swimming, whether it's cycling, don't force yourself to it.
Don't force yourself to run if you hate running, it's not important. There are many, many different forms of cardio, many different forms of working out.
Don't put so much pressure on yourself.
If you enjoy it, you're going to continue to do it, and if you continue to do it, you'll see results.
It's a steady process.
Don't look for quick results.
I've done it too many times where we'll cut back for like a week and then a week later you have gained all the weight back.
It's a lifestyle change, and it's going to take time. So just be patient with yourself.