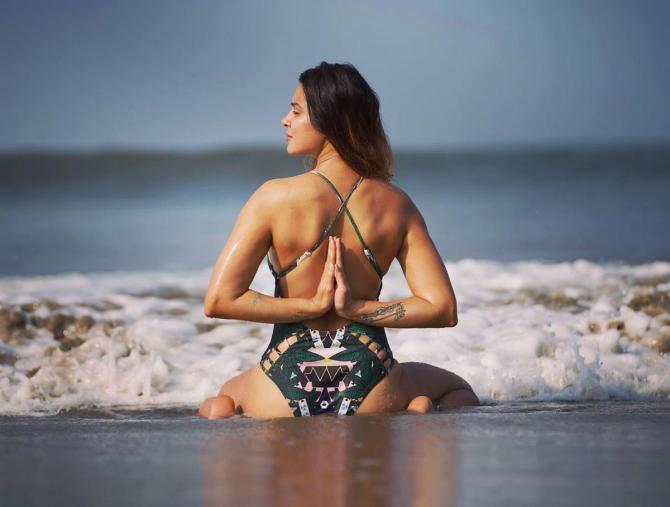 Aashka Goradia Goble has become something of a household name when it comes to yoga and meditation in the social media circuit.
The yoga enthusiast has over 1.2 million followers on Instagram, and she has been inspiring them through the pandemic with her workout pics and videos.
A quick scroll through her Instagram feed will throw up several pics of her attempting complex yoga poses.
If you're wondering how she manages to nail the asanas with such ease and grace, while many struggle with a simple bend or stretch, you will find the answer hidden among her posts.
'One day at a time,' she writes, adding, 'You just don't get into a headstand or a split, it takes a lot of practice.'
In a chat with Anita Aikara/Rediff.com, Aashka throws light on her yoga journey, how it brought her and her husband Brent Goble closer, her favourite asana, and why one must not wait for that special day to get on the mat.
Since when have you been practicing yoga?
I have been practicing yoga for nearly three years now.
It was more specifically after Brent came into my life and stirred up the importance of yoga.
It is beautiful when you learn with your guru who also happens to be your husband.
How has yoga helped you?
I could probably write a book on how yoga has benefitted me. I'd say it is a whole new experience.
All the small and big changes that one experiences during the process of learning yoga are multi-dimensional -- physical, mental and emotional.
Did Brent inspire your yoga journey? Was yoga what brought the two of you close?
Yes, yoga brought us closer. It is a blessing and a gift to have your guru as your husband.
I met Brent in Las Vegas, while I was on a holiday.
We fell in love and got married on December 3, 2017.
Two years into our marriage, Brent decided to take up yoga as a career.
He took it up as an offering to society; to teach and educate people about physical and mental well-being.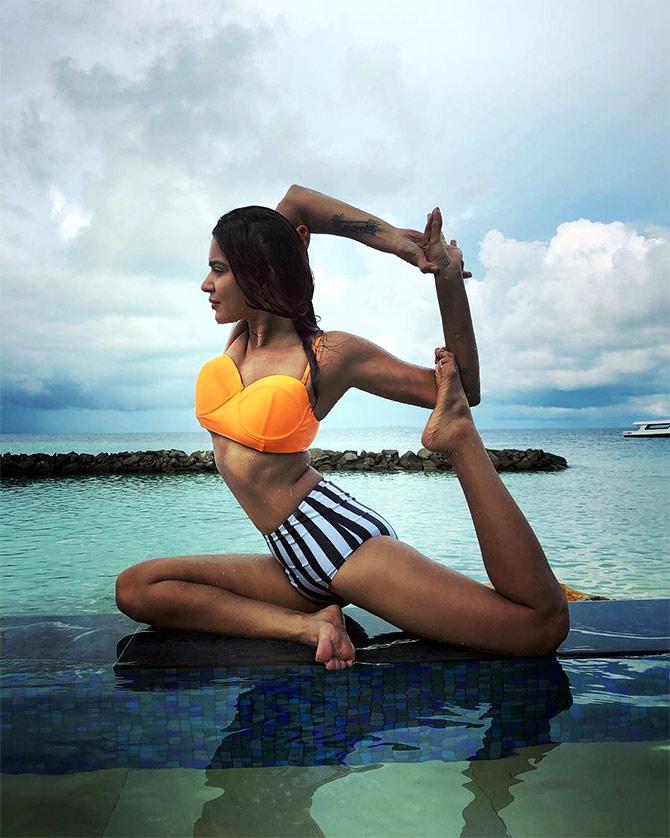 Your most challenging asana?
For me, it's not the asana that is challenging.
It is the journey that becomes challenging while trying to achieve that asana.
You just don't get into a headstand or a split, it takes a lot of practice.
It (the process) can make you feel wonderful and make your body realise its capabilities.
The thing that is challenging for me is the journey to achieve a particular asana.
No matter (even) if it is (a simple) forward fall. The journey to perfect it is exciting.
The process puts you through so much, mentally and physically, in order to be still in any asana.
Be it is a forward fold, downward dog pose or something as exciting as a headstand, all you need to do is find your breath and stay calm.
Follow what your guru says, (because) once you do that, you really don't need to worry about mastering anything. Things just become more achievable.
What is your favourite asana? What about Brent's?
For me it has to be sirsasana or the headstand.
Brent's favourite pose is bharadvajrasana, the seated twist.
Your favourite place to perform yoga?
It definitely has to be in our shala (school) in Goa.
The two of you live in different states. How do you keep the love alive in a long-distance?
Yes, we do live in different states and it does get challenging sometimes.
But I do not have any regrets, because I have a partner who celebrates everything that I do.
He celebrates my career as much as his, and vice versa.
We both are aware that we're in a phase of life where we are building our future and it could take a few compromises.
But we are willing to look past that for a secure future.
How did you stay calm and composed during the lockdown? Did you turn to yoga and meditation?
We (Brent and Aashka) totally went inwards with our practice, and it helped us incredibly.
I tell people that you don't have to wait for a lockdown or something devastating to start a journey of well-being.
You have to prioritise your well-being, and once you start doing it, everything else falls in place.
How often do you practice yoga?
It's not like you breathe today and then don't breathe tomorrow. Or you eat today and don't eat tomorrow.
So once you start your practice, the very experience you hold on your mat, you'll want to do it every day.
Because that experience is connected to your well-being, and what is more wonderful than giving some time to your mind, body and soul daily.
I practice yoga every single day. If I don't practice, everything is very different for me in my head and the way I feel about my body.
Practice can be hard on some days, but even just doing a breathing exercise can heal you. One doesn't need to practice a headstand every day.
What advice do you have for someone who has never tried yoga?
I would just want you all to go ahead and try it because if you don't try it, you won't know what it is.
Then you'll end up seeing other people and feeling that 'Oh! I can't do this' or 'I don't have time'.
There are multiple excuses that will pop up in your mind in order to not give time for your well-being.
And when that happens your conscious should be able to remind you that there truly isn't anything as important and wonderful as your well-being.
Once you make that shift, it's easier to show up on your mat every day.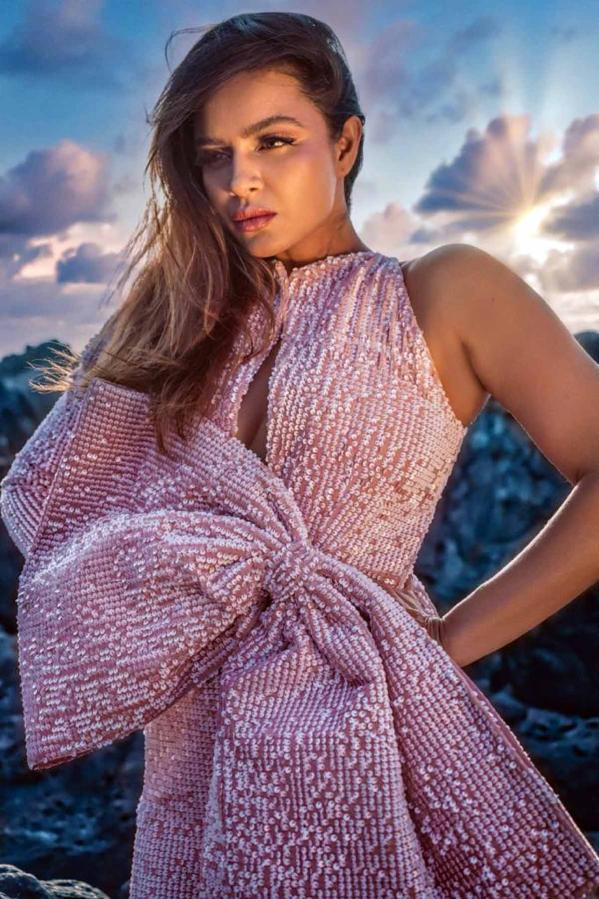 What are the lessons that you have learned during your yoga journey?
It is a forever learning process.
I think till my last breath I will be learning... I will be learning everything about this life, right from how we breathe and the importance of breathing.
It is such a giant journey, and it is something I wouldn't want to stop learning.
You did a blindfolded airwalk? How did you manage that feat?
Once you have practiced controlling your breath, focusing it, finding the appropriate balance between your body and mind, I don't really think keeping your eyes open or shut really matters.
If you can breathe in the same way while your eyes are open or shut, all you are really doing is focusing.
Focus is something that comprises various senses, breath being the biggest factor.
If you are able to breathe well, then you are still in any movement, and you can be still in a movement as well be moving while you still.
Any advice for women, especially on for those who are worried about living up to society's standards?
We are a very different society when it comes to standards.
I'd say even if you don't set a standard (for yourself) just live joyfully and do things that make you happy.
Because none of these standards will stand tall on Mayday.
After all, it's your life, skin, body and breath.
There should be nobody who tells you what not to do.
You should decide for yourself, always.