You can increase or reduce the sum assured of a term cover, depending on changes in your overall liability, advises Bindisha Sarang.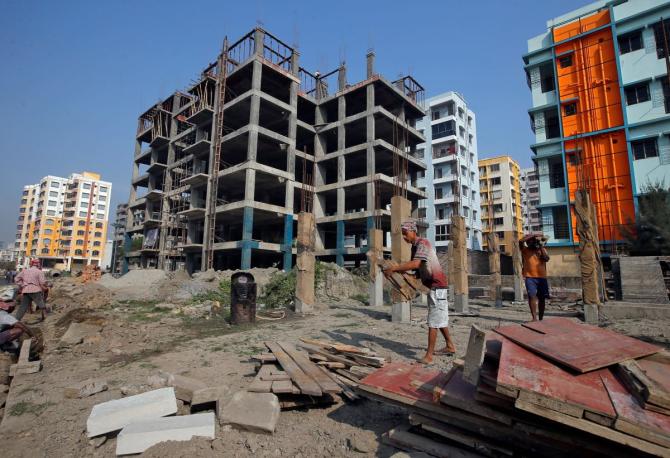 With housing prices remaining range-bound for several years and interest rates on home loans also at a low level, this is a good time to buy a house.
When you apply for a home loan, your lender could, while approving it, push you to buy a home loan protection plan (HLPP).
But the liability of a home loan can also be covered by a plain-vanilla term plan.
Instead of succumbing to pressure from the lender, understand the pros and cons of the two options and make an informed decision.
What is HLPP?
Lenders insist that borrowers get a home loan insurance cover so that they are protected against the risk of default.
Adhil Shetty, chief executive officer, BankBazaar, says, "Such a cover provides the borrower protection against repayment-related risks such as job loss, disability, and death. If you opt for an HLPP, and you default on your payment due to any of these reasons, the insurer will pay the outstanding loan amount to your lender."
Key features
HLPP differs from term cover on a few counts.
Ratan Chaudhary, head of home loans, PaisaBazaar, says, "HLPPs are usually single-premium plans and the sum assured usually decreases, along with a decrease in the outstanding home loan principal."
While reducing cover plans are the most common type, some lenders may offer fixed-cum-flexi cover plans.
Here, the cover is fixed for some time and then starts reducing.
Often the borrower does not get any choice.
The lender offers him the product that he has.
Cost
HLPP is more expensive than low-cost term plans.
Naval Goel, chief executive officer, PolicyX.com, says, "HLPP provides coverage for the whole loan tenure, so there is no need to pay renewal premiums. However, it is costlier than a term plan."
For a Rs 25 lakh cover for 15 years, the premium for HLPP taken by a young borrower will be in the range of Rs 2,536-Rs 3,109, according to PolicyX.
All HLPPs don't cover the entire loan term.
Some could have shorter terms of five or eight years.
Raj Khosla, founder, MyMoneyMantra, says, "The lender might try to offer the tenure it has. But the borrower should be vigilant and choose the one that suits him."

Payment
Paying the premium of an HLPP is easy.
Khosla says, "Usually, the premium amount is clubbed with the principal and is paid as a regular equated monthly instalment, so that buyers don't notice it."
Flexibility
You can increase or reduce the sum assured of a term cover, depending on changes in your overall liability.
An HLPP can't be modified. Goel says, "The borrower may change his loan tenure, but the HLPP's tenure will remain the same."
Let us assume that the borrower takes a top-up and increases his home loan tenure from the initial 25 years to 30.
The HLPP will cover the first 25 years only.
The loan will be without any protection for the remaining five years.
A problem also arises when the borrower forecloses the loan.
"The premium paid for the remaining period will not be returned," says Goel.
Tax deduction under Section 80C is available on both.
Balance transfer
HLPP is a different legal entity from the home loan.
It will not get transferred when you switch your loan.
Khosla says, "The new lender might ask you to buy another insurance plan."
A term policy is the preferred option.
Goel says, "A term plan can cover the home loan liability and also secure the family's other financial goals."
If an insured already has a term plan, he should increase its sum assured when he takes a home loan instead of buying HLPP.
Feature Presentation: Aslam Hunani/Rediff.com