This Holi, ditch the classic bhang drink for vodka and lavender-laced thandai.
Dipesh Sinha, Assistant Food and Beverage Manager at Hotel Sahara Star, Mumbai, has a special concoction.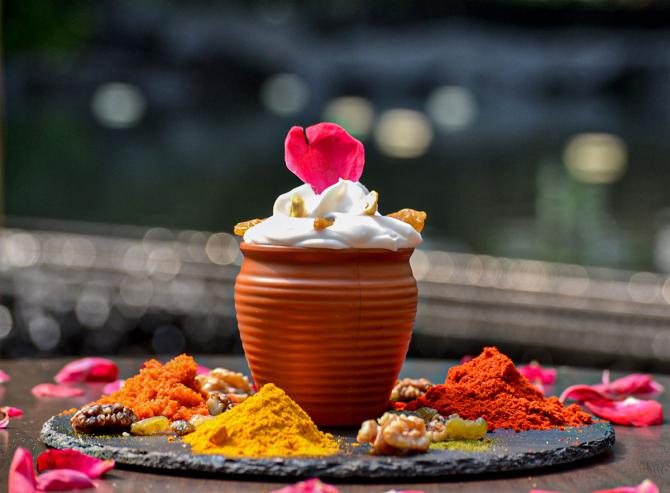 Vodka Lavender Thandai
Serves: 8-10
Ingredients
180 ml of unflavoured vodka
100 ml lavender syrup, available in gourmet stores and online
2 l whole milk or full cream milk
300 gm sugar
100 gm cashews + few extra for the garnish
100 gm pistachios + few extra for the garnish
100 gm roasted almonds + few extra for the garnish
50 gm dried cranberries
150 ml sweetened whipped cream
Kulhad, an unpainted, unglazed glass made out of clay, optional
Method
In a bowl of hot water soak the cashews, almonds, pistachios and cranberries for 30 minutes or until they become soft.
Drain the water and transfer the nuts and cranberries into a blender. Blend with as little water as possible till you get a smooth paste.
Refrigerate the paste.
Heat the milk in a thick-bottomed saucepan or pot over low heat.
Add the sugar and keep stirring until the milk thickens and reduces by ½ litre.
Keep stirring or the milk or sugar may stick to the bottom of the saucepan.
Take off heat and let the milk cool.
Once it cools, transfer the contents into a tall container and place it in the freezer to cool for 15-20 minutes.
Pour the vodka, lavender syrup, reduced milk (once cooled) and the nut paste into a blender. Blend for a minute.
Pour the drink into a pretty-looking tall glass or a kulhad.
Top with whipped cream and nuts. Serve cold.